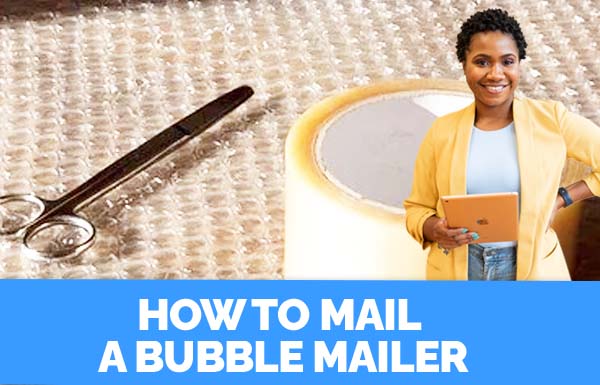 How To Mail A Bubble Mailer?
If you have smaller and fragile products that you need to ship, the bubble mailer has you covered. In this article, I will teach you how to mail a bubble mailer.
Boxes make a great shipping choice because they handle larger amounts of items and provide durability. The best part? They're easily customizable to fit your company.
However, if you don't need all of the space that boxes have to offer, you can opt for a bubble mailer and save money! It's the perfect shipping solution for smaller products.
A bubble mailer is a thin, padded envelope that's available in various sizes and costs less to ship. It's still protective but without the bulk and high shipping rates of boxes.
Since bubble mailers can be a little confusing to ship, I decided to break down the whole process to help you understand postage, weight limits, and procedures.
What Is A Bubble Mailer?
A bubble mailer represents a plastic or paper envelope padded with a layer of bubble wrap. This type of envelope comes in many sizes and shapes.
However, there's a difference in size between the interior and exterior of a bubble mailer, thus take this into account when picking the right type of bubble mailer for your item.
A bubble mailer is usually referred to as a padded envelope. However, a padded envelope can also have paper and foam besides bubble wrap as a protective layer on the inside.
People use the terms interchangeably. Keep in mind that a bubble mailer is a padded envelope, but not every padded envelope is a bubble mailer.
When To Use A Bubble Mailer?
Mailer boxes provide the best protection, however, in certain situations, a bubble mailer makes a better choice. For instance, if you have smaller, lightweight, and fragile products that need protection, opt for a bubble mailer. You can fit documents, jewelry, books, and other flat items in a bubble mailer.
But here's the real kicker. You can even customize your package because bubble mailers come in various sizes and colors. And you can easily make a pick at most retailers or order online. They cost less than 10 bucks and come in bulk. Determine what size you will need and get your bubble mailers today!
How To Mail A Bubble Mailer?
A bubble mailer includes a protective layer of bubble wrap on the inside. In most cases, that layer offers enough protection for small, fragile items.
However, if you're still worried about the safety of your products, you can add another layer of packing paper or bubble wrap around your products.
Although the extra layer provides extra protection, it also adds some extra weight, so keep that in mind. Now, let's learn how to mail a bubble mailer.
Seal your bubble mailer
Check if your bubble mailer is properly sealed. Also, ensure there's no hole in your envelope. Otherwise, all the products could fall out during transport.
Label your bubble mailer
Your bubble mailer needs to have a proper label on it to be mailed. If you decide to label it yourself, pay attention and make sure that all necessary parts are written down and legible.
Write down the delivery address in the middle, the return address in the top left corner, and postage in the top right corner. In most cases, you will add a label made by the carrier to the mailer.
However, if you're taking your bubble mailer to the carrier, you can also print your label beforehand, or have it printed by the carrier. The carrier will weigh your envelope and price it accordingly.
You will then give your information to the carrier and they will provide a printed label and add it to your bubble mailer. A straightforward process, right? Now, let's take the final step!
Send your bubble mailer
If you're not sending your packages yourself, you need to schedule a pickup with a carrier. Most carriers require filling out a form on their site, printing it out, and adding it to the mailer.
They then come to take the package and weigh it at their office Carrier have different rates based on their own rules. The USPS, for instance, considers bubble mailers 0.75 inches or less a standard envelope, and anything greater, a package. Therefore, the bubble mailer is then priced as such.
What's The Cost Of Mailing a Bubble Mailer?
The cost of mailing a bubble mailer depends on the delivery speed, weight, and dimensions, however, it's still cheaper than shipping a box.
When mailing your items in a bubble mailer, also consider the price of the bubble mailer itself. Usually, a smaller and thinner bubbler mailer costs less.
However, this depends on the brand, style, color, and size of the bubble mailer. Then, consider the price for mailing your package. The rates vary from carrier to carrier and depend on the product's weight and how quickly you want your package to arrive.
Scroll down to read our indepth Ecommerce Platforms guide. What you should know, Ecommerce Platforms features, price plans and support. Pros and Cons of Ecommerce Platforms as a ecommerce, everything is explained below.
Shopify is a software company that specialises in ecommerce software for small to enterprise level businesses.
Shopify is listed as the best ecommerce software related to Ecommerce Platforms. Shopify was founded in 2006 in Ottawa, Canada and currently has over 6,124 employees registered on Linkedin.