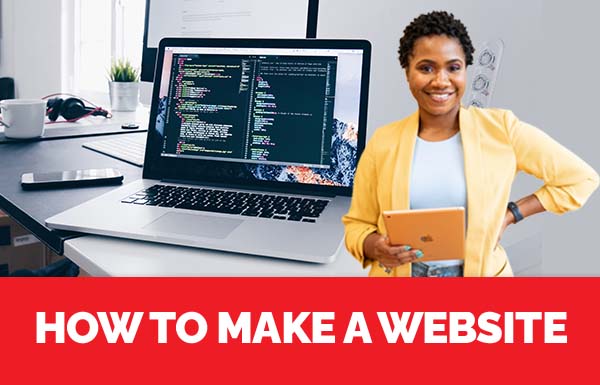 How To Make A Website
How To Make A Website: Quick Guide
If you want to reach out to people about your product and/or service, having a website is a must. With a professional website, people will see you as a serious business owner and would want to do business with you.
A lot of things come to your mind when you think of how to make a website especially a price and technical process involved. Well, this blog post helps to simplify the whole process for you.
Important Tips To Note Before Creating A Site
Thinks about the service you want to offer, or the product you want to sell to customers, create a website using our simple guide. Keep refreshing your content as it helps Google and other search engines to rank your site.
Promotion: there are numerous marketing strategies you can use to promote your product and services online like, social media marketing, email marketing, etc. the aim is to reach out to people who need your product and services.
This post is all about creating a professional website with WordPress.org.
In this guide on how to make a website, we will be using Bluehost as the web hosting platform, so note that our step follows the Bluehost style. The reason is that Bluehost is recommended by WordPress.org as one of the best web hosting platforms.
4 Simple Steps On How To Make A Website
Choose And Register A Domain Name
The first step to take while creating a website is to choose a domain name that suits your business. Before registering a domain name you have to make sure the domain name you choose aligns with the product or service you offer.
A domain name is the name people will type in their browser to reach your site. It is important to note that some domain names are not available so, you have to search with the hosting platform to know if the chosen domain name is still available.
Plus, the domain extension, the domain extension includes ".com," ".net," ".online," ".org," etc. Most times, the domain name and extension you choose will not be available. What you have to do when this happens is to choose a different domain name that will be tailored to your business.
The best strategy to use while choosing a domain name is to choose a simple word that is easy to remember and also choose the '.com' extension. With this domain name, you can get a professional email address for your business. A professional email address is something like "[email protected]," which is more professional than the free email service like "[email protected]."
Pick A Hosting Service Provider
After you must have picked a domain name, the next step will be to choose the right hosting platform for your website. Some web hosting platforms like Hostinger allow you to create a free professional email when you use their service.
With the chosen hosting platform, choose the right package that suits your budget and your business purpose. But for beginners, you should go for the basics package and you can move to another package as your site traffic grows.
After choosing the right option that suits your budget and your business, just complete the process by clicking on submit. Congrats! You have completed the process, but sometimes, it takes a few hours or a day for your site to be accessible online. So, if you are unable to access your website immediately after creating it, just give it some time.
One more thing, check the email address you used for creating your site to confirm your account, verify your email, and do other things required by Bluehost or any other web hosting platform you choose. However, you'll have an option to key in your email address in the last section while creating your site.
Choose A WordPress Theme
A theme is just the look and style of your site, and for the theme service, there are lots of WordPress themes to choose from when you create your website with Bluehost.
When you think of how to make a website, one of the things that come to your mind is the look of your website, right? Now, a WordPress theme does the magic and it is available for Bluehost users. With WordPress themes, you can choose the best look for your website. There are different types of themes you can choose from. As a beginner, make your choice from the variety of free themes they have, you can upgrade to a better version when you find something that works for you.
When you have any problem, look for the customer care details of the platform you are using "Bluehost or any other platform" and reach out to them via the channels they provide. This is the best way to solve your problem.
Create Content For Your Site
Although creating content is not a process when you think of how to make a website, but it is very important for your website growth. Let's look at it this way, you have a nice website and when people visit the site there is nothing to read or do on the site. They'll probably leave your site and check out other sites with useful information. So, before you think of how to make a website, the most important question should be what service will I offer with my site?
And that's where content comes in, at this point when you have created a site, you should be creating content for your site and also use the best SEO strategy to increase sales and traffic to your site. You can create content for your site or employ the service of a professional to do the work for you.
Scroll down to read our indepth Website Ecommerce Platforms guide. What you should know, Website Ecommerce Platforms features, price plans and support. Pros and Cons of Website Ecommerce Platforms as a ecommerce, everything is explained below.
Shopify is a software company that specialises in ecommerce software for small to enterprise level businesses.
Shopify is listed as the best ecommerce software related to Website Ecommerce Platforms. Shopify was founded in 2006 in Ottawa, Canada and currently has over 6,124 employees registered on Linkedin.