How To Pack Boxes For Shipping Table of Contents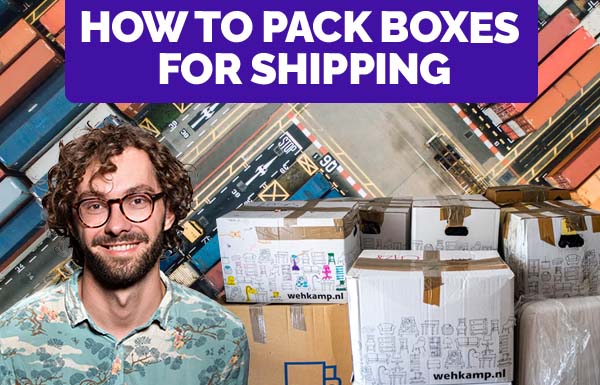 How To Pack Boxes For Shipping?
Whether sending a gift, moving the content of your home, or shipping out items, the packing of boxes is the same. The goal is to protect whatever is inside the boxes and help it reach its destination.
If you stress every time you send a package about the state it's in when delivered, today's guide on how to pack boxes for shipping is for you. So, let's get right into it and learn how to box things up!
How To Pack Boxes For Shipping?
Proper packaging, secure taping, and good padding aren't things you can overlook when hurrying to get your items to buyers.
Additionally, the box you pick can determine how much beating and tough treatment your package can withstand without sustaining damage.
When shipping perishable and fragile products, there's a set of regulations and rules you should follow, especially liquids and hazardous goods.
Otherwise, they can leak and cause issues in transit. That said, let's learn how to pack boxes for shipping properly and securely.
Picking The Right Boxes
Use new boxes if possible for maximum security. Used and older boxes can have a weak spot or damage that's not visible at first sight, which could cause the package to collapse in transit.
Boxes for international shipping have a high crust resistance and ensure safety, thus they're perfect for packing fragile products. if you're sending a hazardous product, obtaining a box that's approved for that type of product is a must. Additionally, your box should be big enough to fit your items.
Your product shouldn't bend inside the box. Also, make sure there isn't too much free space. Otherwise, your products might crash. I highly suggest using custom-made boxes for bulky items.
Tips for picking products
If possible, always put your heaviest items at the bottom of your box. That way, you will stop them from crushing other products. Also, if your products aren't already wrapped with some padding, always add a layer of padding between each layer of products.
Avoid putting fragile or lightweight products next to heavy things on the same layer. Otherwise, they can move sideways in transit. Knowing where to put bubble wrap and other protection tools is as important as how much you use. Start by placing some at the bottom of your box.
That way, you will make a basic layer of padding. Then, wrap separate products as required, especially if it's a glass, plastic, or wooden product that can't withstand a hard impact.
Finally, to prevent products from bouncing around during transit, place extra padding in between and on top of products. Now, let's learn more about padding.
Choosing The Padding
Bubble wrap, foam, air cushions, and other padding materials each have their good and bad sides. What I like about air cushions and bubble wrap is that they're available in recyclable and recycled varieties, so they're super easy to reuse.
Soft foam, on the other hand, makes a great choice for those who want flexible padding. You can easily fold and layer soft foam inside your boxes.
Some companies utilize custom-fit or flat hard foam for extra support, but it isn't recyclable. If you need stronger support, opt for cardboard inserts.
You can also pick packing peanuts or other loose fillers since they're also biodegradable. However, note that any loose fillers can move during transit.
That way, your heavy products can sink to the bottom of your boxes. Therefore, ensure to place loose fill as huggable as possible to prevent this from happening. If necessary, also wrap heavy objects in foam or bubble wrap for extra protection.
Sealing And Labeling
When sealing your boxes, make sure the tape extends over each side a few inches. Seal both the top and bottom of your box. Use high-quality tape that is made for heavy-duty purposes instead of masking tape or duct tape. Otherwise, your box might burst open if lifted improperly.
Hazardous materials info, customs forms, and other paperwork can differ depending on arrival place and shipping mode. Labels of this type must be placed at a visible spot on the exterior of the box.
Therefore make sure to plan all your labels beforehand, especially for small boxes without a lot of space for labels. Apply FRAGILE, THIS SIDE UP, and other similar necessary labels for extra safety.
There's no actual guarantee that your labels will be respected. However, shipping companies usually try to handle labeled packages with extra care, so give your best when labeling your fragile items.
Scroll down to read our indepth Ecommerce Platforms guide. What you should know, Ecommerce Platforms features, price plans and support. Pros and Cons of Ecommerce Platforms as a ecommerce, everything is explained below.
Shopify is a software company that specialises in ecommerce software for small to enterprise level businesses.
Shopify is listed as the best ecommerce software related to Ecommerce Platforms. Shopify was founded in 2006 in Ottawa, Canada and currently has over 6,124 employees registered on Linkedin.