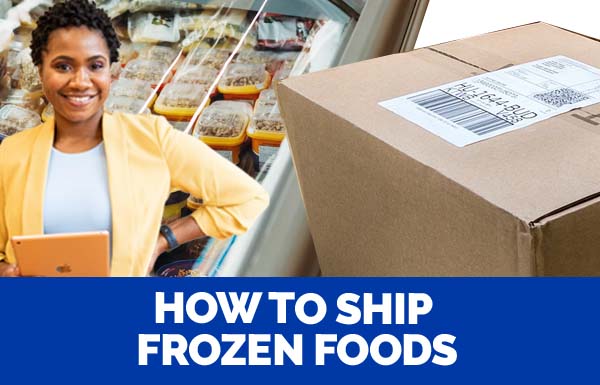 How To Ship Frozen Foods?
Shipping is perhaps the biggest challenge of frozen food startups! You can offer the best products, but if you don't ship them the right way, promptly, and within budget, you will be losing money.
However, most importantly, you will be losing customers as well. To prevent this from happening, I have provided useful shipping tips on how to ship frozen food properly below, so let's take a look.
How To Ship Frozen Foods?
When shipping frozen foods, you're up against certain challenges such as humidity, harsh temperatures, staleness, and of course, spoilage. Let's learn how to ship frozen food safely and easily.
Obtain Coolants And Containers
I prefer gel coolants over wet ice. If possible, freeze the coolants following the manufacturer's guidelines and precool your insulated container before packing your products
If your package contains any liquids or perishable items that contain liquids, double-bag your items using at least 2-mil watertight plastic bags. Additionally, line the interior of the foam container with at least 2-mil plastic liner and other absorbent materials for added protection.
Package Frozen Foods In Insulated Containers
Arrange your items inside the insulated container with enough coolants both around and on top of your items. You can also fill any empty space with other packing paddings like loose fill peanuts to prevent any unnecessary movement. Then, close the liner bag properly and securely.
Note that FedEx doesn't recommend the utilization of wet ice as a refrigerant. If you think wet ice is still necessary, you should prepare it to prevent any leakage, regardless of direction.
If you ship seafood, double-bag your item in at least 2-mil plastic bags. Seal each bag separately utilizing the fold-over technique. Additionally, don't forget to prep your ice the same way.
Finally, line the insulated container utilizing at least 2-mil watertight plastic bags. Put proper absorbent material like cellulose wadding, pads, or paper towel at the base of the container.
Follow all other packaging rules and requirements for frozen food shipments, provided by the shipping service provider you pick. I would suggest the priority overnight shipping.
Package Insulated Containers In Corrugated Boxes
Apply at least 3 stripes of pressure-sensitive glue plastic tape that's a minimum of 2 inches wide to both the top and bottom of the package to protect the contents, using the H tape technique.
Make sure to tape all flaps or seams and put proper labels such as PERISHABLE and KEEP FROZEN for better results. When shipping your products with dry ice, place proper markings and classification on the exterior of your package to meet the requirements of the International Air Transport Association.
The International Air Transport Association requires labels like Carbon Dioxide Solid, Dry Ice, the name and address of the shipper, the name and address of the recipient, and the net weight of dry ice in kilograms. Contact your shipping service provider for first-hand information.
How Much Does Shipping Frozen Foods Cost?
Unfortunately, there's no fixed price for shipping frozen, perishable foods. The cost is determined by the weight and type of frozen foods along with the duration and distance.
When calculating your shipping costs, don't forget the expenses for the packing gel and dry ice. You can easily determine how many coolants you need by the weight of your frozen items and the distance that should be covered before they reach their final destination (the recipient).
To find the cheapest way to ship frozen foods, evaluate the necessary materials and the extra cost your courier can charge. As you probably know, time is of the essence when shipping frozen foods. Therefore, opt for a reliable and trusted shipping service provider to ship your items.
I recommend planning and preparing your containers for transit 30 hours beforehand. Also, try to set up your shipping early in the week so you don't have to worry about your packages staying in a facility over the weekend. Most frozen food brands prefer to utilize a fulfillment service.
It's a great solution for smaller businesses that lack time, resources, and employees. You also save time that you can use on improving your business. I suggest utilizing frozen food fulfillment services because they provide a wide range of solutions for your business.
They usually include cold storage, packing, inventory management, distribution, and of course, shipping. Therefore, take some time and research your options.
Shipping frozen food doesn't have to be a challenge. You can find easy and affordable shipping options that will deliver your products in a timely manner.
Scroll down to read our indepth Ecommerce Platforms guide. What you should know, Ecommerce Platforms features, price plans and support. Pros and Cons of Ecommerce Platforms as a ecommerce, everything is explained below.
Shopify is a software company that specialises in ecommerce software for small to enterprise level businesses.
Shopify is listed as the best ecommerce software related to Ecommerce Platforms. Shopify was founded in 2006 in Ottawa, Canada and currently has over 6,124 employees registered on Linkedin.