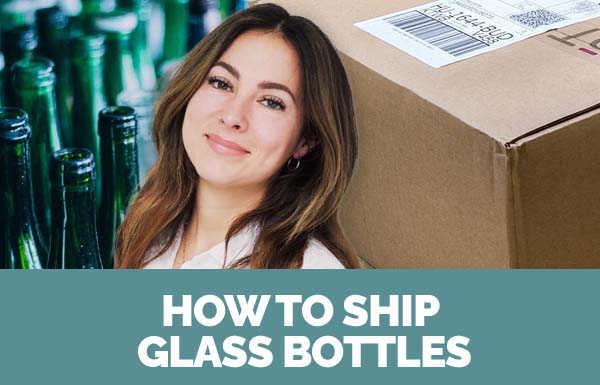 How To Ship Glass Bottles?
Whether you're shipping some liquids to your eBay customer or sending some homebrew to your loved ones, you need to pack your glass bottles properly. Otherwise, they will crash and leak!
Glass bottles need extra care and this article focuses on the proper package for glass bottles so you're in luck. Without further ado, let's learn how to ship glass bottles and similar fragile items.
How To Ship Glass Bottles?
Wrap your glass bottles separately in bubble wrap and utilize two cardboard boxes. Stuff all empty areas with padding and seal your boxes properly. Follow the next steps on how to do everything properly.
Prepare Your Boxes
Utilize boxes big enough to accommodate your wrapped glass bottles plus some additional soft padding. Ensure your boxes are free of tears and holes and sturdy enough. You can get older boxes from retailers for free. However, it's always better to purchase new ones because used boxes are flimsy and worn.
It's a good idea to utilize a second box that's bigger than the first one. This will add extra security to your package. Opt for a box that will leave at least 3 inches for placing some padding between the boxes.
Then, seal the bottom of both boxes with some tape. I usually utilize packing tape that's at least 2 inches wide. You can also apply a strip of packing tape on the bottom inside the boxes to seal the interior of the boxes as well. Finally, fill the bottom of the second bigger box with some padding like bubble wrap.
You can also use packing peanuts. Avoid paper at any cost as this material doesn't handle as much shock if the boxes are dropped or shaken. Make a layer of padding at least 3 inches deep in the bigger box.
Pack Your Glass Bottles
Wrap your glass bottles separately in bubble wrap or other protective material. If you're utilizing smaller bubble wrap, you should wrap each glass bottle at least three times all the way around. If you're utilizing a larger bubble wrap, two times should be sufficient.
You also need 3 inches of padding surrounding each glass bottle. Then, tape it with Scotch tape or utilize rubber bands to keep the bubble wrap securely in place.
You can also buy a packing container with separate areas that will keep each bottle separate. That way, your bottles won't knock against each other and break.
Partitioned packing containers can be found at shipping supply stores. Furthermore, don't forget to seal each bottle and place it in a plastic bag if they have liquid.
Then, pack the smaller container inside the larger container. Position it in the middle on top of the softer padding and insert some more padding around each side.
Put the bottles inside the smaller box upright if they contain liquid. Otherwise, place them however you prefer. Leave about 3 inches between the bottles and the sides of your box. Then, fill those empty spots with some packing materials. Cover all sides for extra safety.
Don't pack your boxes too tight. Meaning, import padding just until your glass bottles don't move when you shake your boxes. Finally, seal and label as follows.
Seal And Label Your Boxes
Write the address of the recipient and return address and put it inside the boxes. That way, if something happens to your package or the address label is destroyed, the inside card can be of help.
Finally, tape both boxes with some packing tape that's at least two inches wide. First, seal the small one. Then, add some padding on top of the smaller box and close the bigger box, and tape it in the same way. Make sure there aren't any barcodes or labels on the exterior of your box to prevent confusion.
If you notice anything, use a Sharpie to black them out or peel them off carefully. Lastly, put the address of the recipient on the top of the outer box. Check twice to ensure it's the right shipping address.
You can either print out a shipping label utilizing the USPS website or write the address clearly. Include a return address as well. And don't forget to write FRAGILE or GLASS in big letters on each side.
I would suggest that you invest in a FRAGILE stamp if you ship glass bottles or other fragile products all the time. You can also write THIS SIDE UP, especially if you're shipping bottles with liquid.
Pick The Right Shipping Option
Generally, if you're shipping less than a thousand miles, then GSO and UPS have lower rates.
Note that GSO is only present in the Western US. And if you're shipping over a thousand miles, then opt for FedEx because they provide better rates. Negotiate a lower rate if you're shipping larger volumes.
Scroll down to read our indepth Ecommerce Platforms guide. What you should know, Ecommerce Platforms features, price plans and support. Pros and Cons of Ecommerce Platforms as a ecommerce, everything is explained below.
Shopify is a software company that specialises in ecommerce software for small to enterprise level businesses.
Shopify is listed as the best ecommerce software related to Ecommerce Platforms. Shopify was founded in 2006 in Ottawa, Canada and currently has over 6,124 employees registered on Linkedin.