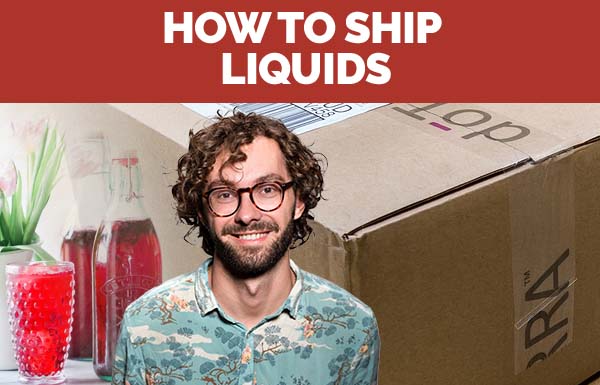 How To Ship Liquids?
Thoughtful and secure packing is vital when shipping liquids.
Wrongly packed liquids leak. And leaking can destroy your product as well as other products inside your package. What's the point of shipping products that will disappoint your customers?
In today's article, I will teach you how to ship liquids properly.
Can You Ship Liquids?
Yes, you can ship liquids. However, you can't ship EVERY liquid, and you can't ship everywhere. In many cases, you can't legally ship liquids that can be dangerous to the carrier.
Meaning, flammable or explosive liquids, as well as controlled substances and poisons, can't be shipped. You can ship some other items such as aerosol cans by surface mail only.
Aerosol cans and similar items can explode due to air pressure changes associated with flying. The worst part? The list of forbidden liquids increases when shipping internationally.
For instance, if you want to ship products outside the US, Canada, and Mexico, they must travel by ship or air. Customs laws can also affect what you can and can't ship internationally. You definitely can't ship gasoline, perfumes with alcohol, poison, alcoholic drinks, and nail polish.
If you're uncertain if you can or can't ship certain products domestically or internationally, or both, you will want to call your carrier and obtain first-hand shipping information.
How To Ship Liquids?
Once you know if you can or can't ship your liquids, you have to package them the right way so they can reach their end destination intact and safely. Otherwise, they will probably leak.
And not only that but also destroy everything in their way. That could result in your shipment not being delivered at all. To prevent this from happening, follow the next shipping steps.
Seal your products well
Your liquids should have a double seal. Meaning, they need extra wrapping around the lid or cap to stop leaks. If they don't need wrapping, just add a layer of protection with tape or plastic wrap.
Put Your Products In Waterproof Bags
You can easily prevent your items from breaking by bagging them. That way, if your package itself fails in any way, your products will stay contained and won't cause any further damage.
Just find a waterproof bag that's big enough for your product with enough space for you to seal it. If you skip this step, your balloon could easily explode, so seal the bag with tape.
Twist or fold over the ends and seal with tape. When I ship liquids, I usually use a second bag just in case something happens. Again, seal properly the second bag for extra protection.
Securely pack your products
Utilize a cardboard box that's big enough to accommodate your products but also delivers extra area for padding. Also, before inserting your products in the cardboard box, line the base with a layer of padding. You can either use bubble wrap, foam or packing peanuts for added security.
Then, place your products inside the cardboard box leaving some space on every side for the padding. If you leave too much space, your liquids can move around inside the box during transit and break or leak. Finally, before sealing the box, add a layer of padding on top of your products.
Seal properly and label FRAGILE
Close your cardboard box safely. Then, tape along the seams to seal the cardboard box properly. Please, don't save on tape and use enough that you feel confident your package won't split open during transit. Lastly, slap a visible FRAGILE label so that your carrier knows it's a breakable package.
You can also add LIQUIDS labels on every side of the cardboard box. Sometimes, labels can help users stop leakage by using other opening tools instead of a box cutter when opening the box.
How To Ship Perishable Liquids?
If you're shipping perishable liquids, you will want to insulate your packages from temperature changes. You can easily do this by utilizing a Styrofoam cooler.
Pack your liquids the same way as I recommended above. Make sure your cooler is secure inside the box and your perishable liquids are secure inside the cooler.
When dealing with perishable liquids and foods, time is of the essence. Therefore, I suggest that you opt for a rush or overnight shipping to deliver fresh products.
If you have any shipping tips, don't hesitate to leave a comment and help other smaller businesses. Let's exchange advice and continue the conversation below!
Scroll down to read our indepth Ecommerce Platforms guide. What you should know, Ecommerce Platforms features, price plans and support. Pros and Cons of Ecommerce Platforms as a ecommerce, everything is explained below.
Shopify is a software company that specialises in ecommerce software for small to enterprise level businesses.
Shopify is listed as the best ecommerce software related to Ecommerce Platforms. Shopify was founded in 2006 in Ottawa, Canada and currently has over 6,124 employees registered on Linkedin.