How To Ship Meat Table of Contents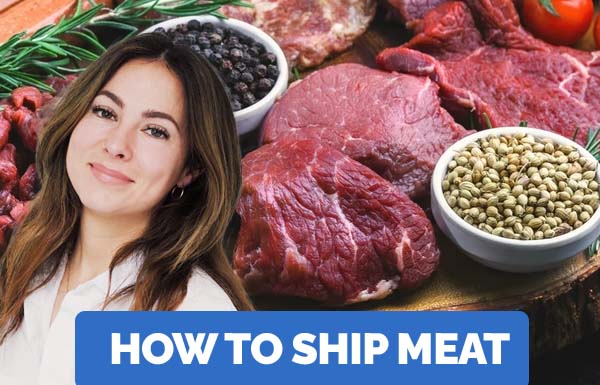 How To Ship Meat?
You can easily mail or ship meat out of the country if your product is processed in a federally inspected plant. However, you can't do the same if your product is processed at a state-inspected facility.
Frozen meat can be safely and easily shipped by UPS, US Mail, FedEx, and other major private carriers by utilizing overnight or 2-day shipping. Your frozen products must be packed in a Styrofoam cooler.
The package must include dry ice as well to preserve the cold temperature inside. You can't just use ice. Additionally, you should label your packages as Keep Frozen and Perishable for clarification.
How To Ship Meat?
Having a reliable and effective method of temperature control is crucial when shipping perishable foods like meat. The reason for this is that from the minute the package leaves your place, the temperature of your product must be kept within a specified temperature range to prevent spoilage.
In this section, I will explain why temperature control matters so much, share different effective package methods, and discuss shipping durations. I will also help you select a shipping service.
Temperature control
Perishable poultry and meat should be kept under 40° F at all times to prevent the quick development of bacteria. Keeping cold temperatures limits the growth of microorganisms that can initiate diseases when consumed. Maintaining meat frozen also restricts the development of microbes and bacteria.
Effective insulation system
Using the right meat packaging supplies plays a vital role in keeping your package cold. I suggest utilizing insulated box liners that provide many advantages over other types of materials like molded coolers.
Insulated liners feature reflective properties. They're foam box inserts that deliver amazing temperature control and can be placed inside a corrugated box and packed with items in just a matter of seconds.
They're especially effective in that they deliver both conductive and reflective insulation. I highly suggest reflective box liners because they're space-efficient and compact, freeing up space in your facility.
Maintaining cool temperatures
Once you have found the perfect solution for preventing heat from entering your package while sending meat produce, it's time to choose the right refrigerants that will keep the products cold for the required transfer duration. You can either use dry ice or cold packs. Or both!
When shipping fresh, refrigerated meat, you can use cold packs instead of dry ice inside your boxes for better results. Keep in mind that cold packs won't maintain frozen products frozen and your refrigerant must be colder than the payload. Cold packs make a better choice for shipping fresh meats.
When preparing your packages, it's recommended to send a test package determine how many pieces per pack will be needed to keep your products cold. Consider the thickness of the insulation panels when making calculations too!
Dry ice makes a better choice for frozen meats. However, it comes with certain limitations. For instance, once the weight of dry ice inserted exceeds a certain point, the shipment can be hazardous.
Typically, the dry ice is close to the frozen meat. And as long as there's some dry ice, your meat is usually frozen. When deciding how much dry ice you need, measure the sublimation rate.
Transit durations
With overnight or 2-day shipping, I suggest first determining the shipping costs for your packages based on weight. Contact different shipping companies and state your specific requirements.
If you're presenting substantial shipping volumes, maybe you can negotiate your fees for transit. If your clients don't require overnight shipping, you should find the slowest shipping process that will take your packages to their final destination while still ensuring a safe arrival and happy customers.
Note that 2-day shipping is much cheaper than overnight shipping. Therefore, explore your options and find the perfect balance of shipping items at the proper temperature, while utilizing insulation products that help you utilize the least weight of refrigerant items, thus lowering shipping costs.
Scroll down to read our indepth Ecommerce Platforms guide. What you should know, Ecommerce Platforms features, price plans and support. Pros and Cons of Ecommerce Platforms as a ecommerce, everything is explained below.
Shopify is a software company that specialises in ecommerce software for small to enterprise level businesses.
Shopify is listed as the best ecommerce software related to Ecommerce Platforms. Shopify was founded in 2006 in Ottawa, Canada and currently has over 6,124 employees registered on Linkedin.