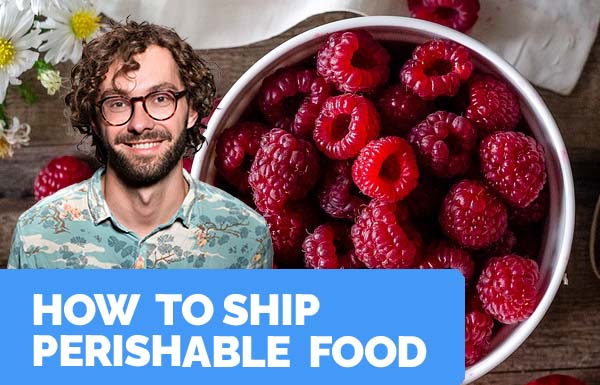 How To Ship Perishable Food?
The e-commerce market for grocery and food delivery keeps on growing and becoming more and more accessible. However, finding ways to affordably ship perishable products can be a challenge.
Failing to safely ship food not only causes chargebacks, but it can also be a health hazard for consumers. In today's article, I will provide a detailed guide on how to ship perishable food, so let's begin.
How To Ship Perishable Food?
When shipping perishable food, you must handle different challenges properly like harsh temperatures, spoilage, staleness, and humidity.
You can keep perishable food fresh by providing proper insulation and refrigeration that will keep water and heat out and maintain cool temperatures.
Let's take a closer look at each thing you need to consider when shipping perishable food and learn how to do deliver safe edible products.
Pick the right insulation
When choosing the right insulation, you have a wide range of options that will keep perishable food safe from the heat of the environment such as the following.
Styrofoam boxes
These boxes come in regular sizes and have a cardboard exterior. They're available in many thicknesses. Note that the denser the wall, the fewer ice packs or dry ice you will need. However, thickness comes at a price. Meaning, the thicker the Styrofoam box, the higher the price.
Styrofoam cut sheets
Styrofoam cut sheets also come in regular sizes. The best part? You can easily customize them to fit your boxes. They're also cheaper than whole boxes but not as effective.
Insulated liners
Insulated liners resemble emergency blankets. However, they also feature a bubble wrap texture. With a material of this kind, you can tightly wrap your items and then fill extra spaces in your boxes with bubble wrap or some other type of padding.
Air-filled insulation liners
These lines include a hand pump for small volumes and air tanks for large volumes. They use the strong properties of air which makes this option highly affordable.
Insulated pads
These pads mix the insulation efficacy of Styrofoam with the features of insulated liners while offering a greener solution as they're all created of recycled materials. You can either obtain insulated pads with a cardboard box. Or you can buy your own fitting boxes.
Dry ice or ice packs?
When shipping refrigerated products, it's recommended to use ice packs. If you need to keep your items frozen, opt for dry ice. Let's discuss both options in detail.
Ice packs
First of all, make sure to rest the size and number your items need inside your container. There's a wide range of ice packs available but one-time use ice packs can save you money.
Dry ice
When using UPS, if possible, stay under 5.5 pounds of dry ice. That way, you will avoid extra needs when shipping by air. However, no matter how much dry ice you use, you will need to deliver a proper exterior label that states your box contains dry ice. When using FedEx, follow their guidelines.
How much ice is necessary?
The amount of ice depends on your product's weight and how long your package needs to keep all items frozen. Consider the initial temperature of your products at the time of shipment and don't forget about the geographic destination and season.
Select the right shipping partner
If your products require guaranteed delivery in a day or two, I suggest speaking with both FedEx and UPS to determine what types of pricing you're able to obtain based on your current and future volume. With UPS, I think you can cut at least 30% off retail costs without large volumes.
Choosing the right shipping partner plays a vital role in the success of your business. Therefore, invest all the time you have into researching different shipping companies that can provide good prices. Just don't forget to mention what you're shipping exactly and make sure they can deliver on time.
Keep in mind that two-day shipping can cost less and perhaps doesn't affect the freshness and quality of your perishable food. Save your customers some money and you will save your customers.
In the end, the shipping speed needed will depend on shelf-life and whether you need to preserve your products frozen or refrigerated. Opt for the slowest way you can ship your products, while still ensuring safe arrival.
UPS allows shipping within regional areas through UPS Ground in 1-2 days which costs a lot less than a 1-2 day air delivery. The only disadvantage is that with Ground mail, there's no guarantee. However, in my experience, it's reliable.
Initially, I suggest that you make shipping available only in some places, as you grow your business. Just make sure to develop a unique marketing strategy and focus your ads on your target customers in these specific places.
Scroll down to read our indepth Ecommerce Platforms guide. What you should know, Ecommerce Platforms features, price plans and support. Pros and Cons of Ecommerce Platforms as a ecommerce, everything is explained below.
Shopify is a software company that specialises in ecommerce software for small to enterprise level businesses.
Shopify is listed as the best ecommerce software related to Ecommerce Platforms. Shopify was founded in 2006 in Ottawa, Canada and currently has over 6,124 employees registered on Linkedin.