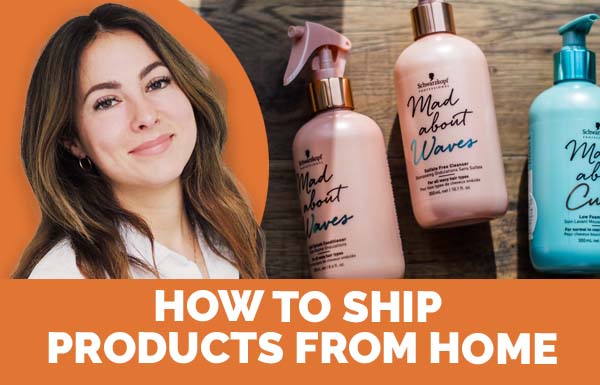 How To Ship Products From Home?
How you manage your shipping, fulfillment, and returns can make or break your small business.
In the Amazon Prime era, buyers require products quicker than ever! They also value how their products arrive and what type of unboxing experience they have. The worst part? They prefer free shipping!
They also expect effortless returns in case they're not satisfied with your products. Overall, they require complete transparency. In this article, I will teach you how to ship products from home successfully.
Shipping is a vital part of small businesses, so let's learn how to do it and keep your buyers happy.
How To Ship Products From Home?
Understanding how shipping costs and fulfillment costs are calculated can help you set up shipping rates and different options in your shopping cart. They're calculated based on the following factors.
Service And Speed
Thanks to Amazon, most buyers expect fast delivery time and different shipping options. Furthermore, they want free shipping! Typically, the more you expedite shipping services, the higher the shipping cost will be. But expedited services aren't the only key factor influencing your total costs.
Carriers offer various services based on different factors. Meaning, there's no one-size-fits-all solution. Therefore, responding to the right request with the proper service is highly important for cost-effective shipping. When shipping products, you need to ask yourself the following questions.
When does the product need to arrive?
Is tracking necessary?
Is a delivery commitment or guaranteed delivery necessary?
Is the recipient's address residential or commercial?
Is signature confirmation necessary?
Are you shipping hazardous materials?
Understanding and determining your items' shipping requirements will give you a better picture of how to determine shipping costs as well. Therefore, take action and make some notes with your team.
Dimension And Weight
Usually, bigger and heavier shipments cost more money. Services and carriers can have different rating structures, limitations, and requirements. However, they all calculate shipping costs based on dimension and weight.
USPS, UPS, and FedEx charge according to the DIM (dimensional weight) for their shipping services. DIM is based on the items' dimensions instead of their actual weight. Therefore, you will pay more for bigger and light parcels and less for smaller but heavier parcels. Enter precise package dimensions.
That way, you will get the best rates. You can easily calculate the dimensional weight with this equation: L x W x H/Divisor. Keep in mind that the higher the divisor, the lower the rate you will obtain.
Note that all major carriers also provide some type of standardized, flat rate shipping. If you opt for this one, you will obtain carrier-provided, regular packaging. Meaning, you will pay the same cost, regardless of weight and location as long as it's not international. FedEx, USPS, and UPS offer flat rates.
FedEx one-rate boxes go up to 50 pounds.
UPS and USPS flat rate boxes usually allow up to 70 pounds.
There's also cubic pricing. For instance, if you send a smaller, heavy parcel, you won't pay the same rate as a bigger parcel of the same weight. USPS provides cubic pricing for Priority Mail shipments.
Confirm Product Shipping Ability
Some products aren't allowed to enter some countries. Therefore, always confirm products' shipping ability before you ship out anything. For example, Brazil prohibits receiving playing cards, while France doesn't allow receiving collectible stamps.
Extra taxes, duties, and paperwork
These things don't count as carrier fees, however, shipping internationally always draws extra charges or requirements like VAT, tariffs, duties, and customs declarations.
Update your shipping policy and pricing
Both selling and shipping internationally cost more money. Therefore, ensure that you've adjusted your pricing and shipping policy (estimate for delivery) for foreign buyers.
Shipping volume
Retailers prefer high-frequency and loyal customers. The same goes for carrier companies! So, shipping at a higher volume can help you obtain better rates based on volume with some carriers.
I highly suggest that you establish a good relationship with your carrier account manager and enjoy good shipping discounts. Usually, online retailers utilize multiple carriers for better services and rates.
Therefore, explore different options and select wisely. I also recommend investing in shipping software that can help make this process simpler with all carriers and rates available in one place.
Scroll down to read our indepth Ecommerce Platforms guide. What you should know, Ecommerce Platforms features, price plans and support. Pros and Cons of Ecommerce Platforms as a ecommerce, everything is explained below.
Shopify is a software company that specialises in ecommerce software for small to enterprise level businesses.
Shopify is listed as the best ecommerce software related to Ecommerce Platforms. Shopify was founded in 2006 in Ottawa, Canada and currently has over 6,124 employees registered on Linkedin.