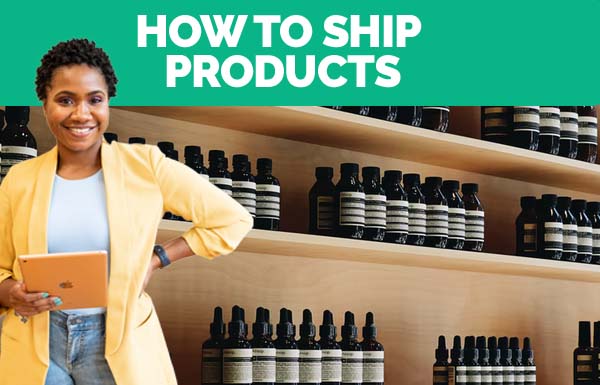 How To Ship Products?
Your shipping strategy can make or break your online business!
Many new companies start out in e-commerce by taking a simple approach to shipping like offering free shipping or listing unmodified UPS or USPS rates. However, the most successful brands combine various shipping options to stand out from their competition and boost margins.
The shipping strategy can certainly help you differentiate from other competitors but it's also important to ensure your company can deliver on the strategy and keep consumers.
You can accomplish this by coordinating your teams and involve everyone in the process so that they all know what's going on and what's their role in the whole shipping process.
In this article, I will teach you how to ship products, so let's begin.
How To Ship Products Successfully?
First and foremost, put together a good team that will help you in the process. Involve everyone in your company in the shipment process. Then, set clear goals together!
Together, you can determine if you want to increase margins, ship internationally, and other important questions that can help you craft a successful e-commerce shipping strategy.
Note that free shipping isn't always a good option. The good news is that you have other options. Below, I will discuss the 3 key shipping considerations, so let's get started.
3 Key Shipping Considerations
I've been researching different polls, surveys, and studies and realized that offering acceptable shipping rates and various options is crucial for success in the retail business.
Providing good prices can make the difference between losing a customer if you charge a lot and losing a t-shirt if you overcharge. However, the price isn't the only thing that matters.
Providing the right shipping options plays a key part in increasing profit and lowering cart abandonment. Therefore, take full control of your online store's shipping process and find a way to deliver low shipping rates while still covering all your costs, and providing different shipping options.
Here's a breakdown of the main shipping considerations that will help you determine what you can offer that will increase your sales and decrease your costs simultaneously.
Product size and weight
If you sell relatively uniform products, you can opt for a per-product, zone-based approach. In this case, the rate varies by your buyer's location, instead of the item's size and weight.
It's a great strategy that works well for many retailers! You can also provide straightforward promotions like $10 shipping per order, free shipping over $50, or $5 shipping per product.
For businesses with varying weights and sizes among their product set, obtaining rates straight from the carriers like DHL, UPS, or others is a good way to ensure you're offering the best rates. Just make sure to have the accurate sizes and weights, so that you obtain the most accurate rates.
You can easily accomplish this by breaking down your products into different groups. Then, just focus on obtaining size and weights for the largest or heaviest and lightest or smallest.
Domestic or international?
Free shipping or flat rate work exceptionally well for domestic shipping. To step up your shipping game, you can set rates based on zones. For instance, if you're situated in NYC, provide a cheaper price for the mid-Atlantic area and boost the rate as you grow out from there!
Note that shipping internationally usually requires obtaining a rate directly from carriers like LHL, USPS, or others. Shipping rates differ significantly even in nearby countries. Meaning, it's hard to set your own rates for these places. Last but not least, let's talk shipping options.
Shipping options
Provide a wide range of shipping options. That way, you can please more customers and keep costs low. I suggest looking beyond giants and finding other carriers that offer better deals!
Pick those who provide same-day delivery, next-day delivery, or cost-effective but still timely delivery even for larger products. In the big cities, you will usually find local delivery businesses that offer quicker service than the bigger companies at very competitive rates. Therefore, explore your options.
If you're selling especially larger products or make a bunch of large B2B shipments, utilizing a Less Than Truckload, also known as LTL carrier is your best option. Local delivery businesses usually don't provide a way to get shipping rates in real-time for shipments. However, you can create your own table.
List all your products and determine their weight so you buyers can easily fetch this information at your site. When presenting different shipping options, know when and where they're shown. For instance, if you're based in LA, you don't need to present your local delivery options to customers in Paris.
The same goes for people who order a single t-shirt, instead of loads of products. They don't need to see your LTL freight carrier as a possible delivery option. Take full control and keep your eyes open.
Scroll down to read our indepth Ecommerce Platforms guide. What you should know, Ecommerce Platforms features, price plans and support. Pros and Cons of Ecommerce Platforms as a ecommerce, everything is explained below.
Shopify is a software company that specialises in ecommerce software for small to enterprise level businesses.
Shopify is listed as the best ecommerce software related to Ecommerce Platforms. Shopify was founded in 2006 in Ottawa, Canada and currently has over 6,124 employees registered on Linkedin.