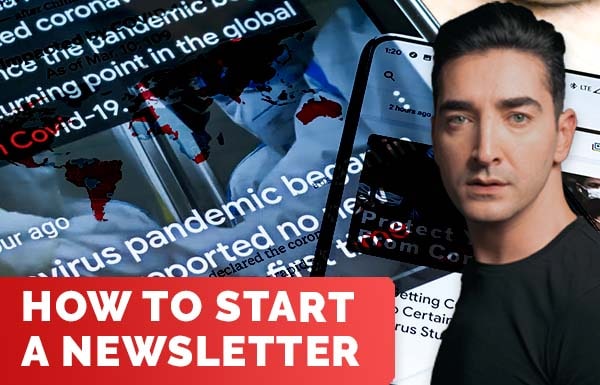 How To Start A Newsletter
One of the most popular marketing channels are email newsletters. Starting an email newsletter will increase your chances of having more subscribers and generate more leads. The main benefits of email newsletters are the ease to create and high effectiveness. Another important thing is that compared to other marketing techniques, email communication is more personalised.
Definition Of Email Newsletters
An email newsletter is an email received from a company directed to many recipients.
Newsletters can have different purposes. They are marketing tools to present the products or services of a company. But they can also be used to provide interesting information to your target audience.
In some cases, newsletters can include one-time offers, and often they can be used for ongoing campaigns.
Newsletters are not only used for news but rather as a means of products promotion, invite to an event, provide various offerings, etc.
The Main Reasons Of Using Email Newsletters
From a marketing point of view, newsletters have a list of benefits, which are based on the following stats:
Typically, for 77% of people the preferred method of receiving promotional information are permission-based messages through email. This indicator is the highest among the marketing channels.
The average ROI for email marketing is as high as $40 for every spent dollar.
Three Steps To Start A Newsletter
Step 1: Choose An Email Marketing Platform
You do not need to have special knowledge to be able to start a newsletter. Start gathering email addresses manually, write them on a spreadsheet, and send your emails using Gmail, Outlook, or other applications. However, this will be effective only when your email list is small. Besides, there are anti-spam laws, which your emails have to comply with. To be able to cover all these issues, you may need a unique email marketing platform.
Email marketing platforms provide users comprehensive services helping build and manage your list, create and send email messages etc. Here are the most popular email marketing platforms you may consider depending on your budget and preferences:
Sendinblue
This is a platform, which offers a package of tools to design and optimise marketing campaigns. It has also a free version.
AWeber
AWeber is a good option for beginners because it is easy to use and can quickly get your campaign off the ground.
GetResponse
GetResponse will provide you with a list of options to automate your marketing campaigns connected to newsletters.
All the listed platforms have templates that will allow you to build newsletters easily. One more important feature of these platforms is the possibility of segmentation of your subscribers into different groups.
Step 2: Starting To Build Your Email List
You have to start working on your email list, i.e., gathering email addresses. Keep the following concerns in mind when you start working on your email list:
You probably want to create your email list by letting people subscribe. The reason is if you send unexpected email marketing messages to people, they will ignore your message or mark it as spam.
When you concentrate your efforts on those who somehow showed interest in your product, you increase your chances of making them paying customers.
The most efficient way of creating an email list is to build a sign-up form on your site. There are many ways to create a sign-up page, so you will have a wide range of available options to decide which one to choose.
Placing a sign-up form is not the only way of promoting your newsletter. You can also use other marketing channels, such as social networks. For example, you can make a post on your social media profile informing about your newsletter and encouraging people to sign up.
Step 3: Creation Of The First Newsletter
When you are new to marketing, writing your first newsletter may be a bit overwhelming for you. Typically, you can use a template to write your newsletter or work on your own. In any case, there are some concerns to remember when you start your writing:
Pay attention to the headline of your newsletter. It should be brief and attractive.
Do not write a long newsletter and do not include too much information. Clearly state your specific goal: this approach will be more effective because readers will not waste time reading long promotional messages.
Use personalised emails. Statistics prove that writing the recipient's name in the email message's subject line increases the possibility of opening it by 26%.
Include visual branding elements. It will let people associate your ads and business more clearly.
Scroll down to read our indepth Ecommerce Platforms guide. What you should know, Ecommerce Platforms features, price plans and support. Pros and Cons of Ecommerce Platforms as a ecommerce, everything is explained below.
Shopify is a software company that specialises in ecommerce software for small to enterprise level businesses.
Shopify is listed as the best ecommerce software related to Ecommerce Platforms. Shopify was founded in 2006 in Ottawa, Canada and currently has over 6,124 employees registered on Linkedin.