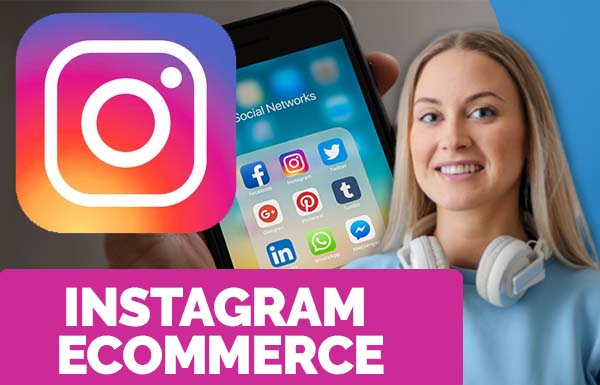 Instagram E-Commerce
If you are wondering what can Instagram e-commerce do for your business, this article is for you. First of all, Instagram has 1 billion users worldwide and counting and half of those users use stories daily. Therefore, you have a wide selection of people to reach and sell your products or services anywhere!
Secondly, over 80% of people follow at least one business on Instagram but here's the kicker. About 70% of people prefer online shopping over traditional shopping. So, why not take advantage of Instagram? Below, I will teach you how to hop on the Instagram shopping train and much more, so let's begin.
Instagram E-Commerce Setup
If you still have not started your online store, you will first want to see if your account meets Instagram's requirements. Check the following requirements and see if you're good to go!
Your business sells physical goods.
Your business is located in a supported market
You already connected your Instagram account to your Facebook business page.
Your business meets Instagram's commerce policies.
Your account is a business account.
You meet all the necessary requirements, nothing can stop you from opening your store and introduce your business to thousands if not millions of users by following the next steps.
Step 1: Make and connect your catalog
The first step is syncing up your Facebook shopping catalog and Instagram business profile. The process is easy and doesn't take much time, however, processing time can take a couple of days. Therefore, get this done as soon as possible, especially if you have a special promotion or new products launch. You can create your catalog with Catalog Manager. If you are starting everything from scratch, go to Facebook's Catalog Manager and select E-Commerce or whatever suits your brand.
Step 2: Connect with Facebook partners
You can also partner with Facebook's certified partners such as Shopify or Big Commerce to simplify the process. Just add your Facebook business account that's also linked to your Instagram business account to one of these partners. Then, submit your account for review and wait for a response.
Once you successfully connect your catalog and your Instagram account, go to the Instagram app to sign up for Instagram Shopping. Select Settings, then Business, and finally Shopping. Now, you wait again! Once you submit your account for review for Instagram Shopping, it can take a few days. And once approved, you will get a notification, so you can complete the process.
Step 4: Tag your products in posts/stories
I highly suggest that you tag your items in both your posts and stories to drive more sales. When posting photos or videos, you can tag up to 5 products per image or video and up to 20 products on multi-image posts or carousel posts. In stories, on the other hand, you can only tag 1 produce per story.
Fortunately, stories gain more organic reach than posts, so you're still gaining something extra. You can easily create more stories and tag more products. I would suggest using different effects and stickers to make your stories more catchy and unique. Customize your tags by changing the text color.
Step 5: Engagement and consistency
This might be the hardest step but also the most important, so pay close attention. Engaging Instagram users and turning them into buyers isn't that hard if you share user-generated content.
User-generated content
This will extend your reach and potentially draw more sales. It will also help you establish a trustworthy brand. You can start by asking your customers for a product review. Ask if they can review your products and publish a photo with your brand tagged or mentioned.
Then, you can reshare your buyers photos on your business profile and give them credit. It's a great way to make your customers feel special, drive more sales, and build your name at the same time. It's basically free content that can also help you learn about customer experience and improve products, if necessary. You can put in your bio "tag us to be featured!â€.
Instagram Ads
In my experience, there's nothing like organic reach, however, ads can also help, so use Instagram ads to reach your target audience. Paid promotions can help you increase sales and gather followers.
Instagram Consistency
Last but certainly not least, I want to explain the importance of consistency. Inactivity is one of the main reasons why most businesses don't achieve e-commerce success. Therefore, it's crucial to post regularly on Instagram. Trust me when I say that customers and followers, in general, can sense when you're not trying to establish a relationship.
Major names post 1-3 times per day on their Instagram business profile. It doesn't have to be a product or promotion all of the time. You can also post quotes or relatable images. One thing I have noticed influencers do when they want to sell a product is posting a series of Q & A on their stories before they drop a new product or promotion, so try that too!
Instagram E-Commerce Verdict
Growing a successful Instagram store isn't black magic. Just know your audience, share content tailored to your brand, post regularly, tag your items in posts and stories and track your achievements. My honest advice is to find a way to connect with your target audience, develop a unique image of your brand, share high-quality content, introduce new stuff, and most importantly, believe in yourself.
Scroll down to read our indepth Ecommerce Platforms guide. What you should know, Ecommerce Platforms features, price plans and support. Pros and Cons of Ecommerce Platforms as a ecommerce, everything is explained below.
Shopify is a software company that specialises in ecommerce software for small to enterprise level businesses.
Shopify is listed as the best ecommerce software related to Ecommerce Platforms. Shopify was founded in 2006 in Ottawa, Canada and currently has over 6,124 employees registered on Linkedin.