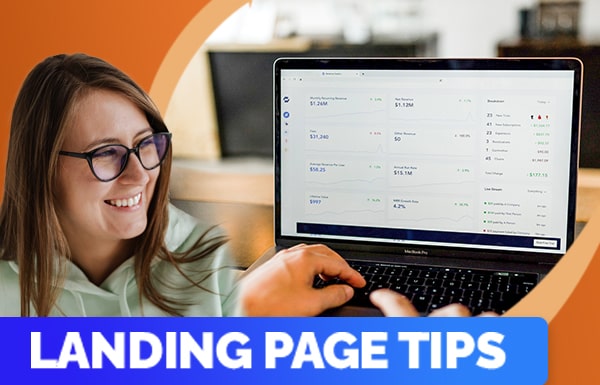 Landing Page Tips
Landing pages and lead collecting forms are two of the most important parts of the lead generation process. Without using those elements, marketing professionals would hardly be able to convert site visitors into leads, which in its turn would make it difficult to generate reconversions.
Landing pages allow you to take website visitors to pages, which are designed to capture leads in a more efficient way than other website pages.
Besides, landing pages also draw the users' attention to a specific offer and restrict the distractions of anything else on your site. If you appear on a landing page, there is just one purpose: to obtain an offer proposed by a company by filling out a lead-capture form.
However, it is not so easy to capture leads even by using landing pages. To be able to build effective landing pages and use them correctly, you can explore the following tips:
Include All Important Elements Of An Effective Landing Page
Landing pages often are called lead capture pages, because their primary goal is to convert visitors into leads. It can be made possible when a visitor completes a transaction or provides his/her contact information. In order to make all of this take place, you have to ensure that your landing pages include the following elements:
A header and sub header (the latter is optional).
A concise description of your offer, clearly emphasising its value.
Supporting picture.
Supporting elements, for example testimonials or security badges (this point is optional).
A form designed to collect information about visitors.
Do Not Apply Main Navigation Exit Methods
If a visitor appears on a landing page on your website, you have to try to keep them on that page. If there are links on the landing page, which allow users to move to another webpage, you have a risk of losing your chance to convert those visitors into leads. Therefore, remove the main navigation from your landing pages.
Match The Headline Of Your Landing Page With Its Call-To-Action
The content of your landing page, its headline and the CTA have to match. If visitors read different things written on the CTA and the landing page's headline, they may be confused and think that the CTA is linked to the wrong page. It may lead to losing a potential lead. To avoid such problems, ensure that all issues, which may arise confusion on your users' side, are eliminated.
Less Is More
In brief, be simple. Do not use long and too wordy headlines and content on your landing page. Keep only simple text and images to present your page as clear as possible.
Put The Emphasis On The Value Of Your Offer
Present the benefits of your offer in a paragraph or a few bullet points. Along with the list of your offerings, also highlight the main value you can provide your users.
Always include relevant buttons for sharing on social media platforms. It will allow your potential customers to spread your offers over the internet. To use this feature effectively, explore your audience's social platforms and include only those options on your landing page.
Since sharing preferences of people are different, it can be a good option to include an email forwarding button.
Keep in mind that social media gives you a big opportunity to increase the base of your customers even if your social media contacts do not buy your products. Instead, they may share your products and a person from their network will become your customer.
Build More Landing Pages In Order To Generate More Leads
A report proves that you may increase your leads by 55% if you increase the number of landing pages on your website from 10 to 15. The idea is the following: when you create more landing pages and more content, you increase your chances of more targeted content and, accordingly, attract more leads.
To be able to cost-effectively create landing pages, you may invest in a tool for building a landing page that is easy to use. Besides, creating more offers; change the content you already have in such a way to correspond to your current buying personas, etc.
Only Require Information You Really Need
To answer how much information to acquire in the lead collection forms, try to understand what kind of information you need. Every additional field means additional effort from the customer and fewer conversions.
That's why it is a good way to decide on the optimal quantity of required information by testing your landing page forms yourself.
Scroll down to read our indepth Ecommerce Platforms guide. What you should know, Ecommerce Platforms features, price plans and support. Pros and Cons of Ecommerce Platforms as a ecommerce, everything is explained below.
Shopify is a software company that specialises in ecommerce software for small to enterprise level businesses.
Shopify is listed as the best ecommerce software related to Ecommerce Platforms. Shopify was founded in 2006 in Ottawa, Canada and currently has over 6,124 employees registered on Linkedin.