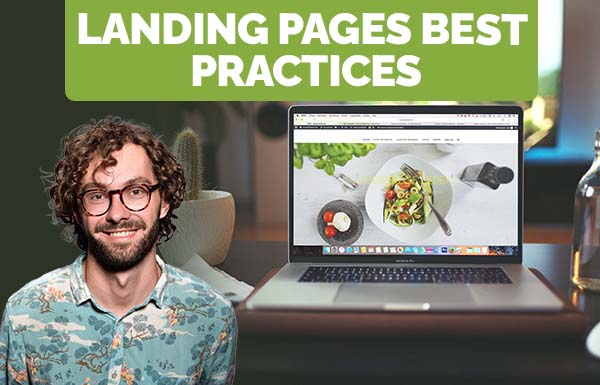 Landing Pages Best Practices
A landing page can be the customized page youre directing your visitors to when they click on your ads. It can also be the page that follows a CTA button or serve as the homepage of your website.
Regardless of how your visitors "land†on your landing page, the purpose of this page is to convert users into customers. Landing pages make powerful tools and take part in most marketing strategies.
Below, I will talk about landing pages and teach you how to create a booming landing page that will help you turn your visitors into customers. That being said, lets learn some useful tips and tricks.
Landing Pages Best Practices
Landing pages have a specific purpose. And thats converting your visitors into leads. You can pick from different types of landing pages. However, the intent stays the same – getting more leads.
They usually contain forms that require visitors to enter their contact details in exchange for something of value such as a discount, demo, or free shipping. However, what would make a customer want to give up their contact details online? Well, its all about a well-crafted and targeted landing page.
The following practices can help you make a captivating landing page with a great copy and solid format that will encourage your visitors to provide their contact and become potential customers.
Use a benefit-focused headline
For every 10 visitors that "land†on your landing page, about 7 of them will bounce off the landing page. To decrease that number, use a benefit-focused headline that will notify people of all the benefits within seconds of landing. Your headline should clearly communicate the value of your page and offer.
Pick images that illustrate your offer
Its mandatory to use images. However, you shouldnt use just any images. Pick the ones that represent your target audience. You should invoke a good feeling in your audience with your images. They should be able to imagine how they will feel once they get your offer, so choose your images wisely.
Craft compelling copy
Dont compromise all that time and effort creating the right headline and finding the perfect image with a poor copy that wont sell your CTA. Write a clear and valuable copy that will guide visitors to the action you want them to take. Use "you†and "talk†to your visitors as if theyre your friends.
Include the lead form above the fold
Make sure that your lead form is readily accessible in case someone wants to convert immediately. You dont want a potential customer searching your landing page to locate your offer. Include the lead form above the fold and make your form move with the visitor as they move down the page.
Add a clear and bold CTA
Your CTA is the key element of your landing page. Its the part that encourages conversion, so come up with a clear, concise, and powerful call to action. Make sure it stands out with a color that contrasts the rest of the elements of your landing page. Use verbs like "get it nowâ€, "downloadâ€, "joinâ€, etc.
Provide a relevant offer
You basically trade your offer for your visitors personal information. Make sure to provide a good offer thats relevant to your business and attracts customers.
Your offer might be something in the lines of "10 Ways to boost your organic reach†because ultimately, youre going to ask that lead to purchase your SEO plugin.
Only ask what you need
I know that you want to collect as much data as possible about your visitors. However, how many details you ask for depends on various factors like how well they know your business, how much they trust your company, and where they stand in their buyers journey.
Therefore, ask for as little data as you need in your lead form to establish a low barrier to entry. You can nurture a new lead by just collecting names and emails.
Remove all navigation
Your landing page has the sole purpose of converting your visitors into leads. So, you should remove all navigation including internal and external links.
Optimize your landing page
Your landing pages should be responsive to fit in with different viewing experiences just like every other page on your website. Meaning, your landing pages should be available on different types of devices like tablets and smartphones.
Optimize for search
Last but not least, you should optimize your landing page for search. Social posts, email blasts, and other marketing methods work just fine. However, your landing pages should also be optimized with keywords for your organic search and paid campaigns.
That way, when someone looks up your keywords, they should "land†on your landing page. Also, when you target keywords with paid campaigns, those keywords should be present on your landing page. Was this helpful? Share your opinions in the comments!
Scroll down to read our indepth Ecommerce Landing Page Platforms guide. What you should know, Ecommerce Landing Page Platforms features, price plans and support. Pros and Cons of Ecommerce Landing Page Platforms as a ecommerce, everything is explained below.
Shopify is a software company that specialises in ecommerce software for small to enterprise level businesses.
Shopify is listed as the best ecommerce software related to Ecommerce Landing Page Platforms. Shopify was founded in 2006 in Ottawa, Canada and currently has over 6,124 employees registered on Linkedin.