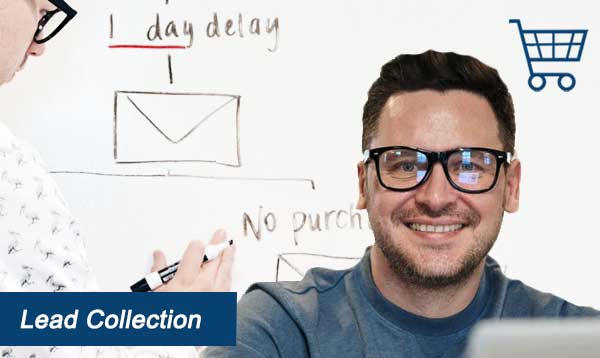 Lead Collection
What Is A Lead Capture Page?
A lead capture page is a type of post-click landing page with a lead capture form, which allows you to collect leads for your relevant offers and use them for marketing purposes.
You should reach the right balance of ask and reward in your lead capture pages. To 'ask' refers to the form fields you use, and 'reward' is the offer you promote. Only for relevant information about your customers. For example, during the first interaction with your company, you should not ask for more than contact information from the user.
The Differences Between Lead Capture Pages And The Homepage.
A lead capture page is a post-click landing page; it is inherently different from a homepage and other website pages.
A homepage is usually created to provide information to your potential customer about every product available. A lead capture page is a standalone page, and its purpose is to promote a single product.
There are no navigation links on a lead capture page.
A product or a service has one homepage, while there may be multiple lead capture pages depending on the offers you want to promote.
Effective Lead Collection System Development Steps.
Visitors' Conversion
The key component of the lead collection is your ability to understand who is ready to buy your product. You have to be able to differentiate your target audience, i.e. to determine people who are interested in your products and services. You can discover those people by offering free resources such as an ebook or whitepaper. In this way, the users interested in your product will provide their personal information in return for your offer.
If you want to collect valuable contact information of these 'warm' leads, you should pay attention to your call-to-action buttons. They should be easy to notice and have a different colour.
Close The Deal
After implementing the first step, you should decide how to follow up with those contacts. It is a critical step in the process of user conversion. Now you should analyse how ready your users are to buy your products. For this purpose, you can observe data on the frequency of site visits by the users, the length of a stay on specific pages, etc.
How To Create A Lead Capture Page
You have the following options to create your lead capture page:
In-house development of the page (by your in-house developer). The disadvantage of this option is that it can put an extra burden on the time of your developers.
Outsourcing, the disadvantage is that it can be expensive.
Building the page yourself using relevant software such as Instapage. The disadvantage is that it may require time to learn how to use the tool.
Ways To Optimise Lead Capture Forms
Here are some elements, which are essential to pay attention to if you want to optimise your lead capture forms:
Position Of The Form
The position of the form depends on the length of the post-click landing page. If it is short, it should be placed above the fold. Otherwise, you can decide where to put the form according to your preferences.
The Length Of The Form
When defining the form fields, you should pay attention to the ease of use to complete it and the lead quality. Although using shorter forms can collect data from more customers, the quality will be lower as you have very little data. Longer forms will allow you to have more quality data from fewer customers.
Have A Link To Privacy Policy
Always include a link to 'Privacy Policy' or 'Terms And Conditions. It will help you gain the trust of the visitors to your site.
Define An Attracting Headline
You need a creative headline, which will encourage readers not to leave the page. One of the efficient ways is to include your UVP in the headline and implement a message that matches your marketing campaign.
Place Relevant image
Try to choose an eye-catching image on your lead capture page. You can also include a graphic or GIF of your product.
Use Trust seals
This element is efficient to use in lead collection pages if you deal with e-commerce. The reason is that when users see trust seals, they are sure that the payment information will be kept secure. Examples of trust seals are VeriSign, PayPal, etc.
Include Social Proof
These kinds of elements have proven to work well in e-commerce. Examples of many customers can convince a hesitant visitor to buy your products and services.
Scroll down to read our indepth Ecommerce Platforms guide. What you should know, Ecommerce Platforms features, price plans and support. Pros and Cons of Ecommerce Platforms as a ecommerce, everything is explained below.
Shopify is a software company that specialises in ecommerce software for small to enterprise level businesses.
Shopify is listed as the best ecommerce software related to Ecommerce Platforms. Shopify was founded in 2006 in Ottawa, Canada and currently has over 6,124 employees registered on Linkedin.