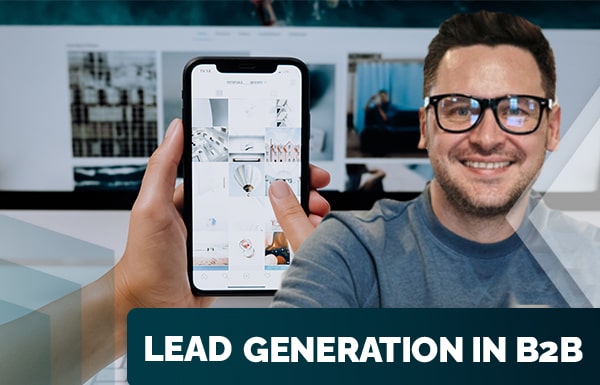 Lead Generation In B2B
Just one and half a year ago, a typical salesperson of an average B2B (business-to-business) company was spending 80% of the time on the roads and negotiating with clients. The share of face-to-face interactions to engage with clients was very high.
However, because of COVID-19, the number of such travels has reduced a lot. On the other hand, the same sales representatives boost their sales using digital and remote channels. Currently, over 70% of decision-makers in B2B companies prefer virtual human interactions.
Definition Of B2B Lead Generation
B2B lead generation is one of the fundamental factors for a successful business. It is defined as identifying the perfect customers for your goods and services and encouraging them to make a purchase. B2B lead generation is usually implemented by the sales and marketing teams of a company.
B2B leads
B2B lead is a person who has been considered as a potential client for your products and services. There are two types of B2B leads: marketing qualified leads (MQL), and sales qualified leads (SQL).
Marketing Qualified Lead (MQL)
Qualification of a lead as an MQL is based on your marketing team's efforts. MQLs are those leads, who have shown interest in your product or service, and seem to have a chance to become a customer. You can consider a potential customer as a qualified marketing lead in the following cases:
When a user regularly visits a page on the website of your company.
When a visitor fills out one or more forms on the website of your company.
When a user downloads a part of something that is produced by your company.
When a visitor signs up to participate in an event organised by your company, etc.
Sales Qualified Lead (SQL)
Sales qualified leads include marketing qualified leads that have moved along the funnel. Sales qualified leads express their interest by being engaged with your company. To qualify as a sales qualified lead, you must see expressive interest and intention to buy your product or service. This interest and intent can be shown in the following ways:
During a phone conversation with the representative of your sales department.
By sending an email or message.
By sending a request on offerings by your company.
By requesting a demo of your product or service.
Conducting B2B Lead Generation
The B2B lead generation process is typically organised by professionals of sales and marketing departments. They may work either alone or in teams; however, sales and marketing departments should collaborate closely to conduct more effective B2B lead generation.
Sales Team
To conduct B2B lead generation, sales team often split into two group, each of which implements separate tasks. The mentioned groups are:
Sales Development Representatives (SDRs), which are responsible for capturing leads, communicating with them and organising meetings.
Business Development Managers (BDMs), which are responsible for implementing demos, signing contracts and making revenues for the company.
This approach has the following benefits:
Creates an efficient lead generation pipeline.
Empowers employees to concentrate on one task, which allows them to become a expert in their specific role.
Marketing
Usually, marketing specialists, who are focused on B2B lead generation, are divided into two categories:
Marketing specialists that generate demand: they have a mission of nurturing leads along the marketing funnel.
Growth hackers, which are responsible for making quick revenue growth and meanwhile decrease expenses.
The Process Of B2B Lead Generation.
There are many different sales and marketing activities for conducting B2B lead generation.
Sales
Sales teams conduct B2B lead generation through an B2B outbound process, which includes the following channels:
Cold Calls
In this case, sales development representatives make phone calls with B2B leads, explain to them their product's main features and benefits and qualify them for further engagement. Cold calls may be implemented either manually or using an automated technology.
Outbound Email
Sales development representatives contact B2B leads sending email messages. Outbound email usually is implemented through automation platforms.
Social Selling
Sales development representatives follow B2B leads on social networks, engage with them and build long-term relationships. The main social network in B2B leads generation is Linkedin.
Sales Cadences
Sales cadence is the combination of all the techniques mentioned above. Usually, sales development representatives use cadences to maximise the chances of B2B lead responding.
All tasks mentioned above are implemented to pursue a B2B lead to participate in a product demo implemented by a business development manager.
Marketing
A B2B lead generation process implemented by marketing specialists is also called demand generation. Here are the main tactics used by marketers during the B2B lead generation process:
Growth Hacking
In this case, B2B marketers use unusual techniques to make quick profits. For example, using free tools and incentives.
Content Marketing
Here marketers publish interesting and relevant content promoting to their target markets. For example, blogs, videos, etc.
Account-Based Marketing (ABM)
In case of ABM, marketing specialists identify the key person inside a company, who is a decision-maker and use personalised marketing campaigns to capture those leads.
Scroll down to read our indepth Ecommerce Platforms guide. What you should know, Ecommerce Platforms features, price plans and support. Pros and Cons of Ecommerce Platforms as a ecommerce, everything is explained below.
Shopify is a software company that specialises in ecommerce software for small to enterprise level businesses.
Shopify is listed as the best ecommerce software related to Ecommerce Platforms. Shopify was founded in 2006 in Ottawa, Canada and currently has over 6,124 employees registered on Linkedin.