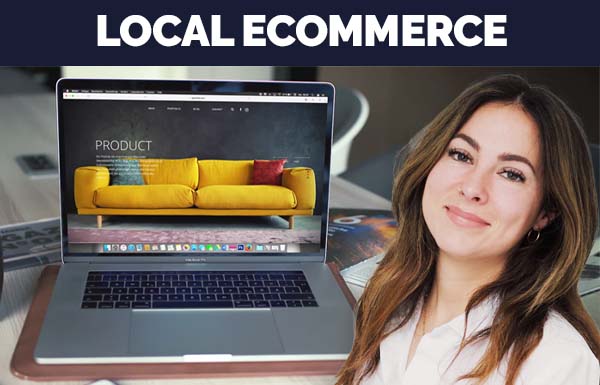 Local Ecommerce
Local Ecommerce: Meaning And Everything You Need To Know About It
If you're a local business owner, irrespective of your business type, your focus will be on using the best marketing strategy to attract customers. The keyword here is the right marketing strategy to grow your business locally before expanding it to the international level. And this is where the knowledge of local Ecommerce comes into play.
Meaning Of Local Ecommerce
Local Ecommerce simply means selling your product exclusively to the local audience via your online shop.
Another name for local Ecommerce is hyper-local commerce or offline-to-online commerce. Local Ecommerce is all about selling a product to the locals through your online store.
It's good to use this approach to reach out to customers near you before delving into the larger market (International). This is because some people like to buy their products from a local store even though they might check an online site to know the price and the product description.
This strategy makes it easier for customers near you to see your store, check the product description, and finally walk into your physical shop to buy the product or order from your shop.
So, in this post, we will be discussing everything you need to know about local Ecommerce.
Importance Of Local Ecommerce
Most buyers use a smartphone and also search online for a product they want before making a purchase. However, according to Google 50% of buyers will always visit a local shop after checking out a product online with their mobile devices. This is where the local Ecommerce business comes into play. With this approach, you will target most customers from your area when they search for a product close to their area.
70 percent of Americans buy from a local store to support local businesses. This shows that local Ecommerce is still an excellent option for businesses; hence as a business owner, you can use this method and create a name for yourself within your area.
How To Sell Your Product Locally With Ecommerce Shop
There are various ways to sell your products locally and below are a few tips to help you get started:
Study Your Customers And What They Need
To be successful in any business, you must provide value to your customers. However, in the local online space, the needs of the customers vary. However, you have to find out what each customer's needs and provide service around that. You can start by asking your current customers questions about what they need and how they need it.
Once the question is answered, you can start building your business around that to meet the needs of your customers.
Create An Online Shop For Your Business
Building your Ecommerce website is the greatest option for running a local Ecommerce business. There are numerous platforms to choose from when it comes to creating your website, like Shopify, BigCommerce, Wix, etc. these options can help you get started immediately without any technical knowledge.
As the greatest option for your local Ecommerce, you have to create value and a strong marketing plan for it to grow, this includes creating content for your website, creating the right marketing method, using the right social media marketing approach for the business.
Email marketing helps you to retarget and retain your customers, so this is an essential part of running your local Ecommerce business. You can get your buyers' details when they sign up on your store and use it to retarget them.
Collect Information And Solve Problems With Your Site
Your site is a powerful tool for solving some of your business problems. Use it to get first-class information about your business and where it's headed. With this information, you can devise a means of solving the problem.
Market Your Business And Listen To Your Customers
Use all available means to put your product out there to make sure it is getting to customers. And also listen to your customers to know their needs and how you can improve your services to them.
Scroll down to read our indepth Ecommerce Platforms guide. What you should know, Ecommerce Platforms features, price plans and support. Pros and Cons of Ecommerce Platforms as a ecommerce, everything is explained below.
Shopify is a software company that specialises in ecommerce software for small to enterprise level businesses.
Shopify is listed as the best ecommerce software related to Ecommerce Platforms. Shopify was founded in 2006 in Ottawa, Canada and currently has over 6,124 employees registered on Linkedin.