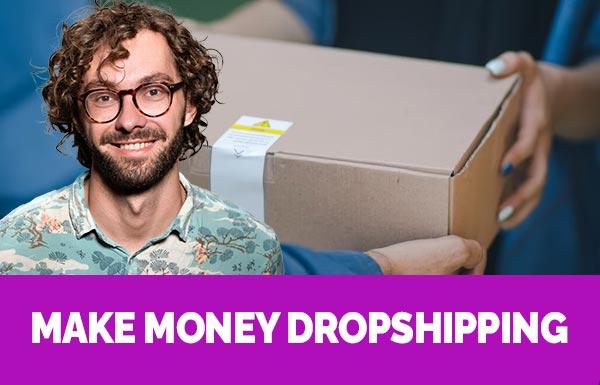 Make Money Dropshipping
You can make money with dropshipping. However, its not always that easy because of the manner the business model of dropshipping works. The good news is that many people have already earned money this way, so its not impossible. In todays article, I will talk about dropshipping in detail.
I will explain whats dropshipping, deliver a short step-by-step- guide on how to start making money with dropshipping, and list some of the most common issues people face with this new money-making trend. That being said, lets dive deeper and decide if this is the right challenge for you.
Whats Dropshipping?
If youve been considering opening up your online business, however, dont have any idea where to start or what you should sell, dropshipping makes a great business choice for you.
Its also a great option for people with a limited budget and no storage room for products. This is where dropshipping steps in and saves the day! With drop shipping, you can easily sell products online without the things ever being in your possession. Dropshipping requires only a few basic supplies.
All you need is a PC or laptop, online shops, and some marketing skills. You also need to locate suppliers, so you can display their products on your online shop at different prices you determine.
When people place orders on your online shop, they pay you the retail cost youve set, and you make a profit. Then, you will place the orders with your suppliers at wholesale price and have the items shipped directly to customers. As you can notice, its a pretty straightforward process.
How To Make Money Dropshipping?
Dropshipping isnt rocket science. However, theres a learning curve, so you will experience some issues and challenges along the way.
You can learn from your mistakes. And if youre persistent enough, you can make dropshipping work for you. Just follow these few steps.
Take the 14-day free trial on Shopify.
Search for items at the Oberlo or Spocket app that you would like to sell. Once you find the ones you like, add them to your online shop.
Create a payment gateway so you can start taking in payments. A great default option is Shopify payments but only if youre living in specific countries. I would suggest that you enable a couple of payment gateways such as Apple Pay, PayPal, Amazon Payments, or any of the other options that Shopify provides.
Once youre done with all of that, you will need to develop a marketing strategy and send traffic to your online shop.
You can use popular marketing tools such as Instagram ads or Facebook ads, and publish quality content for your online shop.
Use free tools such as Canva to create your logo and design anything else you need for your new online business.
Dropshipping has a significant advantage over traditional e-commerce in aspects of capital investment but its not completely free.
You will probably have to spend some money to build your presence, build a website, market items, and handle returns, so its not a get-rich-quick scheme as you think.
Another thing I would like to mention is that you shouldnt sell copyright items. Its illegal worldwide and can get you into serious trouble. Instead, pick items from Spocket and other trusted suppliers who avoid copyright infringement. That way, everybody stays out of trouble.
Keep in mind that most drop shippers dont have a single online shop but multiple shops targeting many niches so they can have a few sources of income instead of just one.
If youre a beginner, start small with one product and work your way up! Or start with a small number of complementary items from one supplier and increase as you grow.
Note that not everyone can get rich with dropshipping because not everyone can handle the issues that come with drop shipping.
Common Issues With Dropshipping
As I already mentioned, dropshipping comes with a few issues and challenges. Lets take a closer look at the most common ones that you need to consider before starting this business.
High competition
Since its relatively easy to get started, theres a lot of competition. I highly suggest that you find a niche audience like gaming, animals, knitting, or anything else that you believe the market isn't oversaturated with. Only that way, you can work with less competition.
Supplier mistakes
Although uncommon, inevitably, suppliers will mistakenly send the wrong product to the wrong address. In that case, dont take things personally and handle the return like a professional. You can either offer a complete refund or order a brand new product from your supplier.
Long shipping times
Shipping times take longer because most drop shippers operate from China. This could be a turn-off for some customers. The best way that you can handle this issue is by stating your shipping times clearly so buyers know what to expect and dont get disappointed with your service.
Make Money Dropshipping Verdict
Dropshipping seems like a quick and easy way to make money online. However, its more than just that. You need some marketing skills, patience, and brains.
Most importantly, you must understand the issues and challenges that come with this business. If youre certain that you can do it, go for it. Otherwise, focus your energy on something else.
Do you have any experience with dropshipping? Or perhaps you have some questions? Either way, drop a comment, and lets continue the discussion below!
Scroll down to read our indepth Ecommerce Dropshipping Platforms guide. What you should know, Ecommerce Dropshipping Platforms features, price plans and support. Pros and Cons of Ecommerce Dropshipping Platforms as a ecommerce, everything is explained below.
Shopify is a software company that specialises in ecommerce software for small to enterprise level businesses.
Shopify is listed as the best ecommerce software related to Ecommerce Dropshipping Platforms. Shopify was founded in 2006 in Ottawa, Canada and currently has over 6,124 employees registered on Linkedin.