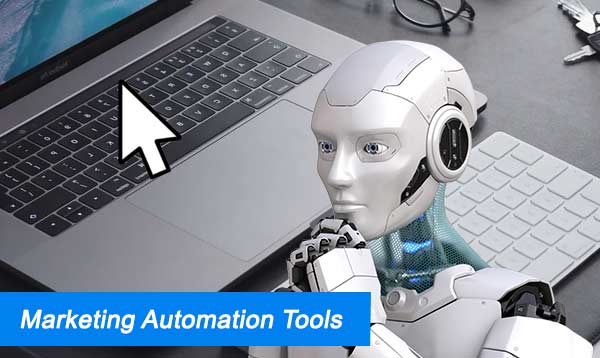 What Is Marketing Automation
Automating marketing processes allows organisations to use technology to automate the marketing functions while minimising costs, increasing profits, and streamlining operations. Marketing automation refers to new software technologies and systems designed specifically for marketing departments and companies to more easily and repeatedly market on multiple channels online and offline. It helps businesses and marketing professionals by simplifying the marketing process, increasing productivity, increasing sales, and reducing waste.
Today's marketing automation software provides businesses and marketers with improved methods of conducting and managing their marketing functions, which are essential in maintaining successful businesses. The core function of this software system is to track, organise, and test different marketing campaigns. Once a campaign is tested and proven, it can be launched across an entire marketing network. Moreover, the campaign can be re-evaluated at any point by using personalised reports. It allows marketers to make the necessary adjustments on campaigns that do not work optimally.
The benefits of marketing automation include increased profitability, more time for customers, optimised customer experience, and more time for market research and development. With inbound marketing, marketers and experts have access to the right people at the right place and at the right time. They do not need to search out leads individually or spend time gathering leads manually. They need the internet and a marketing funnel automation platform to streamline all their marketing functions from lead generation, purchasing, and service delivery to generating leads and tracking and analysing customer experience. Inbound marketing provides the correct information at the right place and the right time, allowing marketers and experts to focus on the most promising prospects. It results in more revenues, more business, and more success.
What Does Marketing Automation Do
Marketing automation is a popular term in the internet marketing world. It refers to an automated software solution that automates specific components of your online marketing. For example, this automation can be as simple as automatically automating a basic task (such as collecting customer information about prospects) or automating an entire marketing strategy, providing you with a fully hands-off approach to the marketing process. Not every business can be completely automated, but even a good percentage of businesses can use some form of marketing automation to streamline their process and make running the business easier.
If you are wondering how it can benefit you, marketing automation allows marketers to focus on more critical tasks such as designing and developing new products and services, writing content, and tracking the performance of the site or page. With all of these tasks taken care of by marketing automation solutions, marketers are free to focus on marketing strategies that ultimately benefit the business. With automation solutions taking care of the mundane tasks, marketers can focus more time and attention on finding new ways to bring in new customers, generating new sales leads, and helping existing customers grow their businesses. In many cases, marketers can find enough automation to take care of half of their job. Some solutions even allow marketers to take care of half of the task and give them time to focus on the other half by letting them run the program in the background while they continue to work on other tasks.
Marketing automation software solutions are designed to help marketers accomplish their goals. The primary goal of most marketers is to increase sales, which means they want to drive new customers to their sites. With the right CRM software solution, marketers can easily create a customer database, build a profile for each customer, and track customer data so that all of the work required to generate sales is streamlined. When it comes to online marketing automation, marketers need to find a reliable CRM software solution to get the job done. A quality CRM software application will enable marketers to build customer lists, target customers via email campaigns, and measure the effectiveness of marketing efforts.
How Does Marketing Automation Work
There's no denying that marketing automation has been a marketing phenomenon since its inception.
This Is How It Works
Marketers create marketing campaigns, set up databases to track customers preferences, identify common interests and areas of common interest and then engage customers in a campaign based on these interests and areas of common interest. Marketing automation, then, works as a solution to many marketing woes. But with the wide variety of marketing automation software now available, how does one decide which marketing automation software to use? Here are some tips for choosing the right software.
Good marketing automation helps capture and categorise leads into actionable information that the marketer can then actively pursue by customising the campaign to suit the individual client. Marketing automation helps focus a campaign by focusing a database of interested prospects onto a single, easy-to-use interface. By paying close attention to the interests and behaviours of your most active leads, you can further customise campaigns to capture more conversions and, ultimately, sales specifically.
Another way how automation works is in the form of email marketing campaigns. Using email marketing campaigns can save time and money by automating tasks that don't need to be done manually. For example, instead of writing emails to each customer individually, using automated email marketing campaigns will allow you to define parameters to send specific, pre-drafted email messages to interested clients. In this way, you won't be wasting time composing emails for prospective clients that you know nothing about and won't have to spend hours each day composing emails.
What Does Marketing Automation Mean For The Customer Journey
What Are Some Marketing Automation Best Practices
If you have been looking at ways to automate your business, you are probably looking for a list of what are some of the marketing automation best practices that you can follow. For many people, the notion of outsourcing their work is an entirely foreign concept. Many people feel more comfortable working with an actual employee or business partner instead. However, if you have tried working with outsourcing in the past and were not happy with the results, it may be time to consider changing back to the traditional model.
One of the most important things to remember about any business is to find out what your customers want. By conducting market research and asking customers what they are most interested in, you can increase your understanding of their needs. You can try to tailor your advertising and promotional campaigns to meet their needs. One way that this can be achieved is by using customer surveys. Using the internet, you can also conduct online surveys to gather information on some of the best marketing automation best practices your customers are using.
By gathering this data, you can start implementing changes in your company that will benefit your customers. By collecting this data beforehand, you can also see which techniques your customers will most likely use when performing their shopping. It means that you can implement measures that will help you capture this data to know which of your competitors is genuinely successful in the future. One of the best practices that many businesses employ is automation, but you need to use it to work strategically. By following some of the basic marketing automation best practices that we have listed above, you will be able to ensure that you can truly maximise the potential of marketing automation in your business.
Marketing automation tools do the heavy lifting. According to Marketing Automation Insider, marketing automation tools were on the market since 1993, the first company to pioneer being Unica. According to them, today's marketing automation industry is a $6.1billion industry and has acquired 75% more acquisitions than just a few years ago! Not only that, but it has expanded significantly with the addition of various software, platforms, and online services like CRM, accounting, and marketing systems.
There are several important marketing automation tools out there. However, one of the most popular and most heavily used is Live Chat Software. With Live Chat Software, your sales team can easily and rapidly answer questions and serve customers live from anywhere - even if they aren't at the office. Think about it - if someone is calling you with a question, you can jump into your office or bed and instantly start a live chat. The customer gets a quick answer, and your sales representatives can take the call as directed. Most marketers swear by the ability to use Live Chat Software for marketing automation and sales, lead management, and other customer service functions. The best marketing automation software for this function allows a sales rep to take a call and immediately start a live conversation with the customer, which is then routed through email, instant messenger, or any number of mobile devices.
It's amazing how much data and information are available to a marketing automation tool, allowing companies to quickly and efficiently manage all aspects of their business with ease. It is beneficial for small businesses, who don't have a dedicated staff for customer service or a computer with extensive memory and system resources. Having an internet connection, a laptop, and an internet browser, a small business owner can access and process vast amounts of information with only a few clicks of the mouse. It's also a great way for companies that have multiple locations to connect. These powerful marketing automation tools will streamline your business and make it more efficient while simultaneously increasing productivity and reducing costs.
Scroll down to read our indepth Marketing Platforms guide. What you should know, Marketing Platforms features, price plans and support. Pros and Cons of Marketing Platforms as a marketing automation, everything is explained below.
Sendinblue Premium is a software company that specialises in marketing-automation software for small to enterprise level businesses.
Sendinblue Premium is listed as the best marketing-automation software related to Marketing Platforms. Sendinblue Premium was founded in 2012 in Paris, France and currently has over 248 employees registered on Linkedin.