Marketing Email Platforms Table of Contents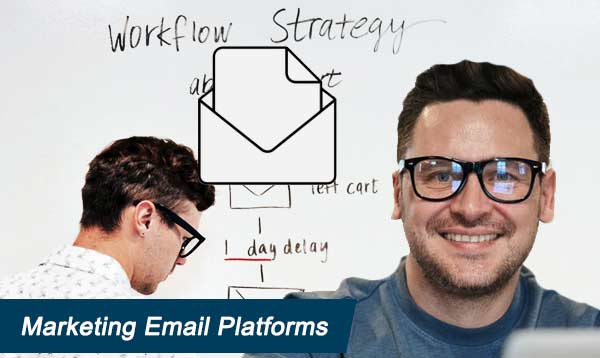 Marketing Email Platforms
What Is An Email Marketing Platform
The best email marketing platforms provide a dynamic content management system and a wide array of tools to assist with advertising, tracking and campaign management. Flexibility and scalability are at the heart of any e-marketing software solution. Features like email templates, emailing lists, campaign setup, autoresponders, landing page builder, detailed reporting, newsletter sign up, and more are fundamental factors in any e-marketing campaign. Some of the other features available can include a detailed statistics report, a built-in web admin panel, the ability to export data, and a large number of pre-configured web forms and web pages for use with various marketing campaigns. Some of the other key features of email campaigns include the ability to track the click-through rate, open rate, response rates, and the number of times each email was opened, as well as the number of times each message was forwarded.
The best email marketing platform will provide segmentation capabilities, so you can understand who is opening your messages and attachments and who is clicking on the link to your site. Segmentation can segment by geography, behavioural characteristics such as gender, age, race, and the keywords used to create a campaign. Most platforms allow you to personalise your messages and even add images and videos to personalise your ads further and maximise your conversions. Several additional features can be added as well, including the ability to track and measure click-throughs, segmentation by key demographics, the ability to create landing pages tailored to the interests of each customer group, and the ability to personalise email campaigns.
Email marketing software platforms provide the ability to reach a vast audience with little effort and at a minimal cost. Many of these platforms are available at a low monthly fee and offer free trial periods. If you have not yet tested out one of these platforms, you may want to do so for the sake of your business. Nothing is more important than getting the most from your advertising budget. By taking advantage of the power of email marketing platforms, you will find that you can dramatically increase your revenues while spending less than you ever thought possible on advertising.
EmailOctopus
This is not only a highly efficient tool that allows you to manage and organise your emails effectively but also allows you to create stunning newsletters and other helpful content. With Emailoctopus, every email sent to your WordPress account will automatically be formatted and delivered as an HTML email. No more struggling to figure out what important messages should be deleted or marked as spam.
One of the great things about this amazing plug-in is the built-in delivery capability that allows you to add your delivery routes for various email octopus templates. You can set up your own custom set of rules that will dictate the delivery format for all the emails that go out from your account. Whether you want to send an HTML email or an email with a template that has already been formatted, you can set up custom rules for each of these and even mix and match styles between them to create the perfect deliverability profile for your particular business needs.
To take full advantage of this powerful platform, you must have a highly customised plug-in installed that handles email montage. EmailOctopus integrates seamlessly with Mailchimp and enables you to manage and track any number of email addresses and accounts with just a few clicks of the mouse. This plug-in has numerous advanced features to give you ultimate control when managing your list, including custom listings, subscription reminders, mailing list removal, and more. If you haven't used email octopus before, it's time to try it out and see how easily it integrates with your existing Mailchimp strategy.
MailChimp
Mailchimp is an email marketing service and online advertising automation platform. Mailchimp was initially designed to be a simple mailing application but has since evolved into an effective tool for web marketers of all kinds, from affiliates to large multi-national corporate companies. One of the critical elements of success with Mailchimp has been its ability to seamlessly handle all forms of internet marketing, allowing marketers to focus on what they do best rather than being bogged down by concerns about sending out an email or responding to one. In a world where social media and other types of internet communication have become extremely popular, it has become imperative for marketers to remain effective at all times, both online and off.
While some marketers may feel that automation is simply a good way to get by with less work, other professionals see it as the key to long-term success in this industry. The ability to fully take advantage of Mailchimp's various tools and features has allowed many online marketers to save significant amounts of time and energy while promoting their products and services. Since Mailchimp offers a wide variety of different automation solutions for marketers to choose from, no campaign should be left unattended because of a lack of support for certain functions or the inability to use a particular feature.
With so many people promoting online and connecting through their smartphones, companies have never been more important to remain efficient and create campaigns that reach their target audience. For some marketers, the benefits of outsourcing their Mailchimp campaign to a professional company are well worth the effort and cost. However, many people have found that Mailchimp can be controlled effectively by a regular user. The cost of using Mailchimp to manage their promotions far outweighs any benefits that might be gained. Whether your company needs to automate its marketing process or make in-depth changes, Mailchimp can provide an effective solution that will drastically improve the efficiency of your next steps.
ConvertKit
ConvertKit has gained notoriety as one of the best email marketing software available on the market over the past few years. This program is designed to help you create custom emails that will convert better than anything you could do manually. This program allows you to write an email, add videos, graphics, and pictures, and publish it to many email addresses or social media accounts. With this program, you will reach millions of people around the world with minimal effort.
If you want to make your online business a success, then you need to take full advantage of the tools and features available through ConvertKit. One of the most popular tools that ConvertKit provides its users is utilising email templates to create more personalised communications. All of your emails should reflect your personality, which is why so many individuals use email templates to build their businesses. The templates can also be adjusted to include the names of specific people or phrases commonly used within your niche market. When creating your templates, you can also change the body content, colours, and other features to make them uniquely your own.
Another great thing about using ConvertKit is the ability to utilise an advanced system for email marketing through the internet. With the push notification functionality available with ConvertKit, you can send alerts and promotions to subscribers regularly. It will allow you to get new leads and increase the effectiveness of your landing pages. You can also set up different segments within your broadcasts for different demographics such as age, gender, health, and income level. If you want to become a top producer in your niche market, then it is time that you utilised ConvertKit to take advantage of all of the tools and features it provides.
GetResponse
GetResponse has received great reviews from its users. Most of these positive reviews come from people who have used the service and also received great results. GetResponse gives you the power to manage your list, email campaign and marketing effectively, with just one-touch access from your personal computer. The following information will help you learn more about GetResponse and whether it is right for your online business.
GetResponse has various capabilities that help you get the results you want, right at the speed of light. GetResponse allows you to grow your email list easily by offering tools for bulk emailing. You can build, test, split and forward emails using the same interface. GetResponse has a unique feature that allows you to track your visitors, view demographics and understand the psychology of your prospective clients. GetResponse's free templates allow you to create an attractive website that is visually appealing and functional. Their search engine marketing capabilities help you deliver the right messages to your customers on the internet.
GetResponse can integrate your existing CRM systems such as Microsoft Dynamics GP or GreatPlains into your marketing campaign and provide real-time updates. They also provide you with automated email marketing campaigns with custom landing pages to help you grow your business. Many of the features offered by GetResponse are fully customisable and include detailed reports along with powerful automation. They also allow you to easily scale up or down your online marketing efforts, depending on how quickly your sales need to increase or decrease.
AWeber
AWeber (a PayDotCom product) is one of the most basic, least expensive and easiest ways to keep track of your direct customers. If you are not familiar with AWeber, it is a service that collects email addresses for businesses, charities, schools, churches and more. What it does is create a single, consistent method for tracking all of your direct customers. AWeber's interface allows you to create a custom profile for every organisation you wish to keep tabs on. If you only wish to keep track of your church's leads, you can easily do so.
With AWeber, there are no limits to the number of campaigns you can run. The free version of AWeber will allow you to manage up to two marketing lists at once. Using this feature, you can run two separate marketing campaigns to ensure that you receive quality results. With the free version, you can find information on subscribers, send out bulk emails, generate reports and tracking, and create a mailing and contact list. AWeber doesn't stop there, though; it offers the ability to export data to Excel and other productivity software that you can use to make your business more efficient.
One of the best features of AWeber is the automatic generation of auto-responders. When a subscriber clicks the 'send button, your software sends out multiple emails in which you can contact the customer. All you have to do is set up an autoresponder sequence and let AWeber take care of the rest. As for email marketing, AWeber's unique approach allows you to create marketing materials such as newsletters, blog posts, and websites to promote your products and services. It means that you can easily create multiple segments of your audience, which in turn means multiple ways to generate sales.
ActiveCampaign
ActiveCampaign is the core component of e-marketing. They provide an integrated platform for content, design and distribution. With ActiveCampaign, e-businesses have the opportunity to build higher conversion rates and improve overall revenue per sale by automating several business processes, including creating new contacts, composing emails, manage campaigns and track sales with contact and subscriber management. Although it is easy to create many sales leads by manually contacting thousands of people every day, the sheer difficulty of maintaining contacts with so many people can quickly overwhelm any businessman. However, with automated solutions that can provide customised solutions for specific business requirements, e-business owners will manage their contacts and send emails easily and confidently.
The first step in automating your business is to develop a business strategy. Your strategy will help you define the exact steps you need to take to achieve your goals. Once you have defined the strategy, you can begin developing pre-built automation for each aspect of your business. It includes everything from building new email campaigns, developing and maintaining contacts, managing and segmenting your customer data, and sending emails. Depending on your product or service scope, you may need to focus on a single aspect of customer experience automation or several different areas - each of which is easily customisable with popular and pre-built integrations available in the market today.
When it comes to email marketing, integration is essential to ensure that your messages are delivered at the right time to your target audience. Customers expect to receive emails from businesses that are relevant to their needs and expectations. With email automation, you can easily identify your target audience and send emails that are not only appropriate but also perfectly tailored to reach them at the right time. Whether you need to automate contact management, build mailing lists or segment customers, ActiveCampaign provides you with all the necessary tools. ActiveCampaign works to give you the best possible email marketing solutions with a strong integration strategy.
MailerLite
MailerLite provides excellent solutions for online marketers looking to manage multiple campaigns and contacts. They provide access to the MailerLite web admin and integration with popular email marketing platforms such as GetResponse, Aweber, Google Talk, AweberLife, GetSocial, MySpace, Twitter, Threelac etc. With so many integrations available with MailerLite, marketers can create and manage all their campaigns and contacts from one place. So if you want your online marketing efforts to be as efficient as possible, consider investing in a good autoresponder software solution like MailerLite. It includes advanced features such as segmentation and customisation of emails so that you get the most out of them.
Apart from the above, MailerLite also provides other useful features such as customisable email templates, full support for HTML and PHP, the ability to manage multiple sites and domains, an advanced reporting tool, and many more. One of the most useful and best features of mailer lite is its WYSIWYG editor, which is a great help for new users. All these are the significant advantages of the MailerLite email marketing software platform and if you want to make your business grow, then definitely think about investing in a good mailing software solution like MailerLite.
Why Does Email Marketing Matter
Email marketing is one of the most effective strategies you can use to generate quality leads for your business. By sending emails containing content people are interested in, you increase their chance of opening and reading it. It allows them to become interested in your company, products and services and even sign up for a free email newsletter or sample internet product. Email marketing can also help with your reputation management, which we will explore later in this article.
Before you start to market your online business, you need to have a good understanding of how to write effective subject lines, titles and body content. It may seem like common sense, but many people struggle to create effective subject lines and titles. In the majority of cases, a subject line is what captures your subscriber's attention and draws them into reading the content of the email itself. You should try to make your subject lines interesting, creative, and informative, capturing your readers' attention and making your emails more interesting.
Now that you have all of your bases covered, you can use email marketing to build a list of subscribers and promote your internet marketing campaigns. You can use these emails to send out promotions, offer discounts on your products and services or send general information about your company. Many marketers use a variety of tactics to promote their online business. You must understand your audience and take full advantage of every tool available to you.
Scroll down to read our indepth Ecommerce Platforms guide. What you should know, Ecommerce Platforms features, price plans and support. Pros and Cons of Ecommerce Platforms as a ecommerce, everything is explained below.
Shopify is a software company that specialises in ecommerce software for small to enterprise level businesses.
Shopify is listed as the best ecommerce software related to Ecommerce Platforms. Shopify was founded in 2006 in Ottawa, Canada and currently has over 6,124 employees registered on Linkedin.