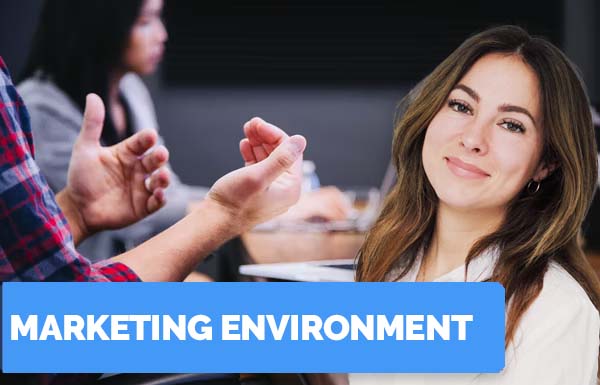 Marketing Environment
A wide range of internal and external factors influence a businesss marketing environment.
While you can control some of those factors, you cant control everything, therefore your business must adapt itself to prevent being suddenly struck by possible changes in external and internal factors.
In todays article, I will discuss everything marketing environment-related, so lets get started.
What Is A Marketing Environment?
The marketing environment includes internal and external factors and other details that influence your firms ability to establish a good relationship with customers and provide services. The internal factors include owners, machines, employees, materials, and more.
External factors, on the other hand, come in two separate categories including macro and microenvironment. The wide environment (macro) incorporates larger societal forces which influence society as a whole. It consists of six components including the economic, demographic, technological, physical, social-cultural, and political-legal environment.
The task environment (micro) is specific to the brands. However, its still external and consists of factors associated with producing, distributing, and promoting offers. All of these factors can make or break your connection with customers.
Marketing Environment: The Breakdown
The marketing environment plays a major part in the marketing strategy and investigates both internal and external factors that might affect your firms operational capacity.
You can manage some of those factors, however, other external factors like political and legal structures arent in your companys reach and all you can do is keep a close eye on changes. According to experts, being aware of your marketing environment can help you map out your marketing activities effectively to surpass any bad influence they might generate.
Internal marketing environment
The internal marketing environment consists of manageable factors that influence marketing operations like your companys uniqueness, strengths, weaknesses, and competencies. Essential marketing elements include your team, quality of your product(s) or service(s), budgets, capital assets, and company policy. As you can notice, theyre all easily manageable.
External marketing environment
The external marketing environment involves different factors that arent within your companys control such as regulatory changes, technological advancements, economic, social, and competitive forces. Usually, theyre uncontrollable, however, analyzing their trends and changes can help your company and marketing team stay ahead of other brands. Theyre also categorized into micro and macro factors.
Microenvironment in marketing
The microenvironment in marketing affects your companys marketing activities and operations because its closely related to your business. It consists of suppliers, customers, business partners, vendors, and even competition. Theyre somewhat controllable, unlike macro elements.
Macroenvironment in marketing
The macroenvironment in marketing consists of the factors your team cant control. You can easily memorize these factors by the acronym PESTLE. P stands for political factors, E stands for economic factors, S stands for social and demographic factors, T stands for technological advancements factors, L stands for legal and regulatory factors, and E stands for environmental factors. As you can realize by their names, these factors arent controllable. Also, theyre constantly changing, so its of vital importance to keep an eye on them to spot potential opportunities and threats.
For instance, the pandemic has definitely changed the way individuals and companies work and market worldwide. However, pandemics arent something we can see coming and manage. The best thing you can do is make different strategies and come up with different solutions for different scenarios. Furthermore, exchange ideas and work closely with your team for better results.
Now, lets learn why monitoring your marketing environment is important for business.
Why Monitor Your Marketing Environment?
Analyzing your marketing environment can help your team identify both opportunities and threats, and manage changes. That being said, lets take a closer look and explain everything further.
Identify opportunities and threats
Analyzing your marketing environment helps your team spot and take advantage of many opportunities. For instance, if your marketing team detects growth in digital sales, you can invest in many technologies that can help your online marketing funnel and increase your online sales. Keeping a close eye on your marketing environment can also help your team spot potential threats that can negatively affect your business. For example, other companies could change their product portfolio, so that they can drive their sales. Foreseeing this can help you do it better!
Manage changes
Finally, monitoring your marketing environment can help your team control changes, maintain growth in a very dynamic economy, and create a better marketing campaign strategy.
Marketing Environment Verdict
Overall, studying and analyzing your marketing environment can help your business stop possible losses and take advantage of different opportunities. Was this article helpful? If so, share this information with your friends and family. If you have any questions, drop a comment below!
Scroll down to read our indepth Ecommerce Platforms guide. What you should know, Ecommerce Platforms features, price plans and support. Pros and Cons of Ecommerce Platforms as a ecommerce, everything is explained below.
Shopify is a software company that specialises in ecommerce software for small to enterprise level businesses.
Shopify is listed as the best ecommerce software related to Ecommerce Platforms. Shopify was founded in 2006 in Ottawa, Canada and currently has over 6,124 employees registered on Linkedin.