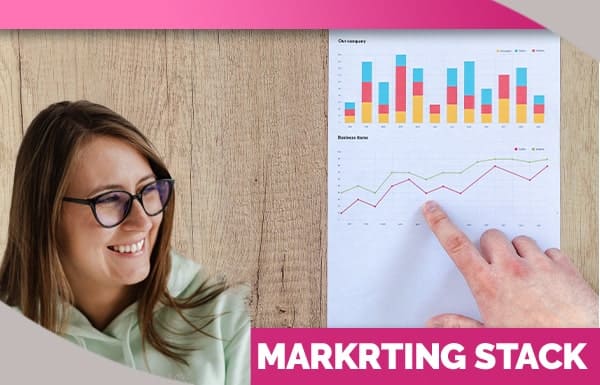 Marketing Stack
Definition of a Marketing Technology Stack
A marketing technology stack is a way of grouping technologies used by marketing professionals in order to conduct and improve their activities. Usually, the goal of marketing technologies is to make difficult and sophisticated processes simpler, to measure the impact of marketing strategies and make marketing spending more efficient.
The technological solutions of the marketing industry are changing and evolving rather fast. There are currently hundreds of different marketing software systems, which belong to many different categories.
The existence of a huge number of solutions makes it crucial for marketing specialists to be able to analyse and understand clearly the technologies that are most relevant for their companies, and assess how those technologies may help them improve their business.
Strategy First, Technology Second
Before preparing to implement any technology, you have to do some prior research or try free versions in order to find the best option for your company. There are statistics showing that as a consequence of the pandemic, most companies faced huge budget restrictions. In this situation, 33% of companies started to spend more time on research before making a decision to buy a solution. Moreover, 77% of those buyers think that the purchasing process has become much more sophisticated and complex.
Speaking about marketing technology stack, do not underestimate the role of having a strategy in place. Of course, you can compare different technological solutions, their main features and prices, but you have to include in your strategy the approaches of choosing necessary tech solutions and the desired result of those solutions for you and your customers.
In other words, we can say that marketing stack is about developing a strategy that best suits your business, after identifying the technology that will help you implement that strategy.
Main Categories of Marketing Stacks
Here are the main groups of categories of marketing stacks:
Awareness: includes paid media, social media, webinars etc.
Website-related tech: infrastructure, localisation, SEO, UX.
Data management: CRM, marketing automation, data enrichment.
(Re) Engagement: retargeting, Email, interoperability.
Interaction: customer support, customer communication, internal communication, customer feedback.
Analytics and measurement: site analytics, business analytics.
Components of a Marketing Technology Stack
You will consider some specific technologies to be important for your company, depending on your business type. An important factor is the model of your business (B2B or B2C). Usually, B2B and B2C marketing professionals use different marketing channels, tools and techniques to engage with customers, and therefore they have different needs concerning the different available technologies.
There are fundamental technologies, which have to be in place first. Here is the list of the most essential marketing technologies, which are fundamental for both B2B and B2C companies:
Content Management Systems (CMS)
This is a technology which empowers your website, blog or other digital assets, and used by marketing specialists to engage with new customers.
Advertising technology
Advertising is the fundament of customer acquisition technique used by marketing professionals from all industries. Typically, marketers use a mix of techniques, including Search Engine Marketing (SEM), retargeting, using display ads, etc.
Email
This is also a key channel used in the communication processes. Email technology is an integral part of all marketing professionals' toolkits.
Analysis
It is very important for marketing specialists to be able to access their data, analyse the data and measure the effectiveness of their digital marketing activity. There are website analytics tools, which are used by most marketing professionals. Otherwise, they can use their own tools to make relevant estimations.
Experiential marketing
This tool is often called event marketing. It is an important element in your marketing activity and its goal is to manage virtual events as webinars, conferences and so on.
Experience Optimisation
Experience optimisation refers to A/B testing and personalisation software systems, as well as all programs allowing marketing specialists to conduct their marketing campaigns in a more efficient way.
Social media is a widely used channel allowing one to observe the social activity of potential customers. Some social networks (Facebook, Linkedin) are an important part of the advertising landscape and most of them provide paid advertising options.
CRM (Customer relationship management)
This system is used mostly in B2B companies and can track your company's customer relationships. One important feature of CRM is that it can provide you with ideas on how your marketing measures influence the sales pipeline and your growth of customer base.
SEO (Search engine optimisation)
These days, search engine optimisation is one of the major marketing strategies allowing your company to appear in organic search results, depending on the keywords searched for by users through different search engines (like Google search). This strategy is often combined with other content marketing strategies.
Marketing Stack Verdict
There are many other techniques and channels available to improve your marketing campaigns which require different levels of investment. You should choose the solution that is the most relevant to your business type and that meets the limits of your budget.
Scroll down to read our indepth Ecommerce Platforms guide. What you should know, Ecommerce Platforms features, price plans and support. Pros and Cons of Ecommerce Platforms as a ecommerce, everything is explained below.
Shopify is a software company that specialises in ecommerce software for small to enterprise level businesses.
Shopify is listed as the best ecommerce software related to Ecommerce Platforms. Shopify was founded in 2006 in Ottawa, Canada and currently has over 6,124 employees registered on Linkedin.