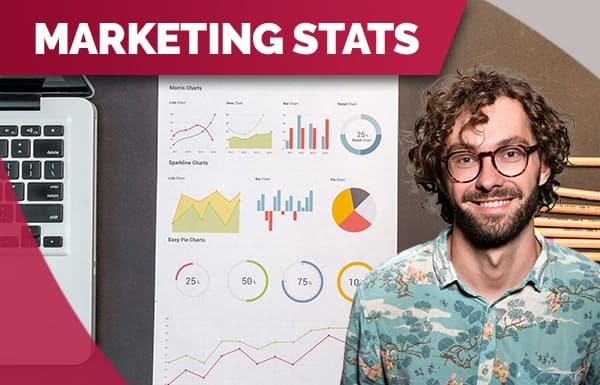 Marketing Stats
Digital marketing includes a set of online marketing strategies, which are used to discover, create and target an audience in order to turn random website visitors into paying customers.
This type of marketing implies using digital channels to get in touch with both existing and potential customers.
The main channels of digital marketing are the following:
Search Engine Optimisation (SEO)
Email Marketing (is also called marketing automation)
Content Marketing
Social Media Marketing
Pay-Per-Click (PPC)
Affiliate Marketing
Native Advertising
Online PR
Inbound Marketing
The Main Benefits of Digital Marketing
Digital marketing has a list of benefits for companies. The following are the most important benefits of using digital marketing strategies:
Low Cost
It is a fact that digital marketing is much cheaper than traditional marketing. If you implement your digital marketing correctly, you will have a high ROI on your budget. The main reason for this is that in case of digital marketing, you focus your efforts on areas where people already have an online presence.
Global Reach
You can expand geographically and reach out to customers around the world without huge expenses.
Possibility to Share Content
Social networks give you big opportunities to share content and gain more income without adding to your expenses.
Measurable Results
There are lots of analytical tools which allow you to track your data and improve your marketing strategies. In the case of traditional marketing, it is much more difficult to measure your performance data.
Personalisation
One of the drivers of digital marketing is the opportunity to use personalisation tools.
Digital Marketing Stats
Below we present some interesting marketing statistics for 2020.
Email Marketing Statistics
Email marketing has average 4400% ROI.
The open rate of welcome Emails is 82%.
The share of users who previously opted-in and then unsubscribed from a company is 91%.
Each year trillions of Emails are sent and received. Meanwhile, this number has an upwards trend.
The share of Emails opened on mobile devices is 49%.
The portion of Emails classified as spam is 54%.
According to 74% of marketing specialists, targeted and personalised Emails increase the engagement of customers.
The subject of the most opened Emails is that of hobbies (open rate is 27%).
According to 49% of consumers, the preferred timeline of receiving promotional Emails from their favourite brands is on a weekly basis.
The share of customers that subscribe to a brand in order to receive promotional messages and deals is 60%.
Social Selling Statistics
The cold calling technique has a 2.5% success rate.
The use of a social selling platform by IBM boosted their sales by 400%.
The number of social network users around the world is 1.5 billion.
The share of buyers doing research through social media is 55%.
31% of B2B specialists say that social selling has allowed them to create warm and long-term relationships with their clients.
Lead Nurturing Statistics
45% of companies send an Email per week to their leads.
More than 35% of B2B marketing specialists have developed a lead nurturing strategy.
The biggest problem for 63% of marketing experts is boosting traffic and leads generation.
The share of webinar participants who become leads is 20-40%.
The portion of new leads never converting into buying customers is 80%.
For 66% of people Email nurturing is the most efficient way to re-engage leads.
E-commerce Statistics
The share of E-commerce traffic coming from organic Google searches is 43%.
The number of active PayPal accounts in the world is more than 286 million.
65% of all customers compare prices on their mobile devices while being in a physical store.
The average spending per year on E-commerce by a US customer is $1800.
44% of all US E-commerce sales belongs to Amazon.
Mobile Commerce Statistics
95% of people in the US own a mobile phone.
The average time spent on a mobile device is 3.5 hour per day.
The share of buyers making an online purchase using a smartphone is 51%.
93% of millennials compare online offers via a mobile phone.
According to predictions, mobile commerce sales will account for more than 50% of all E-commerce sales in the future.
Social Proof Statistics:
81% of customers rely on the advice of their family members or friends/colleagues.
Positive online reviews have an impact on the buying decisions of 90% of people who read online reviews.
The most efficient content marketing tactics are consumer testimonials and case studies.
Product reviews written by customers are 12 times more reliable then the product descriptions created by the manufacturers.
The share of online customers who read product reviews before making a purchase is up to 70%.
85% of people rely on online reviews of other customers as much as they rely on their personal contacts' recommendations.
Scroll down to read our indepth Ecommerce Platforms guide. What you should know, Ecommerce Platforms features, price plans and support. Pros and Cons of Ecommerce Platforms as a ecommerce, everything is explained below.
Shopify is a software company that specialises in ecommerce software for small to enterprise level businesses.
Shopify is listed as the best ecommerce software related to Ecommerce Platforms. Shopify was founded in 2006 in Ottawa, Canada and currently has over 6,124 employees registered on Linkedin.