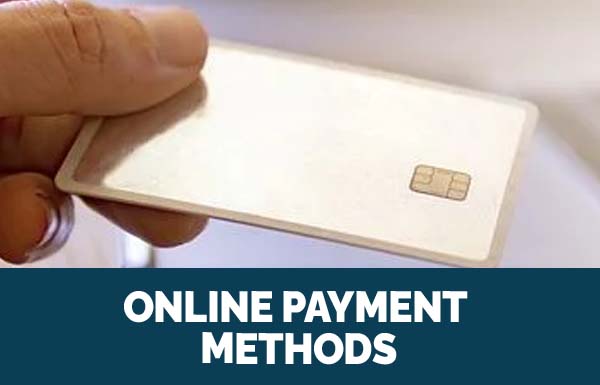 Online Payment Methods
With many online payments or purchases, many consumers in the United States prefer utilizing credit over debit cards. However, there's always a risk when you're making purchases online.
Your payment information could be hacked and utilized for unauthorized purposes. Paying with a credit card is a safer option, but you can choose from other alternative online payment methods.
They're all efficient, safe, and user-friendly! Some of those payment options include Apple Pay, Amazon Pay, Google Pay, bank transfers, or e-checks. Let's discuss each payment option in detail.
Online Payment Methods
As the internet has matures online payments have become effortless and safe transactions. You can purchase goods and services, pay different types of debt, and complete all of your transactions online. The following online payment methods can help you make secure online transactions.
Credit cards
A credit card is one of the most popular if not the most popular online payment methods. It's a payment card provided by a financial company that allows cardholders to borrow funds.
Credit cards have strong protection. And they are one of the safest and easiest methods to complete online transactions.
The best part? Thanks to the Fair Credit Billing Act, in case of fraudulent use and mistakes, you're liable for zero dollars if you report a stolen or lost card before it's used fraudulently.
Debit cards
The second most popular payment method is a debit card. This type of card deducts funds directly from your checking account to pay for something online. It's often referred to as a check or bank card.
Debit cards provide the same convenience as credit cards. And in some cases, they offer the same safety precautions as credit cards. Most online merchants accept both credit and debit card purchases.
PayPal
With PayPal, you can send and receive funds online. You can open a business or a personal account. The fees and rules differ based on cash amounts moved, account type, and currency. As a customer, you're usually not charged for completing in-store or online purchases using PayPal.
Amazon Pay
Amazon Pay was launched in 2007. It's just another online payment processing service intended for the buyers of Amazon. Just sign up for Amazon Pay and you can pay with your Amazon account on different third-party merchant websites.
Google Pay
Initially launched as Google Wallet, Google Pay, also known as G Pay, is a reliable online payment service developed by Google. It's made to be utilized on watches, tablets, and smartphones. You can complete a tap-to-pay or in-app purchase via qualified merchants, so it's easy to use.
Apple Pay
Apple also developed a mobile payment system that enables customers to complete in-person, in apps, and online payments, utilizing Apple devices only. You can use this service on your iPad, iPhone, Mac PC, or Apple Watch. The service doesn't need specific contactless payment terminals.
American Express
American Express isn't as popular as the rest of the online payment methods listed in today's article. But it's still reliable and trusted by many people. American Express promises 24/7 customer support, safety, and flexibility. They work with different payment processors and provide add-on options.
But here's the real kicker. They accept over 120 currencies. Therefore, if you're interested in gaining the attention of international customers, American Express is the way to go! The costs for this gateway start at only $20 monthly for up to 100 transactions. However, they increase for extra transactions.
What I don't like about American Express is the setup fee of $99. However, if you like American Express and what they offer, the cost may be worth it, especially if your users prefer American Express.
2Checkout
If you're looking for a global payment processing method, look no further than 2Checkout. It's a solution that accepts payments worldwide in various currencies. It also delivers a personalized checkout that you can easily customize and apply to your website. 2Chekoit also has extensive fraud protection.
Meaning, you don't have to worry about your customers' safety. It's also responsive, so your customers can complete transactions across all devices. 2Checkout takes only 2.9% + 30 cents per transaction. But foreign customers can encounter additional fees when using the service, so keep that in mind.
Stripe
Stripe is a payment processing platform loaded with plenty of features that simplify accepting payments from different sources including digital wallets, credit cards, ACH transfers, and many currencies.
You also have a lot of choices for the checkout part. If you have some coding skills, you can easily import their checkout to your website with a single line of JavaScript.
Or you can make a custom payment form with their UL toolkit. Like other options, Stripe costs 30 cents + 2.9% for domestic card processing and .8% for ACH payments.
Online Payment Methods Verdict
When shopping or paying for anything online, many people in the United States prefer to use credit and debit cards. They're definitely one of the safest online payment methods.
However, alternatives like PayPal, bank transfers, e-checks, electronic bill payments, American Express, or some of the options I mentioned above ensure safe transactions as well.
Scroll down to read our indepth Online payment methods guide. What you should know, Online payment methods features, price plans and support. Pros and Cons of Online payment methods as a payment gateway, everything is explained below.
Spreedly is a software company that specialises in payment-gateway software for small to enterprise level businesses.
Spreedly is listed as the best payment-gateway software related to Online payment methods. Spreedly was founded in 2008 in Durham, NC and currently has over 79 employees registered on Linkedin.