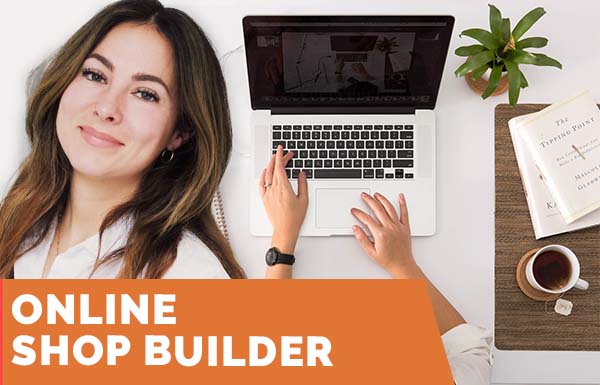 Online Shop Builder
Best Online Shop Builder (Make The Right Decision)
Probably, you are at a stage in your business where you want to build an online shop and take your business to the global level. And now you are looking for the best platform to do that.
Don't worry; you have come to the right place, as we'll be discussing the best online shop builder in this post.
List Of Best Online Shop Builder
Shopify
Shopify is the best online shop builder, it helps you to create an online shop and start selling your products immediately. It's affordable and user-friendly, with Shopify, you are just a few clicks to setting up your online store.
Shopify offers different features for the smooth running of your business. The platform helps you to connect all your sales channels.
Businesses That Should Use Shopify
Shopify is great for dropshipping, small businesses, and small and medium scale enterprises. Everything needed for your e-commerce site is already integrated into the platform. With just a few clicks with the instruction, your e-commerce store will be up and running. Options exist to upgrade your store with a third-party extension.
The platform is also great for businesses that sell physical products. Displaying your product to various marketing mediums, checking inventory, buyers' orders, and shipping is easy to handle with this platform.
Bigcommerce
This platform is a multichannel online shop builder. It's user-friendly and provides lots of designs for you to start your online store in a few minutes. Bigcommerce integrates with WordPress.
Businesses That Should Use Bigcommerce
BigCommerce is an excellent option for Startups and small enterprises that want a total multichannel sales platform.
This platform has a lot of features that make it stand out from other online shop builders. It also allows both business-to-business and business-to-customer transactions.
Wix
Wix is an easy-to-use online shop builder that provides an excellent and classy website design. With Wix, you can easily create your site with simple drag and drop tools.
Wix offers a wide variety of e-commerce options. It makes it easier for users to sell services, take online booking, event tickets, and subscriptions, etc.
Businesses That Should Use Wix
It is great for selling services, local businesses, restaurants, etc. those selling a digital product can find this online shop builder to be useful for their businesses.
Business owners that are spending on a budget but want to bring their business online can use Wix to do that, this is because they won't spend money to hire a web designer for this. Rather, they can do all the site-building with Wix's simple drag and drop tools.
Ecwid
Ecwid is a pocket-friendly multichannel platform for creating an online shop. It allows users to sell their product on the site they create and also sell on Facebook, Amazon, and other mediums. When it comes to feature, Ecwid is actually competing with the likes of Shopify and BigCommerce.
Ecwid is a plugin that can be added to a WordPress site, Wix, Joomla, Squarespace, and others. So, if you created your site on a platform that is not working for you or maybe you want to change your WordPress site to an e-commerce platform, consider using Ecwid as that's the best option to do that.
Businesses That Should Use Ecwid
Ecwid is the right option for businesses that want to add e-commerce features to their website or those who want to change their WordPress site to an online shop. The reason for using Ecwid to complement your site is because it offers more multichannel sales characteristics than other online shop builder platforms.
If you sell less than 10 products, you can use Ecwid for free.
Squarespace
This is a great online shop builder that enables users to build their website with simple drag and drop tools, and it supports a wide range of sales.
Businesses That Should Use Squarespace
Squarespace is an ideal option for small business owners that want to get their business online. However, the platform is not best for those that handle large inventory.
Online Shop Builder Verdict
Finally, there is no one-size-fits-all online shop builder for your business, figure out what you need, your budget, and your business stage, then use this content to make your decision.
Scroll down to read our indepth Ecommerce Platforms guide. What you should know, Ecommerce Platforms features, price plans and support. Pros and Cons of Ecommerce Platforms as a ecommerce, everything is explained below.
Shopify is a software company that specialises in ecommerce software for small to enterprise level businesses.
Shopify is listed as the best ecommerce software related to Ecommerce Platforms. Shopify was founded in 2006 in Ottawa, Canada and currently has over 6,124 employees registered on Linkedin.