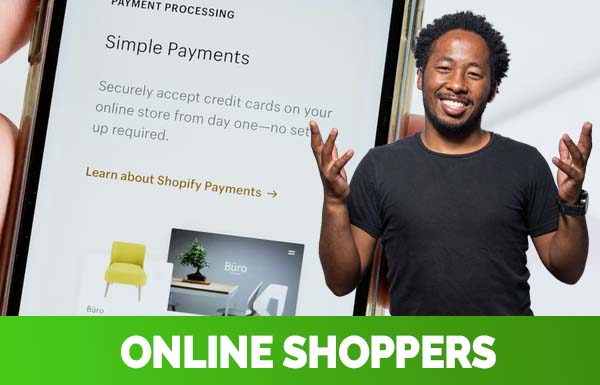 Online Shoppers
There are 5 different types of online shoppers and each type visits with a different purpose. The knowledge of the various types of e-commerce shoppers helps web designers and business owners to make better decisions while designing an online shop so as to satisfy the different users' needs.
Each online store visitor has a purpose. While some visitors are there to make decisions on what to buy, some are there with the intention of buying a particular product, and others are just there for fun.
All components of an online shop are extremely useful for the growth of the site; from the pictures to the product description to sign up to the cart and checkout. However, different users use different parts of the site.
The knowledge of various users helps designers to create an end-user e-commerce shop that is great for all shoppers. From our research, we identified the various types of online shoppers with their different intentions. Considering these factors while designing an e-commerce shop will help web designers to improve the user experience of an e-commerce shop.
Listed below are the 5 types of E-commerce shoppers from our research.
Product focused
Browsers
Researchers
Bargain hunters
One-time shoppers
Product-Focused
This group of shoppers knows what they want. They have carried out research in the past and had purchased the product before. All they want now is a repeat of the purchase they have made from a traditional store online. Just as the name implies, 'Product-focused,' the focus of this group is to get exactly what they want.
They are not another set of buyers who are trying to surf the internet. All they want is to find a particular product, confirm the authenticity and buy the product. Some buyers in this category don't even read the product description before clicking the checkout button.
The focal point here is speed. Present the right product to the shopper; let them know that's the exact product. This is for the simple reason that these buyers are not ready to spend much time with the site. Buyers in this category might ignore any promotion irrespective of how enticing the offer is.
Here are the major highlights for the product-focused shoppers:
Proper identification of products with names and images
Easy access to products purchased before
Effective checkout to help shoppers access the items they need easily
Simple navigation that makes it easy to identify items of interest
Browser
Browsers are a group of shoppers that visit their favorite online shops or new shops for fun or inspiration.
For browsing shoppers, it's all about knowing the latest trend, making plans for future purchases, or making plans for the next shopping trip, browsing online after a visit to a local shop.
To some shop owners, this seems illogical but it's true. Browsing shoppers choose to spend time on your site. They are checking out your site for fun and entertainment. However, browsing shoppers are more likely to turn to customers; for instance, if they have a good experience while browsing your site with your product, then your site will be their go-to shop when they want to make their next purchase.
For browsing shoppers, it's all about what's new, most popular, what other people are buying, related products, top-selling items, and top-rated products.
Here are the major highlights for browsing shoppers:
Latest products
Easy access to the latest product through links or recommended items
The ease of sharing information about an item they like
Researchers
Just as the name implies, researchers are gathering information for the item they want to purchase. The purchase they are planning might take a couple of days to months.
Just like PF (Product focused) shoppers, they are goal-driven. Researchers might have little knowledge of a product or be highly educated about the product.
They may visit numerous e-commerce shops to collect information about quality and price before making any purchase.
Credibility is key in online business; with a clear product description, excellent customer care, and end-user site, researchers will be more likely to visit your site and make a purchase in the future. So, you can convert researchers to buyers by giving reliable information about your products.
Researchers are frequently learning about new products, so make it easy for them by simply explaining unfamiliar terms.
Here are the major highlights for research shoppers:
Understandable and thorough product description
Positive user review
Clear definition of unfamiliar terms
Shopping carts that keep items between visits
Bargain Hunters
The best deal buyers! Bargain hunting can affect the other four types of buyer persona. To attract these buyers, you have to state the price of each product clearly on your site alongside the current discount.
Bargain hunters are most likely turned to repeat buyers. This is because they are always looking for a discount and once they have it, they will certainly come back for more.
Here are the major highlights for bargain hunter shoppers:
Show the product price alongside the discount price
Also, list the discounts and savings
Give shoppers a discount immediately once they meet the criteria
One-Time Shoppers
One-time shoppers can be any of the above four types of e-commerce shoppers. This group of buyers wants to make a one-off purchase with no intention of visiting the site after that.
Clearly stated product information propels them to buy a product. Company information can as well compel them to trust an unknown site.
Here are the major highlights for One-Time Shoppers:
A site designed for end-users
Complete and clear product description
Clear and credible company information
Checkout without registration
Designing For 5 Types Of E-Commerce Shoppers Verdict
An excellent online shopping experience is important to all shopper types. Hence, design an e-commerce site with the end-users in mind helps to improve all shoppers' experiences irrespective of the shopper's type.
Scroll down to read our indepth Ecommerce Platforms guide. What you should know, Ecommerce Platforms features, price plans and support. Pros and Cons of Ecommerce Platforms as a ecommerce, everything is explained below.
Shopify is a software company that specialises in ecommerce software for small to enterprise level businesses.
Shopify is listed as the best ecommerce software related to Ecommerce Platforms. Shopify was founded in 2006 in Ottawa, Canada and currently has over 6,124 employees registered on Linkedin.