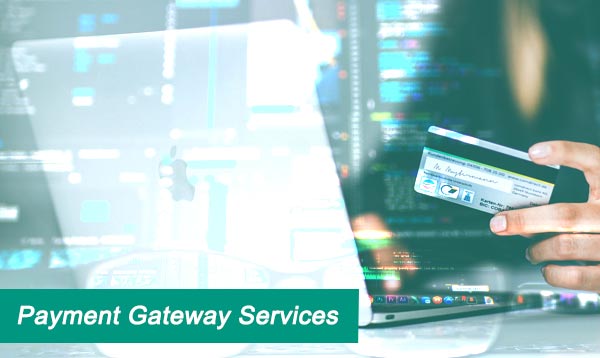 Payment Gateway Services
What Is A Payment Gateway / Processor
A Payment Gateway is an online payment service which provides customers with a fast and easy way to pay for products and services. This method of payment is one that uses a company's secure server to process credit cards, debit cards and electronic checks. A Payment Gateway is a process that offers a streamlined method to make payments in a secure manner. They work by redirecting a customer's online payment information to a secured payment gateway which securely processes the transaction. The process is safe, secure and easy and can be used for any type of business, be it a small retail outlet or a large corporation.
Once a customer has finished shopping online through your company's website, a gateway will intercept the customer's payment information and process it accordingly. The customer's details and card details are kept private between you and the payment gateway ensuring that your business remains in the customers good books. In addition to this, the gateway also securely stores all customer information including a physical address and account number, which are held securely by the company.
The Key Players In Online Payments
Online payments have become the norm in e-commerce and many merchants are using payment gateways to ease accepting these payments. A payment gateway is a service that acts as a third party between a customer and a merchant or the merchant's website. Gateways take care of the details of the online transactions for both the merchant and customer. Here are some of the key players in online payments:
The Merchant Account
The merchant account is the intermediary between the client and the business. The merchant account provider authorizes the client's online transactions by granting them a virtual credit card or debit card. This virtual credit or debit card is linked to a bank or a payment gateway through which funds are transferred to the client's account when they make certain purchases online. Merchant accounts can be either electronic or paper.
The payment gateway takes charge in carrying out secure online transactions for both the client and the merchant. These companies have come up with different card schemes like credit and debit, electronic and paper. There are some who even offer e-checks. The best part about these payment gateways is that they work as a third party between the cardholder and the merchant.
Merchant accounts are usually offered by payment gateways to businesses. The services offered include accepting the card details of the customer, processing the card and then passing it over to the acquiring company. The acquiring company is the one that will take charge of handling the card details and, depending on the service selected, pass it on to the cardholder. This allows the business owner to have complete control over his business. In addition, merchants can acquirer their own customer database where they can keep track of past customers and check whether they are still buying the goods that they had ordered before. They can also set up an online merchant account where the owner can accept the card details of the customer online and, depending on the service selected, have the card safely delivered to his door.
There are several payment gateway options that a business owner can choose from. The most popular ones include those who allow the business owner to have a virtual terminal, whereby the user will only need a username and password to log into his account. He is then able to manage and accept credit card details from the client. The other option is a business bank account that has a virtual terminal or a PIN pad. The virtual terminal allows the user to enter a password through a web portal, where he can then enter the pin number for the credit card details.
Businesses that do not operate from a remote location can also use acquirer facilities. Some of these acquirer facilities can handle data transfers on a real time basis, wherein the processing of card details can be started as soon as data is transferred. Businesses may also purchase a virtual terminal, which will enable them to accept and process credit card payments from anywhere in the world, even from a laptop.
Payment Gateway Vs Merchant Account
One of the most important decisions that you will make when setting up an online business is whether to use a payment gateway or a merchant account. There are advantages and disadvantages to both, and this article attempts to provide an unbiased overview. If you would like to learn more in depth about each, please read on.
Merchant account vs payment gateway is not the only consideration you need to make. This decision is heavily influenced by the amount of capital you have available to invest in your business as well as the type of products and services you will be selling. The choice between PayPal or 2FA is also important, because it allows you to process electronic purchases that can take several days to be completed. While both PayPal and 2FA are safe payment methods, PayPal has a slightly longer checkout time than merchant accounts, especially if you will be paying customers back or their cards.
Payment Gateway And Merchant Account Differences
There are many differences between the two types of payment gateways available to merchants. The most obvious is the processing times for credit cards. Most merchant accounts allow you to process credit cards immediately, whereas some gateways may take up to a few hours depending on the amount of activity on your site. Another major advantage to using a payment gateway or merchant accounts is that you do not need to meet any additional processing requirements for online purchases, such as approval from a business bank account.
If you are not an experienced ecommerce expert, this may seem like a major disadvantage. It is true that you will not know everything about the payment method you are choosing when you first begin. However, you will likely have plenty of experience in this area by the time you are ready to choose. You should research your options thoroughly before you make any decisions, and you should never proceed with a transaction until you are absolutely sure that your chosen payment method is safe and secure. You can find information about payment methods and merchant banks on the internet, usually for free.
Security
Some people worry about security when they deal with online transactions. The main issue is when someone's personal information is stolen during a transaction. This often occurs when a site is compromised, or your financial information is obtained through a malware attack. If you encounter a site that does not use an encrypted connection for credit card transactions, then you need to contact the acquiring bank immediately. Depending on the security used by your merchant account provider, you may be able to go ahead with the transaction without any issues being resolved.
Ease Of Use
When you are trying out different payment methods at first, you should choose the one that is most convenient for you. However, you should also choose one that is safe from illicit activity, and that provides you with the best protection. For example, if you choose to process credit cards via a mobile application, then the information provided to your application is much safer than the data provided to a web application. You will also know that the transaction is secure, as the merchant account provider that you are using will encrypt the information before sending it to the payment gateway. Therefore, no one else can access it once the transaction has been completed.
Payment Gateway Services Verdict
Payment gateway service providers also provide various services to ecommerce merchants in order to enhance their online sales process. One of these is online payments gateway certification. This service will help your merchant account provider to ensure that all online payments processed by their clients are safe from illicit activities. Another service that they offer is risk management services, which will help the company to detect and mitigate any online payments security risks that occur.
Another benefit that an acquiring bank offers to ecommerce cardholders is fraud protection. The process of fraud is getting more widespread as more businesses use credit card schemes. Payment fraud is also on the rise because card schemes are becoming more convenient. Most cardholders don't even know that they are making transactions unless they have added their PIN number or entered their credit card information on a website. With this said, it is important that you have your acquiring bank to ensure that your cards are safe. This way, you can sleep at night and carry on with your business without being worried about unauthorized transactions.
Scroll down to read our indepth Payment Gateways guide. What you should know, Payment Gateways features, price plans and support. Pros and Cons of Payment Gateways as a payment gateway, everything is explained below.
Spreedly is a software company that specialises in payment-gateway software for small to enterprise level businesses.
Spreedly is listed as the best payment-gateway software related to Payment Gateways. Spreedly was founded in 2008 in Durham, NC and currently has over 79 employees registered on Linkedin.