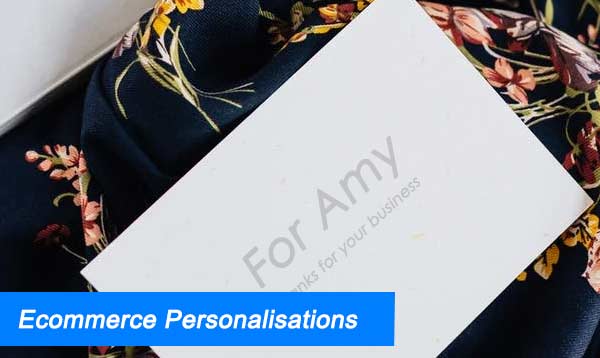 Personalisation E-commerce
What is E-commerce Personalisation?
E-commerce personalisation includes the process of providing personal experiences on E-commerce websites through dynamic showings of content, recommendations of products and special offers that are based on previous actions of a consumer such as browsing behaviour, purchase history, age and other personal data.
The role of personalisation is important to not only engage first time buyers and increase conversions, but also to increase repeat buying transactions.
Personalisation has many different forms: One of the forms it can come in is personalised product recommendations on the homepage of the retailer's website; personalisation can also appear in marketing Emails providing a personalised showroom of store products.
Benefits of Personalisation
Before the development of E-commerce, people would have to visit physical stores in order to look for an item they wanted.
Today, we can assess the benefits of personalisation by analysing the following statistics:
Use of personalised experience has increased sales by around 20%.
80% of shoppers will make a purchase from a company which offers personalised experiences.
44% of customers said that there is a possibility they would become loyal customers after a personalised shopping experience.
77% of customers have selected, recommended or made more payments for brands that provide personalised experiences.
On the other hand, another survey showed that 53% of professionals of digital experience delivery said they lack the correct technology to enable optimal personalised experiences.
COVID-19 changed the spending habits of people and their attitudes towards shopping. Currently, customers are looking for more personalised online experiences.
Research has found that 73% of B2B buyers want to have personalised experiences. Meanwhile, according to other research, only 22% of B2B customers find that their most recent online experience was 100% personalised to them.
Designing Personalised Experiences In E-commerce
When preparing a new personalisation strategy, answer the following questions:
1. Where Should the Personalisation Exist in the User Experience?
Explore all the channels and touch points that your customers deal with. Try to find out what part of these interactions a personalised element would work most efficiently. Maybe you should use product recommendations, personalised content, services based on location, etc.
2. What Information Will You Use?
Explore the existing tools in your company: They can be CRM, A/B testing, marketing automation, etc. Analyse which of them offer information to your customers. Combine the answer of this question with the previous one to understand where the personalisation should occur and which one of your available tools can support the personalisation process and identify data gaps in order to complete your goal.
3. How Will You Use tTechnological Solution and Human Insight to Build This Personalisation?
Here you have to bring all your channels and data together to be able to scale the contextual experience.
The Role of AI In Ecommerce Personalisation
Technological developments, especially the increasing application of artificial intelligence/machine learning, is a major driver of personalisation. The reason for this is that machines can crunch data faster, thus enabling real time optimisations and scalability. Then the collected and processed data can be used by companies to offer personalised products to their customers. This will create a user-oriented and positive shopping experience for all customers.
If your organisation depends heavily on content, artificial intelligence can help you in the process of creation through discovering gaps in information which customers are looking for.
E-commerce Personalisation Technologies and Tactics
1. Understanding The Needs of Your Audience
This is the key to personalisation. You have to understand the needs of your customers in order to be able to satisfy those needs with a personalised approach.
When you have a visitor on your website, you need to be able to understand how they found and entered onto your website. This information will help you understand what kind of information you should provide them to shorten their customer journey and convert them into active buyers/users.
2. Semantic Understanding for Personalised Search
Statistics show that users, who use search engines, convert at a 1.8 times higher rate than an average user. This data means that the relative lack of personalised search is a lost opportunity.
The main problem concerning searches is that search engines focus only on keywords and do not look at the meaning of the keywords in context.
To avoid this problem, you can implement intelligent search, which will:
Offer selling capabilities beyond the reach of the search box<./li>
Allow sellers to promote new products after the last visit of a customer.
Promote bought products or products that are in the shopping cart.
Targeting and Profiling
Using this tactic, you can virtually walk with your visitors while they browse through your website. It is as if a sales person were accompanying a customer in the showroom. Like a sales clerk, who offers products that suits his clients, you can use machine learning and match the choices of your customers with other available products on your website.
Scroll down to read our indepth Ecommerce Platforms guide. What you should know, Ecommerce Platforms features, price plans and support. Pros and Cons of Ecommerce Platforms as a ecommerce, everything is explained below.
Shopify is a software company that specialises in ecommerce software for small to enterprise level businesses.
Shopify is listed as the best ecommerce software related to Ecommerce Platforms. Shopify was founded in 2006 in Ottawa, Canada and currently has over 6,124 employees registered on Linkedin.