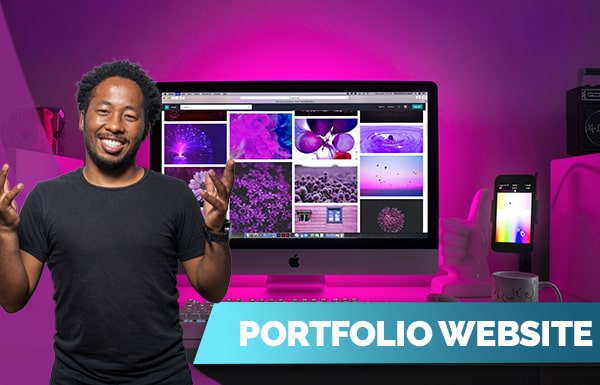 Portfolio Website
In these digital days, portfolio websites are the most important things for freelancers to have. A portfolio website helps freelancers obtain more clients globally. It also allows you to express your creative ideas and show them to your potential clients.
So, What is a Portfolio Website?
A portfolio website is an extension of your CV or resume. It is a good way to let your clients look at your work and estimate your skills. That's not all. The ultimate goal of a portfolio website is to make it possible for you to increase the number of your clients.
Effective Tips to Building a Great Portfolio Website
Here you can read about the most important features that you should consider when building your portfolio website.
Design
This factor is the most important because it can either drive away your clients or inspire them. Design is a very significant factor especially if you are a web designer. In your portfolio site, you should use minimalism and avoid unnecessary features. Concentrate your attention toward your portfolio rather than putting in information about you and your business. Use a maximum of three fonts on your portfolio website, make sure the colour scheme is well contrasted and avoid using animations.
Logo
You do not need to create a complicated logo, just try to use a simple one, which is mainly text based and includes your business name. Use short phrases to present yourself and your services, because most clients prefer short and quick taglines when assessing whether you are a good fit for them or not. However, remember to be descriptive along with being concise.
Call to Action
Use a call to action according to the purpose of your portfolio website. Place the call to action on your homepage. For example, if you are seeking to land more clients for your business, you can use 'Request a Quote' for your call to action.
High-Quality Images
Never forget to use only high quality images for the purposes of your portfolio website. This is true for the websites created for all types of industries. Keep in mind that the images you use have to suit the design and feel of your website too.
Testimonials
Make requesting a testimonial from your customers the norm. Testimonials should be short and include a few sentences describing the experience of working with you with some appraisal. Then place the best testimonials on your website's homepage. You can use either sliders or rows to show your testimonials.
Services
Include the exhaustive list of your services in your portfolio website.
Write your contact details on your website. You can do that by placing a contact form on the homepage, or inserting a link to your contact page. Be sure that your contact page really works. You can name the contact page 'Hire Me' to make it visible for the client and be sure to include in it different ways for them to contact you.
About Me
Most clients want to know more about you as a professional, for example your important qualifications, awards or any memorable story regarding your professional life. You can avoid an official tone of and share your story genuinly. Sure, you do not need to present your entire life story here, but you can mentioned the challenges you have faced as well as your strengths and how you overcame them.
Content
You can present yourself as a highly qualified professional in your field by including relevant content on your portfolio website.
Your Image
It is not mandatory, but rather appreciated if you have an image of yourself on your portfolio website. You should insert a high quality picture on the homepage.
Relevant Social Networks Accounts
If you have a social network account that you use professionally, include it on your website.
Relevant Personal Projects
If you have been or are working on a project or participating in something that will contribute to your professional development, include it in relevant parts of your portfolio website. You can include this information on the 'About' page or make a separate page for your personal projects.
A FAQ Section
Create a FAQ section and write up answers to some questions, referring to things such as the payment methods, ways of communicating with your clients, etc.
Guest Appearances
Include information about the cases in which you have had guest appearances on blogs, entertainment channels etc.
Free Samples
You can offer your clients some free samples of your works, such as sets of icons, free themes or plugins and so on.
Portfolio Website Verdict
Building a portfolio website is a big step in your career. It can help you to be found by your clients and encourage them to choose you out of everyone involved in the large space of industry professionals. Work hard to make your portfolio website creative and different.
Scroll down to read our indepth Sitebuilder Platforms guide. What you should know, Sitebuilder Platforms features, price plans and support. Pros and Cons of Sitebuilder Platforms as a ecommerce, everything is explained below.
Shopify is a software company that specialises in ecommerce software for small to enterprise level businesses.
Shopify is listed as the best ecommerce software related to Sitebuilder Platforms. Shopify was founded in 2006 in Ottawa, Canada and currently has over 6,124 employees registered on Linkedin.