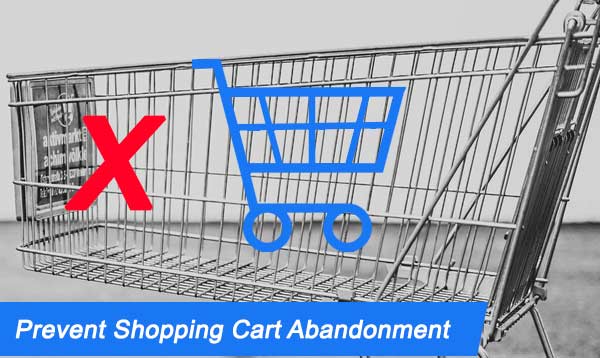 Every day, thousands of people visit several shopping websites. If you think from the point of your online store, you can classify those people as random, window shoppers, people who never buy, etc. But there is a critical group of visitors, which add something to their cart and reach the checkout page and leave without going on.
Shopping cart abandonment is when the customers add goods to the online shopping cart but leave without buying anything.
Shopping cart abandonment is one of the most serious problems in online business, as it results in missed opportunities and lost income for businesses. According to statistics, on average, 67.91% of all shopping carts are abandoned. It is a huge number. Moreover, this is a problem not only for large but small businesses as well.
According to conversion expert Bryan Eisenberg, three primary problems increase cart abandonment. Those problems are:
Fear
Lack of trust and credibility
Lack of reinforcing benefits
Here are some tips on how to prevent/reduce shopping cart abandonment and increase profit. The most recommended tip to avoid card abandonment is improving your checkout flow.
An exit-intent popup aims to capture the attention of users at the moment they plan to abandon their carts. An exit-intent popup will display your product's ad, coupon code or promotional discount and attract the client's attention. In this way, you can motivate hesitant customers to continue their purchases.
Using Of Personalised Messages
Too many popups can hurt the user experience. That's why some online business owners are sceptical about using popups. And when it refers to their own business, they avoid these types of campaigns.
But the problem isn't with the number of the popups. It's how they are used. If you personalise your marketing, you can have an opportunity to communicate with your customers on a deeper level.
More personalised communication with customers will likely allow you to decrease your shopping cart abandonment rates.
Offering Free Shipping
There is another important factor behind the high cart abandonment rate hidden costs at the end of checkout. These costs mainly include taxes and shipping costs. Therefore, one way of lowering the cart abandonment rate is by offering your customers free shipping. You can inform your customers about a free shipping service with a floating bar across your website.
Creation Of A Sense Of Urgency
The next way is to create a sense of urgency, which means that you can inform customers that your promotional offer will not last forever. For example, you can use a countdown timer to show the remaining time of the promotion. There is one trick here. The timer starts when the visitor first seeds the campaign rather than a specific date.
Giving Incentives Based on The Amount Of The Cart
Another way of reducing cart abandonment is to create a campaign trigger based on the total shopping cart, which means it depends on the amount of the shopping cart. You can add incentives to finalise the purchase. Common incentives are added coupons or promotional offers. A significant advantage of this method is that it allows you to bring as much profit as possible to your business.
Trust Badges and Social Proof
Trust badges are small icons that give information to your customers about the security of your website, for example, money-back guarantee stamps or secure payment options at the checkout. Trust badges make your customers feel more confident about your products and services.
Social proof shows your customers that other people have used and expressed a positive opinion about your products and services. One of the most effective forms of social proof is social proof notifications. These notifications are small messages, which appear when a person has positively engaged with your business online.
The key advantage of social proof notifications is creating FOMO or the fear of missing out. FOMO is the idea that people do not want to miss out on positive things they see others are experiencing. That's why when you create social proof notifications showing other customers' experiences with your products, you motivate other users to buy your products. For you, it will mean reduced cart abandonment rates and higher profits.
To conclude, it is clear that preventing shopping cart abandonment is not a mystery. Moreover, the tips discussed in the article are the most important ones for reducing or preventing shopping cart abandonment, and there are many other things to consider as well. However, you should always keep in mind the importance of building trust through the entire site experience and reinforce your trustworthiness when the customer decides to progress or leave.
Scroll down to read our indepth Ecommerce Platforms guide. What you should know, Ecommerce Platforms features, price plans and support. Pros and Cons of Ecommerce Platforms as a ecommerce, everything is explained below.
Shopify is a software company that specialises in ecommerce software for small to enterprise level businesses.
Shopify is listed as the best ecommerce software related to Ecommerce Platforms. Shopify was founded in 2006 in Ottawa, Canada and currently has over 6,124 employees registered on Linkedin.