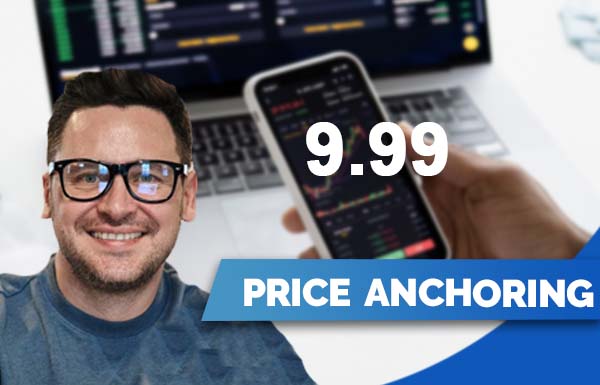 Price Anchoring
What Is Price Anchoring?
Today marketing professionals use different pricing strategies to encourage customers to make purchases. One of those strategies is price anchoring.
Price anchoring is a pricing strategy widely used by marketing professionals in which marketers establish a price point, and after that, when customers make purchase decisions, they refer to that price. Accordingly, the decision to purchase the product is being made as a result of comparing the initial and actual prices. When we see a discount of '$40', the initial '$85' is the price anchor for the discounted price.
What Is Anchoring Bias?
The fundamental attribute of price anchoring lies in the term 'anchoring bias', which is a cognitive bias used in pricing strategies. Anchoring bias refers to the tendency of people to rely mainly on the first piece of information they are provided with in an interaction. Therefore, this first piece of information acts as a base for the people who make further purchasing decisions.
Although price anchoring strategy is well known among the experts, it works in almost all industries. Many studies show that if you ask two experts to evaluate a product, and provide them with different initial prices, they will base their estimations around the price information they possess. As a result, the expert, who is provided with higher price information, will estimate the product has a higher value and vice versa. They assess the price of a particular product in comparison to its initial price or to the price of another product, the price of which was known to them before.
There is one more important factor when it comes to price anchoring - every product has positive and negative features. High anchor prices attract our attention to the positive features of a product and low anchor prices play on product's negative features.
Two Ways of Price Anchoring
Companies, which offer their customers multiple products can use the price anchoring strategy in two different ways:
High Price Anchor
For example, a shop that sells electronic devices and equipment can price a TV with a 52-inch screen at $2500 and a TV which has a 50-inch screen at $1000. Customers will mostly buy the second one, as it is much cheaper while the difference between the size of the screens is very small. This is a tailored strategy, the idea of which is to price the product with very little difference at a significantly higher price and thus, make your consumers buy that product, which you really want to sell.
Low Price Anchor
For example, there is an internet vendor company offering the 600MB per day plan at $15.99 monthly. Meanwhile, it offers customers the unlimited data plan at $19.99 monthly. Today, 600MB is not enough for the average customer, and the latter will prefer to pay just $15 more to have an unlimited data plan. The idea behind this strategy is to price the product you really want to sell slightly higher than a very simple product. In this case, customers will think that they are gaining much more benefit at a very small price difference.
Three Tips To Gain More Benefits From Price Anchoring Strategy
Sometimes you are not able to implement price anchoring because customers are aware of other sources from where they can buy the same product at a cheaper price. Besides, when it comes to products such as Ebooks and software, etc., most of the time your customers can download them for free (in this case, the anchor price is zero). However, there are some strategies you can use to influence your customers.
Freebies
For example, you can offer your customers welcome gifts when they subscribe to your company. There could also be an option that offers them gifts for making significantly more expensive purchases. One more example is the offering of free trial versions (usually provided for one-month period).
Bundle Products
You can use this tip for selling both physical and virtual goods. Offer free items (which are not expensive for you) bundled in with premium offerings.
Creating a Sense of Urgency
This is also called the one-time-only strategy. You can provide your customers with discounts and tell them that they will expire in 48 hours. This strategy will create a sense of urgency and fear of missing out on a good opportunity and will make your customers buy the product even if they usually wouldn't.
Price Anchoring Verdict
Price anchoring is a very powerful strategy and if your use it in the right way, you can really gain lot of benefits and make good profits for your company. This opinion is proven by the fact that price anchoring works with almost all people, despite the fact that almost all customers and business people alike are familiar with this tactic.
Keep in mind that you have to find the gold mean when determining anchor prices for your products.
Scroll down to read our indepth Ecommerce Platforms guide. What you should know, Ecommerce Platforms features, price plans and support. Pros and Cons of Ecommerce Platforms as a ecommerce, everything is explained below.
Shopify is a software company that specialises in ecommerce software for small to enterprise level businesses.
Shopify is listed as the best ecommerce software related to Ecommerce Platforms. Shopify was founded in 2006 in Ottawa, Canada and currently has over 6,124 employees registered on Linkedin.