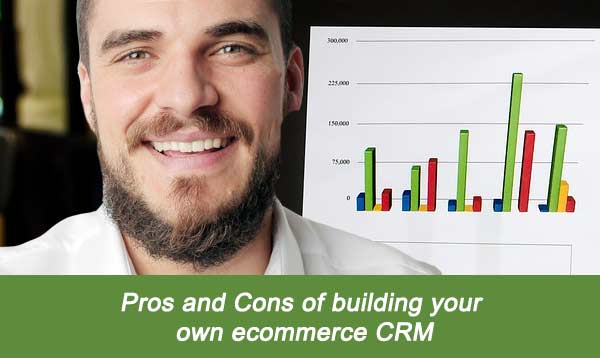 Pros and Cons of Building your own Ecommerce CRM
You should know about 'e-commerce' if you are an online store owner and also you must be familiar with CRM (customer relationship management) since you are running an eCommerce store. If these two concepts are to be merged together both eCommerce and CRM as one, it will result in an important software called E-commerce CRM.
What E-commerce CRM
eCommerce CRM is defined as the software used in helping online businesses so as to control or store their customer relationship data so as to improve their customer relationship. The customer's data unified registry will then be used to provide customers with more modified sales and boost their market sales and also generate more income for the business.
It is known to everyone about the advantages of CRM (customer relationship management). Many organizations put in a lot of effort to adopt the CRM software but one of the common problems they face is either to create their own CRM tool or not. Both management and workers also have different views on this subject. We know the scope of this issue and how it impacts the operation and operational costs of an organization. This article will help you reduce your fear and set straight anything you need to know about creating your own CRM or not.
In general, several organizations are given a license to use CRM tools already developed by third parties or paying for subscriptions occasionally. Creating your own CRM tool is quite different and requires the development of the software from the scratch. This ensures that you are able to build the applications and determine the functionality and features of the CRM tool and also you will be the right ownership for the software and paying all the relevant expenses related to it.
Next are the Advantages and Disadvantages of Creating your Own CRM Software.
Advantages of Creating your Own CRM Software
Competitive
Designing your own CRM applications gives you a competitive edge in developing functionality that will differentiate you in the market. And you wont be using the same software that your competitors have access to.
Customizing
Third-party software often does not have functionality exclusive to your company or that your company wants. You should customize the CRM software to your business activities while creating your own CRM apps. You will have the features in your business construction and provide infinite possibilities for your customization.
Safety
Certain sectors manage sensitive information about customers, such as financial services. Occasionally your CRM will be managing your customer sensitive information which cannot be given out to third parties the specially made CRM will help you with this.
Integration Into Other Company Applications
Many organizations also choose to merge all their apps in order to ensure collaboration and coordination with employees. If there is any specially made software you are searching for to merge together then, It is one of the reasons for you to build your own CRM software.
Failure to Rely on Third Parties
Thinking that third party company might collapse and you do not want your company to be at the whim of another corporation. This independence and lack of dependence are therefore provided by personalized CRM software.
Time Efficiency
Research shows that the majority of salesmen's productive time is spent on resolving administrative or technical questions, whereas only 10 percent is left to spend on active sales. Not only the sales staff but the whole enterprise, this is clearly mirrored in decreasing sales and it is a major problem.
Payment Data
You need many online payment gateways to provide more convenience to your customers if you want additional revenue from your online business. Some inclusive Ecommerce CRM system helps online business to combine all main transactions into their organizations to create trust and improve conversion rates.
Disadvantages of creating your own CRM software
High Cost
Custom CRM product design and production are almost certainly more costly than subscription prices, and that is one of the major problems.
Market Time
it takes just a while to subscribe to a third-party provider. However, it can take months to years to develop a personalized app and increasing in marketing time.
Maintenance Burden
When you subscribe to a CRM service, it helps to remove any maintenance issue from the business, but, if you create custom CRM software, you can manage the program all through its lifecycle. It will lead to post-development costs and technological needs.
Scalability
In contrast with subscription platforms, it is difficult to scale personalized CRM apps, and this is also one of the major issues in building your own CRM.
Build Your own Ecommerce CRM Verdict
Here are the Pros and cons of building your own eCommerce CRM. In essence, whether you need a vital function that is not provided by third parties, protecting sensitive customer information, or integrate the custom CRM app with other company resources, it is advised that you develop your own software. And also the disadvantages of creating your own eCommerce CRM applications should be considered so that your decisions are carefully assessed.
Scroll down to read our indepth Ecommerce Platforms guide. What you should know, Ecommerce Platforms features, price plans and support. Pros and Cons of Ecommerce Platforms as a ecommerce, everything is explained below.
Shopify is a software company that specialises in ecommerce software for small to enterprise level businesses.
Shopify is listed as the best ecommerce software related to Ecommerce Platforms. Shopify was founded in 2006 in Ottawa, Canada and currently has over 6,124 employees registered on Linkedin.