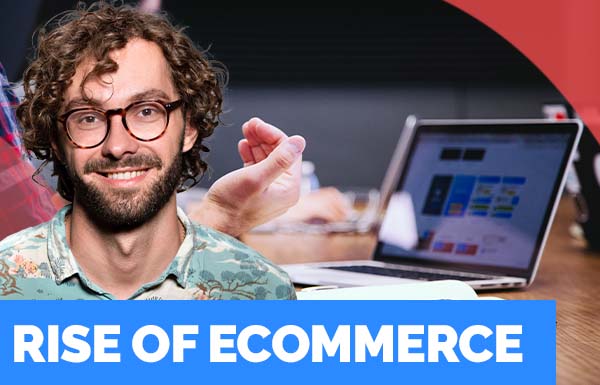 Rise Of E-Commerce
E-commerce has taken over the world, especially during the pandemic. Its redefining how people shop worldwide. Over the years, e-commerce has come very far in different ways.
According to research, online spending took 19.6% of total retail sales for the year with Amazon being responsible for over a third of all e-commerce in the US in 2020. In todays article, I will explain everything you need to know about e-commerce and share some studies on the rise of e-commerce in different parts of the world, so lets get started.
What is E-Commerce?
First and foremost, e-commerce stands for electronic commerce and represents the activity of shopping and selling both products and services online. With the assistance of the internet, everyone can purchase and sell almost everything including apparel, electronics, books, software, furniture, and more.
E-commerce provides a safe platform for people to buy or sell anything at any given time. Retail outlets with at least 1 physical location ruled around the world. Traditional commerce still exists but its quickly being substituted by e-commerce.
The good news is that most regular stores turn into e-commerce stores. In my opinion, traditional commerce will never disappear completely. However, placing your products or services online can certainly help your business.
3 Key Benefits Of E-Commerce
E-commerce doesnt only make peoples shopping experience easier. Its also beneficial for businesses in the following ways.
E-commerce can help you increase sells
You can use e-commerce to increase profits since youre using one platform to sell products and services to anyone, anywhere! You can use online marketplaces, e-commerce stores, and social media.
E-commerce can help you advertise your business
With the help of technology, you can easily advertise your business by using different build-in marketing tools. Those tools can help you create, release, and analyze different marketing campaigns on Facebook, Instagram, and Google. The best part? Theyre fool-proof and dont require marketing expertise.
E-commerce can help you manage your business
With just a single dashboard, you can manage your orders, shipping, and payments anywhere, anytime. Additionally, the insights provided can help you improve and grow your business even further.
The Rise Of E-Commerce Worldwide
In 2020, consumers spend over $790 billion online with US merchants. Thats a mind-blowing increase of 32% year after year, according to the US Department of Commerce. As you can notice if you dive a little deeper, e-commerce has steadily been on the rise, especially in 2020 due to the pandemic.
COVID-19 provided over $105 billion in e-commerce revenue in 2020. The next section contains details on the growth of e-commerce worldwide since 2014 and also provides estimates of the future of e-commerce up to 2023, so lets take a look.
Asia and the United States
E-commerce actions in the Asia-Pacific region take over 70% of global e-commerce. China is responsible for $740 billion while the United States accounts for $560 billion in e-commerce sales. Statistics show that China will get over $1,000 billion in e-commerce sales by 2023. The US, on the other hand, is also expected to generate $735 billion in e-commerce sales by the same year.
Europe
According to the statistics, e-commerce is also on the rise in Europe. In fact, Western Europe accounted for the highest e-commerce growth in this part of the world. The UK is responsible for about $93 billion. However, that number could go up by 31.5% by 2023. France made $55 billion and Germany got $77 billion in online sales.
Africa and the Middle East
Unfortunately, Africa and the Middle East have the slowest growth rates in e-commerce sales due to the poor internet penetration and slow adoption of technology. Here, e-commerce activities take 1% of total e-commerce sales in the world but that might change in the next year.
Rise Of E-Commerce Verdict
As you can notice, most of the world has rapidly accepted e-commerce before and during the pandemic. Luckily, most traditional retail businesses didnt stay behind and started migrating towards e-commerce, as they grasped the countless benefits and impressive opportunities.
The same goes for consumers. They can enjoy the ease of transaction, personalized offers, wide array of products, and the absence of physical presence. All these things helped e-commerce sales skyrocket! So, whether youre a consumer or a business, e-commerce is beneficial for you.
Scroll down to read our indepth Ecommerce Platforms guide. What you should know, Ecommerce Platforms features, price plans and support. Pros and Cons of Ecommerce Platforms as a ecommerce, everything is explained below.
Shopify is a software company that specialises in ecommerce software for small to enterprise level businesses.
Shopify is listed as the best ecommerce software related to Ecommerce Platforms. Shopify was founded in 2006 in Ottawa, Canada and currently has over 6,124 employees registered on Linkedin.