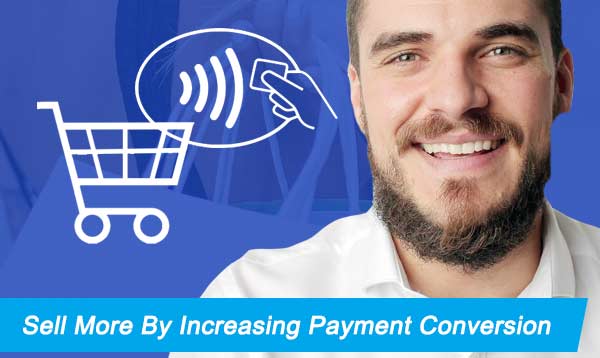 Sell More By Increasing Payment Conversion
Definition Of Payment Conversion
Payment conversion is a structured system driven by data and insights. The goal is to encourage consumers to make payments for products and services.
According to research, globally, 40% of lost sales is estimated to be due to payment issues experienced by customers at the time of checkout. That means that it is essential for businesses to optimise their payment procedure.
The Right Payment Gateway Selection
There are a list of factors that you should consider when you want to improve your conversion.
Using One-click payments
One-click payments are implemented using a 'remember me' option. With this option, customers can make payments with just one click.
The customer's data is saved, and the next purchase can be paid without entering card details. One-click payments are implemented with token technology. A token is a 16-digit number created to represent a credit card and is used to recall the saved data when a consumer wants to buy a product from the same store again.
Do Not Use Redirections
Try to keep users on the website of your store and allow them to pay quickly and conveniently. Do not redirect your customers to external payment providers because they can be confused when they appear on a strange website and may not finish the payment process.
Availability Of Mobile Payments
You should allow your customers to pay on any device. It is very important to receive mobile payments these days.
High Level Of Security
Security issues are significant for customers. If they doubt the safety of the purchase, they will more likely avoid the payment and go back without a purchase. To reduce this risk, you can find the payment gateway with PCI level 1 that confirms the security of the technology behind the platform. PCI compliance minimises your responsibility in securing the payments, meanwhile keeping customers data safe.
User-Friendly Checkout Page
You need to choose a website solution, which will make it possible to easily integrate payments with your site. Having a well-designed and user-friendly checkout page is also important because users pay attention to layout and other visualisation issues.
One important thing here is to make it easy for customers to fix the errors. For example, show error messages next to the input field with the error.
Here are some tips, which will help you to improve the checkout page:
Display security badges on the checkout page to improve your credibility.
Offer a guest checkout option to customers.
Use a clear call to action by putting clear text on the buttons so that customers understand what will happen when they press the button.
Do not ask the customers more information than needed to process the payment.
Allow the customers to pay in their local currency.
Provide multiple payment options.
Providing your customers with a wide range of payment options will allow you to engage a market segment, which was not covered by traditional payment methods.
Currently, the main payment options are credit and debit cards, PayPal, Stripe, digital wallets and mobile-based payment solutions.
Payment Gateway Providers
Today, in the e-commerce system, payment gateway providers have a vital role in providing a secure way to transfer payment information between different payment portals. Companies that provide payment gateways offer their customers a wide range of solutions, including money processing and other related services.
Let's explore the top 3 payment gateway providers currently available in the market.
Stripe
Stripe is a developer-centric company. It has also established partnerships with local banks, PCI council, internet browser providers, etc.
Stripe has the following unique features:
Customised checkout experience by allowing e-commerce retailers to get their codes written in JavaScript and embedded on their e-commerce website.
Availability of multiple payment options.
Automated accounting and financial reporting.
PayPal
This refers to the payment platform of PayPal for users who do not have a PayPal account.
Supporting a variety of payment options such as credit cards, digital wallets, etc., today PayPal is the largest payment gateway.
PayPal has the following unique features:
It does not ask for a PayPal account.
Customised checkout for the e-commerce retailer.
Receiving and sending mobile payments.
Amazon Pay
Amazon pay uses the information available in your Amazon account. It charges a fixed percentage of the amount transferred and includes a complicated e-commerce package to help you promote, sell and manage your products.
Amazon pay has the following unique features:
Provides streamlined process of purchase.
Secure processing of payments.
No monthly subscriptions and fees.
Scroll down to read our indepth Ecommerce Platforms guide. What you should know, Ecommerce Platforms features, price plans and support. Pros and Cons of Ecommerce Platforms as a ecommerce, everything is explained below.
Shopify is a software company that specialises in ecommerce software for small to enterprise level businesses.
Shopify is listed as the best ecommerce software related to Ecommerce Platforms. Shopify was founded in 2006 in Ottawa, Canada and currently has over 6,124 employees registered on Linkedin.