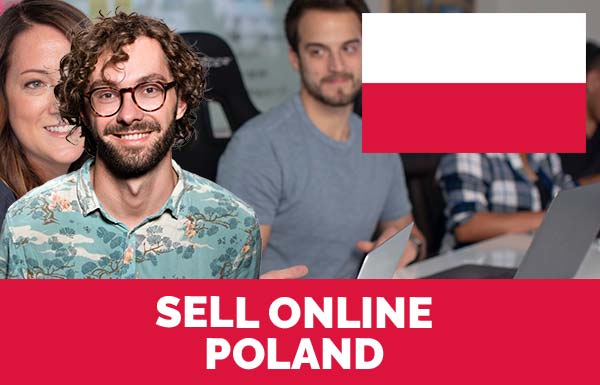 Sell Online Poland
Sell Online Poland: Things You Need To Know
Before starting an online business in Poland and any other part of the world, you need to understand the business landscape of the country where you want to set up the business. And in this post, we will be discussing the business atmosphere and how you can start an online business in Poland.
Sell Online Poland: Ecommerce Space In Poland
With a population of over 37 million, Poland has a large market and is a nice option for business owners who want to start a new business or those who want to expand their business.
Major Marketplaces In The Country
This option is best for business owners who are spending on a budget and those who want to capitalize on the importance of the marketplace (i.e. their existing audience on those marketplaces). Popular eCommerce marketplaces in Poland include; Ceneo.pl, Zalando,pl, Mediaexpert, Aliexpress, Skapiec.pl and Euro.com.pl.
You can use some of these sites even if you'll create a website for your business. This is because they already have an audience; however, you have to focus on growing your site when using those marketplaces.
Major Product
Top selling products in the country include; sports, clothes, tickets, and culture. Offering a product from these niches will give you an edge and help you to scale up very fast.
Payment Methods
If you want to sell online Poland, you have to use popular payment methods for receiving payment online in the country if not you will be losing customers to your competitors who are using popular payment methods in the country. It is also important to localize your checkout page by using the local currency. This will allow your customers to buy your product without converting your currency to their local currency.
Here are some popular payment methods in the country; Tap2Pay, PayPal, PayU, transfer, and cash on delivery.
Shipping Service
Shipping is an important part of your online business; it is through the shipping method that goods will get to the buyer. However, makes sure you choose a reliable shipping company for your online business. The right option will help you to grow your business and one of the factors you have to look out for before choosing any shipping company is their review, probably by their previous customers. You can as well choose a popular shipping company in the country to deliver your goods to your customers.
Sell Online Poland: How To Set Up Your Online Business In The Country
Pick A Product Or Service
First and foremost you need to pick a product or service you want to offer to the people. However, before choosing a product you must research to know if the product is in high demand in the country.
The research involved in the process shouldn't be limited to the product, also expand that to the market. Find out more about your competitors and the advertising method that help them to grow their business and finally find those areas where they are not getting things right and cover those areas. That way, you will stand out from them and scale up your business very fast.
Choose A Business Name
This part also involves research; here you have to choose a name for your online business and make sure that the name is still available for your business and also available as a domain name.
Register Your Business
Now, register your company at the appropriate body in the country.
Create Your Website
Create an online address for your business and that is your own website. It is very important to create a website for your business that way people can easily visit your website and buy your products. With your website, you can get can speak directly to your customers, collect their email addresses and reach out to them anytime you have a new product. So, if you want to sell online Poland, make sure you create a website for your business.
It is recommended to you ".com" domain extension when you create your website because this is a popular domain extension. Other aspects of your site you need to pay attention to are the content and SEO aspects. The content attracts people to your website and SEO helps you to rank high on Google and other search engines.
Marketing
Marketing is one part of your online business that helps you to scale up your business. So, make a budget from the start about marketing your product when you want to sell online Poland and in other parts of the world. There are tons of places where you can market your business online and these include Facebook, Instagram, YouTube, Google, Twitter, etc. so go ahead and use these resources to your advantage.
Scroll down to read our indepth Ecommerce Platforms Poland guide. What you should know, Ecommerce Platforms Poland features, price plans and support. Pros and Cons of Ecommerce Platforms Poland as a ecommerce, everything is explained below.
Shopify is a software company that specialises in ecommerce software for small to enterprise level businesses.
Shopify is listed as the best ecommerce software related to Ecommerce Platforms Poland. Shopify was founded in 2006 in Ottawa, Canada and currently has over 6,124 employees registered on Linkedin.