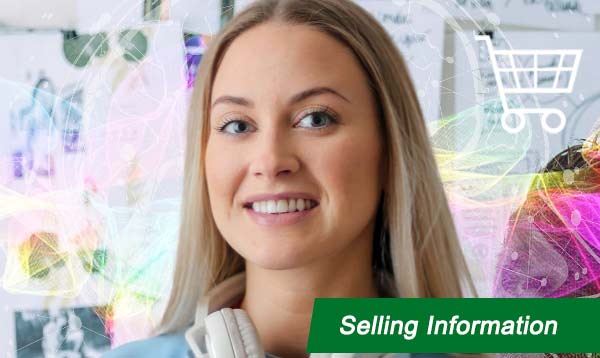 Selling Information
Information Products
Information products are often digital products that give information or advice to meet certain needs or solve a common issue.
When thinking of selling information, remember that you have to provide people with a solution or something that will benefit them.
Benefits Of Selling Information
The benefits of selling information products online are the following :
Information products are easy to create.
They are also cheap to create. You can create an information product using only your time and brain. The only thing you need to do to make an information product is to generate ideas. At the end of the day, if you are not able to sell your information product, you will not lose money, simply because you haven't invested money in your product.
Information products have no storage fee. As information products are digital, they are stored on a server or the cloud, and the buyers of such products do not need large inventories or warehouses.
Here are seven useful steps to start selling information.
Selecting Products To Sell
This step is the most crucial for a successful business.
The most demanded information products are subscriptions (audiobooks, ebooks, videos, etc). The following are the bestselling information products:
Webinars, podcasts, video series
E-books and online magazines
Educational audiobooks
Online courses
Coaching and consulting
Look Into Your Niche
The second important step is to understand your niche. The key is to sell your information product to a certain niche market. And remember that most people look for inspiration on the internet. Online users always try to find fresh ideas and try new things. You should be able to satisfy these needs.
Market Research
After choosing what information product to sell and identifying your niche, you can do market research, analyse your competitors, and know what they offer to their customers. In that way, you will be able to know exactly how to make your product unique. Despite how many competitors you have, the key to success is to remain as authentic as possible in the eyes of your niche; draw inspiration from your knowledge and experience.
Choosing The Best Information Product Format
This is an important step for selling information because your audience may like your product, but not its format.
For example, if you sell fitness information products by offering ebooks, they may not like your format, preferring video format.
Currently, video is the most popular format in all industries. Therefore, if you haven't yet decided what information you will sell, use video format. Meanwhile, keep in mind that although you can start your business by selling different types of information, you have to focus on one type of information product which you are comfortable with.
Resources Used For The Creation Of Information Product
Selection of a particular tool will depend on the type of information product. There is a list of tools and resources, which you can use to create an information product. The following are a few of them.
Video and audio creation
The top applications and platforms to create and edit video/audio are:
Instagram
Facebook
Placeit
SoundCloud
Audacity
Ebooks, tutorials and magazine creation
The followings are platforms and marketplaces with ebooks and other templates:
Canva.
Beacon.
Creative Market.
Etsy
Blurb
Choosing The Best Way To Sell Information
You can sell your information either on a marketplace or on a website (e-Commerce platform).
Marketplaces have advantages in establishing markets with a large consumer base, easy shipping and delivery, etc. The disadvantages of marketplaces are the lack of SEO, low brand visibility, no customer loyalty, etc. Here are the top marketplaces and platforms to sell information:
Amazon
eBay
Apple iTunes Store
Udemy
YouTube
Online marketplaces usually have fees and rules. However, they are suitable for beginners who don't have a large audience and to be discovered by consumers because they must specifically search for them.
Your website gives your brand a more professional vibe, and you're different from other sellers by selling through your website. The disadvantage of an e-commerce platform is that you will only be found through an organic search when your product has enough brand awareness. To gain recognition, you can use marketing tools, SEO, and social networks.
The most popular E-commerce platforms are:
Shopify
BigCommerce
WooCommerce.
Big Cartels Pulley
Promotion is essential when you decide to use your own online store. It would help if you had a marketing strategy to be able to reach your niche market. Here are some ways to promote your information product and engage new customers:
Use social networks.
Obtain paid or targeted advertising
Analytics and discounts
Email marketing
Cross-selling and upselling
Scroll down to read our indepth Ecommerce Platforms guide. What you should know, Ecommerce Platforms features, price plans and support. Pros and Cons of Ecommerce Platforms as a ecommerce, everything is explained below.
Shopify is a software company that specialises in ecommerce software for small to enterprise level businesses.
Shopify is listed as the best ecommerce software related to Ecommerce Platforms. Shopify was founded in 2006 in Ottawa, Canada and currently has over 6,124 employees registered on Linkedin.