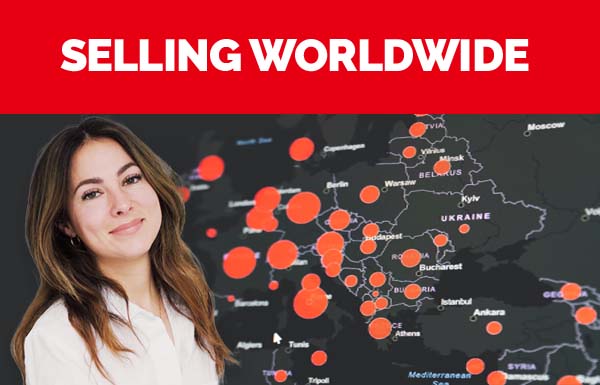 Selling Worldwide
Selling Worldwide: The Right Steps To Take
With the help of the internet, you can easily take your brand to the international level and make a huge profit.
However, a lot of people want to take their business to the international level but are finding it difficult to do that. In this post, we will be showing the exact steps you have to take to scale up your business. For those who are seriously considering selling worldwide, this post is for you.
We have lots of insightful tips to help you scale up your business. Enjoy it!
Selling Worldwide: The Right Step To Take
Plan
Probably, before you start thinking of selling worldwide, you must have had a business idea or skills you want to offer. But if you don't have any business idea, the first thing is to come up with one and Google is a resourceful tool for that. With your idea, the next thing you need to do is to make a plan.
Create A Website For Your Business
For business owners that are thinking of selling worldwide, it makes sense to create your own website instead of using a marketplace for your business. With this, you are taking your business to a whole new level, and people will see your business as a reputable brand. This part means a lot for business owners that are looking forward to selling worldwide.
Running your own website requires a lot of work from your side, you have to create content for your site, social media, email, and other content need. We have different forms of content; your content can be video, text, audio, infographics, etc. And while you are at it, make sure you are creating high-quality and valuable content for your website visitors as this will help position your brand as an authority in your niche. Sometimes you'll need the service of a professional writer to do the work for you.
Apart from content, marketing is another method of growing your business when you are selling worldwide. Also, you can employ the service of a digital marketer to perfect the work for you, so you can focus on other aspects of the business.
Start From The Local Level And Take The Business To International Level
When starting out, start from the local level before taking your business to the international level. By doing this, you'll take note of those challenges your line of business has and find a way to fix them. This will cost you less, and also help you to gain positive feedback from your customers. When you must have gained experience from selling online in your state or country and have also received positive feedback from customers, you'll now think of expanding your business to an international level.
Take Note Of Where Your Customers Are Based
Although your goal is selling worldwide so as to attract more customers to your business, you have to limit the number of countries or regions you'll be reaching out to.
The best thing to do is to focus your energy and resources where your product and/or service are needed for you to succeed when selling worldwide. For instance, you wouldn't want to focus your energy and resources selling winter jackets to people in Nigeria, you'll most likely waste your resource and time doing that. So, first thing first, do your research and find a place where your products and services are needed the most, and channel your resources to those places.
This makes things easy for you at the digital and social media marketing stage; here you can choose the location where your products and services are needed the most when targeting customers on a location basis.
Also, check the shipping problems people have in those countries where you have most of your customers. Exchange rate and value is another problem you'll have when selling worldwide. Put that into consideration and find a way to balance that in your business.
Make Plans That Will Suit The Chosen Market
It is important to make the right plan for your chosen market; example of one of those plans is language.
Language is very important when selling worldwide. There is every possibility that most countries you will be targeting do not speak the same language as you. This is where you have to adjust your plans.
Now, what you have to do here is to hire a freelancer that will help you in this process to handle your content and marketing needs.
Choose The Right Platforms For Your Business
Check the available payment. Shipping and options in those countries or regions you have chosen to know if you can do business in those countries.
For example, if you have most of your customers in a country that can't use your chosen payment gateway, the best thing to do is to find other alternative methods of receiving payment online from the country. If there are no other means of receiving payment from the country then you'll cancel the country or region from your list.
Other things you need to put into consideration apart from payment gateway are shipping services, accounting, etc.
Marketing
Once you have all other parts sorted out, you can start marketing your product and services to your customers worldwide.
Now is the right time to get back to work. Stop thinking of selling worldwide instead start selling worldwide.
Scroll down to read our indepth Worldwide Ecommerce Platforms guide. What you should know, Worldwide Ecommerce Platforms features, price plans and support. Pros and Cons of Worldwide Ecommerce Platforms as a ecommerce, everything is explained below.
Shopify is a software company that specialises in ecommerce software for small to enterprise level businesses.
Shopify is listed as the best ecommerce software related to Worldwide Ecommerce Platforms. Shopify was founded in 2006 in Ottawa, Canada and currently has over 6,124 employees registered on Linkedin.