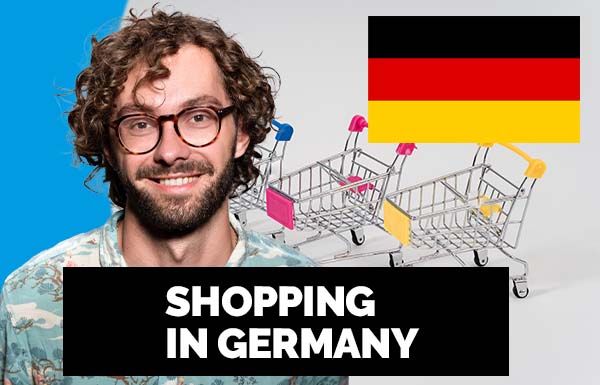 Germany's e-commerce market in seeing growth. With a sales of US$96 billion in 2020, Germany will be the fifth largest eCommerce market, ahead of South Korea and behind the United Kingdom. With a 30 percent gain in 2020, the German eCommerce market contributed to the global growth rate of 29 percent.
Germany has a distinctive culture and rich history. Its a charming place to visit and shop in, both online and in-person. Shopping in Germany can be a satisfying and unforgettable experience. Shopping malls arent very popular here but you can still locate luxury brand outlets and different stores packed with unique products.
The best part? Every city in Germany has a popular shopping street. Bigger cities such as Berlin, Frankfurt, and Hamburg have more than just one vibrant shopping street but before I take a dive into those magical streets, lets learn some German shopping basics.
Shopping must be the same all around the world, right? Wrong! In Germany, for instance, shopping isnt the same as shopping in the US. Lets learn some helpful advice for shopping in Germany.
Germany is one of the best places to shop. It is known as the fashionista's travel dreamland. Every place in Germany will make its way to your heart. From flea markets to trendy cafes, mouth-watering candy stores to fancy restaurants along the way, be sure to receive nothing but the best shopping experience in Germany.
The shopping sector in Germany has such a wide range of categories. Here are some of the main categories for shopping in Germany:
German Ecommerce Fashion Sector
Shopping for clothes and accessories In Germany will likely lead you to the main market street in the local shopping area. In the larger cities, these will include a lot of popular fashion retailers, such as C&A, H&M, Espirit Holdings, Peek & Cloppenburg, KiK. Adidas is also a well-known German brand that became very popular all around the world. Adidas is well known for sports footwear as well as sports clothing and accessories such as balls for playing sports. Stores selling this brand in Germany are Voo store, Solebox, Afew store, Overkill, Wood Wood, Adidas Originals Berlin, Sneakersnstuff Berlin, Superconscious, Getshoes, Adidas Berlino, and so on.
German Ecommerce Leisure Sector
If you are all about having fun and exploring you will surely enjoy life in Germany. Leisure is a major thing in German life. The country has a lot to display from leisure activities and nature. Germany has a great history, which you can tell by its monuments as well as its old architecture. Monuments such as the Hall of Fame and Bavaria Statue (1853), Bismark Tower, and Stuttgart, have been preserved and serve as good sights for excursions by foreigners. Nature lovers who visit Germany will be delighted by the country's huge green pastures including islands as well as nature parks where you can stroll just to observe or experience the feel of nature. There are also many beautiful islands on the Baltic and North sea.
If you wish to enjoy family time, you may want to visit one of Germany's beautiful amusement parks for all tastes. Some of the best amusement parks in Germany include; Phantasialand, Movie Park Germany, Hansa-Park, and Holiday Park. These parks have entertainment programs good enough to entertain everyone. They include fun rides for the kids, musicals, variety shows, animal shows, and many more entertaining programs.
German Ecommerce Books And Stationery Sector
Reading a good book can transport you to a different world. Of course, Germany has got you covered, the country has plenty of book stores. Many of these stores are unique because of their special style. Some of these stores in which you should try out are Bookstore WilmaHorne, Munich. This particular store has been run for almost 40 years. Another spectacular bookstore in Germany is Ocelot, Berlin.
German Ecommerce Beauty, Health and Lifestyle Sector
Having a healthy life in Germany is not a problem at all as there are plenty of options when it comes to boosting one's health. Eating healthy is inevitable due to the existence of nice grocery stores in the country. If you are looking for something rich from a regular grocery shop, Germany has a lot of options for you to choose from. Major grocery shops in Germany include Real, Rewe, Edeka, and Kaufland. These grocery shops are large and have almost everything you desire. Germany also holds a good name for skincare brands, international makeup products, and nice body treatments.
Over the years, Germany has become quite popular for its market sector. With the wonderful goods they provide, they have shown to offer nothing but the best. As mentioned earlier, if you are considering shopping in Germany, be sure to harness the opportunity and explore the goodness of the shopping experience.
German Credit cards
In Germany, you can never suppose that certain stores, café places, or restaurants will take credit cards because Germans prefer old-fashioned cash. Meaning, you should always carry around change in case you cant pay with a credit card.
Perhaps some places you plan to visit wont accept this type of payment, so you better be prepared just in case. You can also find ATMs everywhere.
German Sales Tax/VAT
In Germany, the VAT is included in the price. Therefore, unlike in the USA, what you see is what you will actually pay. However, you can still see the VAT on your receipt. The sales tax isnt a state tax but a national tax. And the standard rate is 19% since January 1st, 2007; 7% for transportation, flowers, books and magazines, and groceries.
German Specialty shops
In Germany, you can still find specialty stores with well-trained salespeople. However, people prefer the small stores where they can obtain good shopping advice. No matter if youre interested in buying meat, technology, or clothes, you can always find knowledgeable salespeople.
German VAT refunds
What I like most about shopping in Germany is that if youre a non-European resident, you can get a VAT refund for non-edible products. However, this only applies to larger purchases, under certain conditions. Also, the whole procedure isnt straightforward.
First of all, you need to fill out some forms and make arrangements at the time of purchase. You have to prove that youre taking the bought items outside the EU within 3 months of purchase. Its complex, but still worth a try if you want to save some money.
Theres a store closing law in Germany, Switzerland, and Austria. Yes, youve heard that right! I can also confirm this for Germany since Ive visited the country a handful of times. Unfortunately, these countries have the most limited shopping and business hours in Europe.
In most of Germany, you cant go shopping on Sunday or after 8:00 PM on weekdays. However, you can still buy groceries or shop on Sunday in the larger train stations. They usually contain big grocery stores and shops of any kind, so thats good to know, correct?
The city center is the heart and soul of every German town. The pedestrian zone is usually car-free and surrounded by shops and restaurants of any kind on both sides of the street. Usually, Germans go shopping on Saturday, so expect a little fuss on the weekend. Now, lets take a look at some of the best shopping streets in some of the biggest German towns.
Kudamm, Berlin
Berlins most famous shopping street, Kudamm is actually a 2-mile long boulevard loaded with popular shops like Esprit, Mango, H&M, Zara, and much more. It also packs different hotels, restaurants, movie theaters.
The quiet side streets of the Kudamm offer a wide array of art galleries, cozy cafes, antique stores, and townhouses. Its the best place to hang out with friends or family and enjoy a lovely evening. Last but not least, dont forget to visit Berlins largest department store, KaDeWe.
MAJ, Hamburg
If you prefer a relaxed shopping experience, MAJ has your back. Its a magical pedestrian shopping street expanding between the historic City Hall of Hamburg and the main train station.
Its home to Saturn, the worlds biggest electronics store, and Karstadt, Europes biggest sports store but you will also find popular brands like Zara, C&A, H&M, and other fashion brands. This street packs high-end specialty stores, jewelry stores, charming cafes where you can get your daily dose of coffee or beer. You can also visit Levantehaus, a popular shopping center.
Kleinmarkthalle, Frankfurt
If youre in Frankfurt, dont forget to visit the Kleinmarkthalle for a special grocery shopping experience and buy yourself some fresh produce, wine, gourmet products, and even flowers. Its also the perfect place to eat and bond with the locals. Kleinmakrthalle makes a great buying place for foodies and cooking enthusiasts because its packed with many items at fair prices.
Zeil, Frankfurt
The Fifth Avenue of Germany, Zeil makes a great shopping street for shopaholics. Its filled with different brand stores and boutiques that scream high fashion and luxurious living. However, what I like most about it is the mesmerizing architecture. You can observe this street from the 10-story Zeilgalerie or buy some designer jewelry at the Goethestrasse.
Kaufinger and Sendlingerstraße, Munich
If youre a shopaholic, you can get your fix in the heart of Munichs Old Town, Marienplatz. Its the ideal spot to start your shopping spree. However, if youre also a foodie, visit Viktualienmarkt first, a beautiful open-air market. You can also shop on the adjacent Kaufinerstrasse. In case youre on a hunt for art pieces, Sendliger Strasse has a lot to offer. Its home to a lot of family-run businesses where you can also try Bavarian costumes and yummy treats.
The Shildergasse, Cologne
I visited Cologne once and I can confirm the beauties of this magical city including the Shildergasse. Its a great place for shopping with countless fashion outlets and department stores. Weltstandhaus is one of the biggest attractions since its a glass structure.
According to statistics, almost 13,000 people pass through this street per hour. Its a super busy shopping street. Dont forget to grab a pastry at Café Riese and a bottle of "Eau de Cologne†at some of the perfumeries. Last but dont least, take a photo in front of the amazing Cathedral of Cologne.
Königsallee, Düsseldorf
If you visit this upscale street, you can enjoy the view of the tree-lined river and shop at designer stores and shopping malls. Its the perfect place for high-end shopping in Germany. I would also suggest visiting Schadowstrasse, another shopping street with over 200 shops with fair prices.
Germans arent only known for their beer but also shopping streets. Some of the best shopping stores in Germany include Aldi Nord, Netto Marken-Discount, Norma, Penny Markt, and Lidl.
But heres the kicker. Most of the plastic bottles and glass in Germany have a deposit value that you can get back by returning them to markets or putting them through automated machines. The automated machines provide tickets that you can use at checkout to pay for your items or get cash.
As you can notice, shopping in Germany isnt just shopping but a unique experience.
Scroll down to read our indepth Ecommerce Platforms guide. What you should know, Ecommerce Platforms features, price plans and support. Pros and Cons of Ecommerce Platforms as a ecommerce, everything is explained below.
Shopify is a software company that specialises in ecommerce software for small to enterprise level businesses.
Shopify is listed as the best ecommerce software related to Ecommerce Platforms. Shopify was founded in 2006 in Ottawa, Canada and currently has over 6,124 employees registered on Linkedin.