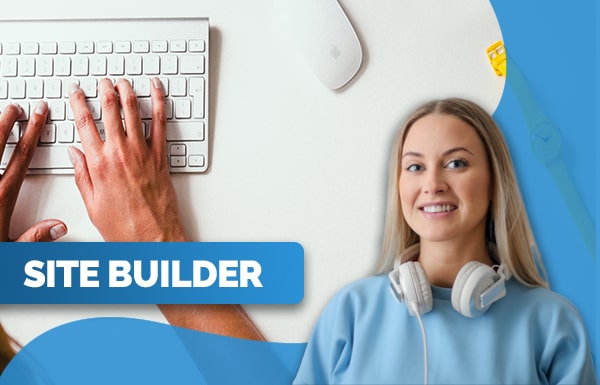 Site Builder
Today, if you want to run a successful business, you need to have a website. Moreover, your website must be well designed; otherwise, your visitors will leave your site before looking at the products or services you have listed there. Let's discuss the options available to you when you're looking at creating a website.
Determine Your Needs
When deciding which direction to go in when it comes to your your website, you need to focus on assessing your needs. Think about what your website should do, who it should attract and about what specific pages and functionalities you may want to include.
For example, you will need to use different types of websites and different designs for online shops and for blog posts, because these activities require completely different features and functionalities.
Another thing you have to consider is if you are OK with having a generic or standard website design, or if you want a unique and custom-built website.
Ways to Create a Website
Here are three options you can look into when creating a website for your business:
Using a website builder and making a DIY website using available templates.
Hire a web designer (freelance or from a specialised agency) and use them to custom-make your website.
You can use a hybrid solution by hiring a designer, which will customise a template for you.
1. Using A Website Builder
Website builders are platforms equiped with tools which allow users to build a website themselves. Website builders provide users with templates and then users have to customise their chosen template using design elements (again, provided by the website builder) and upload there their content, as well images and videos, etc. There are many website builders available on the Internet, and here are five of the most popular:
Wix
Squarespace
Weebly
Shopify
Jimdo
You can use website builders online as well as offline. In the case of offline platforms, you have to download the program onto your computer and then build your website from your desktop. After building your website offline, you can upload it from your computer to the host you choose and publish it. If you use an online website builder, all the work you do is carried out online.
The main reasons to opt for a website builder:
Lower cost.
Opportunities for DIY.
No need for design experience.
Availability of built-in tech support.
Easy to use.
6. Website Designers
These are graphic designers who offer design services and will build your website for you from scratch. This means that unlike website builders and plaforms on which you build your website based on a template, a website designer will take control of the process from start to finish .
Here you have two options: either hiring a freelance web designer and working directly with him, or working with a website design company.
Keep in mind that web designers and web developers are different professions. A web developer is responsible for turning web design into a functional technical platform. A web designer works only on the aesthetic parts of your website. After designing your website, it has to be translated into a code (to be built) in order for it to be active.
Freelance Website Designer VS Website Design Company
Unlike freelance web designers who act on an individual basis, web design companies have sets of teams that specialise in different areas of each project. They have different groups available with different areas of expertise, for example, web designers, UI/UX (User Interface/User Experience) designers and web developers.
In many cases your freelance web designer will have be experienced in UI/UX works as well, (some of them will also have experience in web development) and some can provide you with additional features specific to the services they offer.
The main reasons for you to choose website designers:
Having personal brand identity.
Their individuality will make you stand out from the competition.
Detail orientation.
Further future collaboration.
Unlimited possibilities.
7. The Hybrid Solution
You may choose the hybrid solution if you want a custom look for your website, but do not want to make an investment in custom development. One of the most popular examples of hybrid solutions is that of building a website on a platform such as WordPress. Initially WordPress was intended to be a blogging platform. Now it offers thousands of templates perfect for the creation of a hybrid solution. To make the process more efficient, you can hire a designer with experience in WordPress, who will create a unique website for you using the back-end database functionality available.
Some other platforms offering such solutions are Shopify and Squarespace.
The reasons behind choosing hybrid solutions is connected to the fact that they include all the possible advantages of the former two options. It also makes it possible for you to make use of the advanced functionalities of highly specialised platforms like WordPress, Shopify and Squarespace. Moreover, you may gain those benefits at a lower price than you would if you were hiring a web designer and web developer.
Site Builder Verdict
Remember that with all of the options discussed above, you will need to translate your website's design into code. Make sure your designer is able to do that or keep in mind that you will need a web developer after the design is ready.
Scroll down to read our indepth Ecommerce Platforms guide. What you should know, Ecommerce Platforms features, price plans and support. Pros and Cons of Ecommerce Platforms as a ecommerce, everything is explained below.
Shopify is a software company that specialises in ecommerce software for small to enterprise level businesses.
Shopify is listed as the best ecommerce software related to Ecommerce Platforms. Shopify was founded in 2006 in Ottawa, Canada and currently has over 6,124 employees registered on Linkedin.