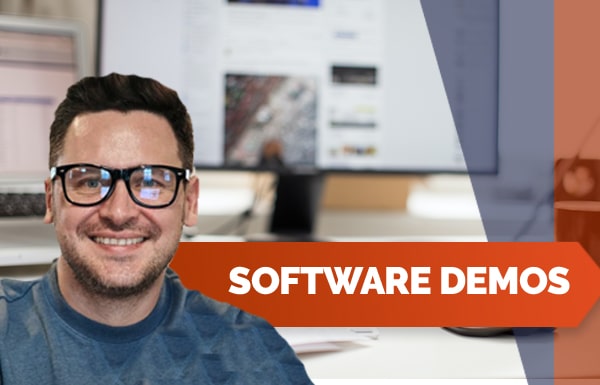 Software Demos
What is a Product Demo
A product demo is a presentation of your goods or service to an existing or potential client. Usually a product demo includes a demonstration of core features and functionalities.
The main goal of a product demo is closing a deal. Besides that, product demos are a unique opportunity to show off your product's value to a potential client.
Product demos are an essential part of the process of software sales. If a product demo is executed badly, it will slow down your close rates significantly. In contrast, good product demos will have a high positive impact on your business.
When it comes to the use of the terms 'product demo' and 'sales demo', they are actually same and can be used interchangeably.
Interesting Data On Product Demos
According to a survey:
On average, a typical SaaS company conducts from 4 to 11 product demos per week.
The number of demos held by an average SaaS company, which has an ACV of less than $5000 is 11.3 per week.
For companies with an ACV more than $100K, the average number of demos per week is very low - at about 3.6
Who is Responsible for Delivering a Product Demo?
Usually the sales representative or the account executive delivers the sales demo. If the demo is presented by a small company or a startup, commonly the founder will take the lead.
When is a Product Demo Delivered?
Typically, a product demo is conducted after qualifying a lead. For most SaaS companies, the sales process goes as follows:
Generation of leads.
Discovery: Qualifying the lead.
Pitch: You conduct a demonstration of the value of your product to your qualified lead. This is the product demo.
Conversion: You close the deal.
For example, a user visits you site, fills out a form providing his contact details, i.e. shows interest in your product or service. In this step, the user becomes a lead. You analyse the information that you have gathered and if you consider the user a potential customer, you then qualify him. After qualifying the lead, you make a product demo for him and if everything goes well, sign a contract with the person, who becomes a new customer.
How a Product Demo is Delivered
Typically, SaaS companies deliver their product demos online, using tools for meetings, screen sharing, face-to-face videos and so on.
Currently lot of companies use general tools such as Zoom or Hangouts. However, there are specific tools available as well, for example, Demodesk which is developed specifically for demos and onboarding.
The Importance of a Product Demo in SaaS Sales Processes.
The importance of a product demo in the sales process of any SaaS company is connected to a list of factors.
The most essential factor is the Annual Contract Value (ACV) of the company. As a rule, if your company's ACV is less than $1000, you should not do product demos for a potential customer. This is because delivering a personalised demo requires resources and creating them is a large investment, which pays off only when the return is sufficiently high. On the other hand, if the ACV of your company is above $1000, product demonstration is undoubtedly the most important part for your sales process.
How Do Product Demos Impact Close Rates?
It is not easy to create a product demo. You have to understand your product in detail; you should know the person with whom you are dealing with and presenting your demo to, and finally you must know all the ins and outs of the possible future problems, expectations and personal preferences of your potential customer.
Experts say that 20% of demos fail. There can be different reasons for that, but generally speaking it is because those demos involved presenting the wrong products to the wrong people.
Mastering Your Sales Demo
This is really not an easy job, because the aim of an SaaS sales demo is more than just of presenting the features of your product and differentiating your product from your competitors. You have to be able to present a clear solution that is best suited to solving your customer's problem.
When you conduct your marketing strategy or are preparing to make product demos, remember one very important thing: People do not just buy a product for its features; they are purchasing solutions, relationships and credibility. Be ready to engage with your customers, keeping in mind their most prominent needs and wants.
Scroll down to read our indepth Ecommerce Platforms guide. What you should know, Ecommerce Platforms features, price plans and support. Pros and Cons of Ecommerce Platforms as a ecommerce, everything is explained below.
Shopify is a software company that specialises in ecommerce software for small to enterprise level businesses.
Shopify is listed as the best ecommerce software related to Ecommerce Platforms. Shopify was founded in 2006 in Ottawa, Canada and currently has over 6,124 employees registered on Linkedin.