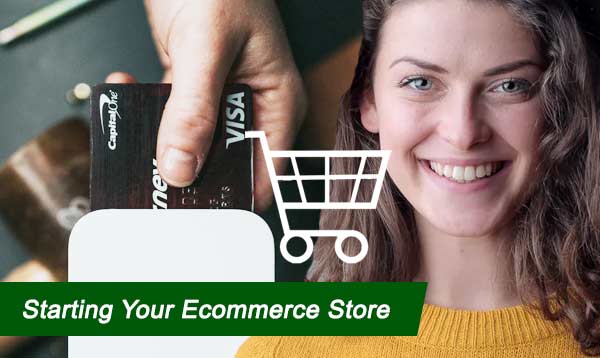 Starting Your eCommerce Store
Things are developing nowadays, many people are now thinking about how to become their own boss and take responsibility for their own future. This is more available than ever on the internet, and eCommerce is one of the best to try out.
Although, it can be really hard to know where and how to start practicing an e-commerce business and which one to start in order to generate more income. Therefore, it is essential to build an action plan before placing your money first while you establish your own plan for the eCommerce business. This guide offers a truthful and simplified strategy to e-commerce and provides metrics of goods for sourcing that target the start of a profitable business.
We recommend you set aside your dreams and concentrate on the most realistic moves in your eCommerce strategy while setting up your new eCommerce business with lots of big ideas.
You just ought to market your goods first of all with simple online media. This is perfectly well served by a simple store prototype on a reputable website like Shopify. The key is to start quickly and begin to think about how sales can be produced by e-commerce marketing. And after you started your eCommerce business, make sure you take all the right measures with this helpful checklist:
Finding Ecommerce Products
You might be thinking about what exactly you can offer because you are completely new to the e-commerce world. It is actually one of the issues for people to never immerse themselves in the establishment of their own eCommerce business. In fact, you have to be sure in recognizing a range of items on e-commerce websites like Amazon.
It is recommended that you start by listing the prospective products for your store which you will like to sell, and also think about some kind of items, your friends, colleagues or relatives will be interested in buying. Explore more on social media such as Pinterest, Etsy, and even Instagram for more information about what to offer.
Researching Other Small Online Businesses
Doing a lot of research is a part of the e-commerce business's growth. When the products have been selected, look at what your competitors are doing either the challenges they are facing or their cost of entry. Are they slowly becoming digital or they are spending more on advertisements? Your inspiration to sell those certain products might change when you understand how much work and cash you need to spend in the startup. This research will lead you to quality goods that can be marketed and to a great understanding of how to start a profitable small online company.
Building Your Online Store
Creating of your store is the next when you have selected your products after finishing your research on your competitor. You can conveniently set your store by selecting Shopify as one of eCommerce CMS tools, and begin with several models and incorporate a simple eCommerce framework, which does not require development assistance. You need a method that fits your target audience and rates that represent your anticipated performance. When you name your eCommerce business something memorable, it will make people not forget your name and also your logo, which can be vibrant or artistic as you want.
You should remember to try placing an order for yourself so as to ensure that the procedure for the customer is faultless when your site is ready to start taking orders. Enable more measures to purchase things online and just ask for more details required when checking out. Concentrate 100% on e-commerce marketing after you have opened your store. The key to e-marketing is to search for the best platform for your goods so as to boost your marketing strategy.
You should also know that, you must invest your profits more into your advertising; it is not yet time to start keeping your earnings. Check your ad's ROI at least twice a week so as to keep a closer eye on profit. If your business plan is validated and a steady stream of revenue has been secured, ensure that you continue to optimize your e-commerce sector.
Starting Your Ecommerce Store Verdict
I know certain people have flourished with an emphasis on an outstanding niche product or customer service, saying almost 50% of Shopify stores have not received a single sale. This can seem to be a very small number of e-commerce businesses, as compared to the success rates of the companies (10%), it is an encouraging amount.
Make use of some of this guide, when you start creating your own eCommerce business strategy. Don't be looking for the perfect website design or products for your store at the start. When you start making a profit, spend your funds to build your organization in an e-commerce marketing strategy. After that, You can then start specifics such as optimizing your store.
Scroll down to read our indepth Ecommerce Platforms guide. What you should know, Ecommerce Platforms features, price plans and support. Pros and Cons of Ecommerce Platforms as a ecommerce, everything is explained below.
Shopify is a software company that specialises in ecommerce software for small to enterprise level businesses.
Shopify is listed as the best ecommerce software related to Ecommerce Platforms. Shopify was founded in 2006 in Ottawa, Canada and currently has over 6,124 employees registered on Linkedin.