Stores That Accept Cryptocurrencies Table of Contents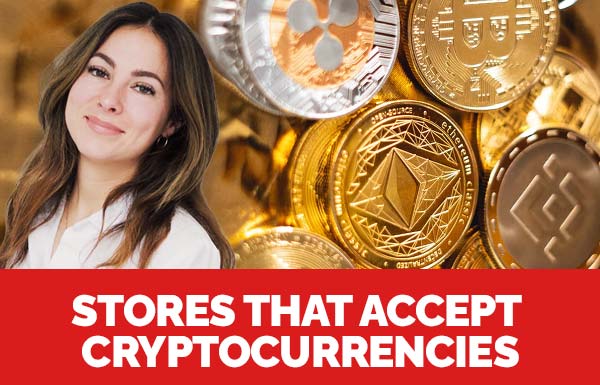 Stores That Accept Cryptocurrencies
The world has slowly but surely started embracing cryptocurrencies.
Fund managers and investment banks including Square, Tesla, and JPMorgan still back cryptocurrencies such as Bitcoin by including the asset and associated companies in their portfolios.
Below, I will share stores that accept cryptocurrencies, so lets begin.
Stores That Accept Cryptocurrencies
Cryptocurrencies keep on stealing the headlines. Its nothing new that the value of cryptocurrencies like Bitcoin has skyrocketed ($60,000). Even Elon Musk has invested billions in Bitcoin.
Buying and selling cryptos is becoming the new norm. However, the ways to spend virtual currencies are still limited. Luckily, more and more companies started embracing cryptocurrencies.
Various companies including airlines, big tech, and others offer crypto as a method of payment for their goods and services. Lets throw a glance at the stores that accept cryptocurrencies.
Pavilion Hotels & Resorts is the first international hotel chain to welcome virtual currency payments. Its a Hong-Kong based group of hotels and resorts with locations in Lisbon, Madrid, Amsterdam, Rome, and Bali. They also accept Ethereum through their partnership with the platform Coin direct.
AXA Insurance
The AXA insurance company allows users in Switzerland to pay their bills with Bitcoin. The company has researched in 2019 and determined that a third of customers aged 18-55 have already invested in many cryptocurrencies or were interested in doing so in the foreseeable future.
Knowing that one of the biggest software companies in the world accepts Bitcoin, makes everyone more interested and confident in utilizing cryptos. You can pay with Bitcoin for various services like Skype and Xbox Live. Microsoft has also launched a 2-layered authentication platform for extra security.
Starbucks lovers can now utilize crypto to pay for their goods and drinks at the coffee chain. 500,000 users accepted the early access, invitation-only program to test the digital wallet as a payment method.
The CEO of Tesla, Elon Mush has invested billions in Bitcoin. More specifically, Tesla invested $1.5 billion in cryptocurrency. They also accept Bitcoin payments for car purchases in the United States.
You still cant pay for goods with cryptocurrencies. However, you can purchase Amazon vouchers via the crypto-only company Bit refill. Its a platform that converts Bitcoin into refill phones, gift cards, etc.
The credit card company, Visa, confirmed that its crafting a scheme with Crypto.com to accept this new payment method. Visa will support the USD coin which is stable coin crypto thats pegged to the value of the US dollar.
PayPal account holders in the United States can now purchase, sell, or keep a few cryptocurrencies like Bitcoin, Bitcoin Cash, Ethereum, and Litecoin. Additionally, you can easily track cryptocurrencies via the PayPal app. The only downside is that money cant be moved out of the companys digital wallet.
airBaltic, the popular Latvian airline became the first aviation business in the world to provide Bitcoin as payment for fares in 2014. LOT Polish Airlines followed their footsteps the following year.
Sothebys, the auction house started accepting cryptocurrencies and NFTs. They just accepted Bitcoin as payment for a rare diamond that sold for $12.3 million. The diamond became the most valuable product ever purchased with cryptocurrency. Sothebys accepts Ethereum and Bitcoin via Coin base.
Coca-Cola Amatil, the major bottler and distributor in the Asia-Pacific area has accepted cryptocurrency as a payment method after partnering with the Centrapay platform. They have over 2,000 vending units in both New Zealand and Australia that accept cryptocurrencies to pay for beverages.
Following the steps of airBaltic, this polish airline company has also embraced cryptocurrencies such as Bitcoin as a payment for flights. Its the only European airline firm that accepts Bitcoin.
The major travel company, Expedia accepts Bitcoin after partnering with Travala, a crypto-friendly travel booking platform. You can easily book over 700,000 hotels with over 30 cryptos.
Lush fully embraced cryptocurrencies back in 2017 when the handmade cosmetics giant begin to accept Bitcoin as payment for products on the website. Lush has a partnership with Bitpay.com and was one of the first major companies to recognize the potential of cryptocurrencies such as Bitcoin.
Last but not least, I want to mention Wikipedia. Its probably the most popular company that operates the worlds biggest open-source encyclopedia. And now, Wikipedia accepts Bitcoin donations via Bit pay. Do you know other companies that accept cryptocurrencies? If so, drop a comment below!
Stores That Accept Cryptocurrencies Verdict
As you can notice, the number of companies that start to embrace cryptocurrencies as payment for their items or services keeps increasing by the day. Whats your opinion on cryptocurrencies?
Scroll down to read our indepth Ecommerce Platforms That Accept Cryptocurrencies guide. What you should know, Ecommerce Platforms That Accept Cryptocurrencies features, price plans and support. Pros and Cons of Ecommerce Platforms That Accept Cryptocurrencies as a ecommerce, everything is explained below.
Shopify is a software company that specialises in ecommerce software for small to enterprise level businesses.
Shopify is listed as the best ecommerce software related to Ecommerce Platforms That Accept Cryptocurrencies. Shopify was founded in 2006 in Ottawa, Canada and currently has over 6,124 employees registered on Linkedin.