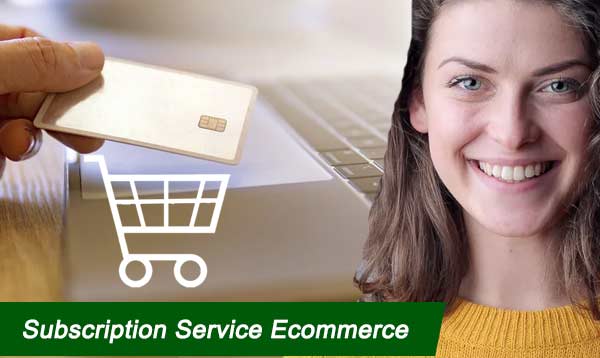 Subscription E-commerce
2021 was a great year for E-commerce as the sales skyrocketed because of the pandemic.
According to Statista, in 2020 the global retail E-commerce sales were equal to $3.53trn. This number is estimated to rise up and reach $6.54trn in the coming years.
While the COVID-19 pandemic is credited for developing digital transformation and rapid change of consumer preferences, a new challenge of this era will be to sustain the high levels of growth during the coming years.
Changed Consumer Behaviour
The pandemic changed our lives, including our spending habits and our attitude towards the idea of shopping. According to a survey conducted by McKinsey, though the Covid-19 crisis seems to be behind them, there has been a 40% net increase in US customers intent to spend online rather than going to physical stores.
People change their preferences demanding more convenient and personalised approaches by the sellers. Therefore, the main task of todays E-commerce business is to connect with customers on a personal level and provide resources and other offerings available for them without them having to leave their homes.
Sustaining Growth Using Subscriptions
There are four main ways of offering subscriptions, which will help sustain further growth:
Estimate demand-readiness.
Concentrate on technology-led growth.
Experiment with pricing and packaging.
Build long-term relationships with customers.
Estimate Demand-Readiness
During the months that followed the pandemic, there was a surge in online orders. As a result of such a development, some E-commerce businesses were not able to evaluate customer demand for their products and properly respond to volatile demand cycles. Some experts think that this problem still exists today and will continue to be a problem in the near future.
In this sense, subscriptions can help businesses increase the levels of predictability. The possibility to sustain increased demand in the face of limited supply can be considered as a competitive advantage and become a strength for companies.
For example, Amazon incorporates subscriptions in their E-commerce offerings for repeatedly buying goods. There is a 'Subscribe and Save' option if you want to use this offering. Adding this kind of option has two goals:
Ensuring steady recurring revenue for the company.
Predict future demand.
Concentrate On Technology-Led Growth
Nowadays, automated workflows are the most important thing in the E-commerce industry. All the teams within a company, from finance to marketing, have to be empowered by technology. Each E-commerce business must provide the greatest possible consumer experience to their customers. A crucial thing here is that a company cannot provide its customers a high level of user experience without automated workflows and processes.
Another important thing related to technology is the availability of a robust and scalable billing system.
Experiment With Pricing and Packaging
In this rapidly changing environment, consumers' behaviour is changing dramatically. This does not allow for the discerning of buying patterns and the adoption of rigid pricing models. Therefore, E-commerce owners need the ability to adapt this changing reality and make frequent changes to their value proposition, pricing strategy and packaging workflows.
If you want to offer your customers subscription options, you have to develop different pricing and packaging plans. These can include monthly and annual subscriptions, subscribe and save options, etc. An important thing to remember is that you need to be flexible, willing to experiment, learn fast and innovate.
Build Long-Term Relationships With Customers
E-commerce is a very competitive industry. Therefore, establishing long-term relationships with customers is much more profitable for companies than one-time transactions. Subscriptions are a very effective method of building long-lasting relationships. The reason for this is that they encourage increasing consumer loyalty and improve your customer retention rates.
Besides, subscriptions can also provide more opportunities for you to engage with customers, improve your company's relationship management and so on.
One more important thing subscriptions may provide is the opportunity to scale with customers. If your customers subscribe, you can offer them new options of paying for upgrades, add-ons or engage them in higher-value packages. Being flexible for consumers can help you boost your repeatable revenues, meanwhile deepening the relationships between your brand and customers.
Subscription boxes have many creative options that are available for customised boxes. Customisation allows businesses to meet customers' needs on their own conditions and terms.
Subscription E-commerce - Verdict
The business model that adopts the use of subscriptions has clear benefits for your company. Offering this model to your customers as an option can improve their user experience, which in its turn will help diversify and boost your revenues, as well as enhance your ability to predict and manage the demand for your products or services.
Keep in mind that if you adopt a self-serve subscription business model, you have to be able to provide customers with various choices over their purchasing decisions, for example the option to change their preferences, skip shippings or pause them, and so on. The availability of these options can encourage customer loyalty.
Scroll down to read our indepth Ecommerce Platforms guide. What you should know, Ecommerce Platforms features, price plans and support. Pros and Cons of Ecommerce Platforms as a ecommerce, everything is explained below.
Shopify is a software company that specialises in ecommerce software for small to enterprise level businesses.
Shopify is listed as the best ecommerce software related to Ecommerce Platforms. Shopify was founded in 2006 in Ottawa, Canada and currently has over 6,124 employees registered on Linkedin.