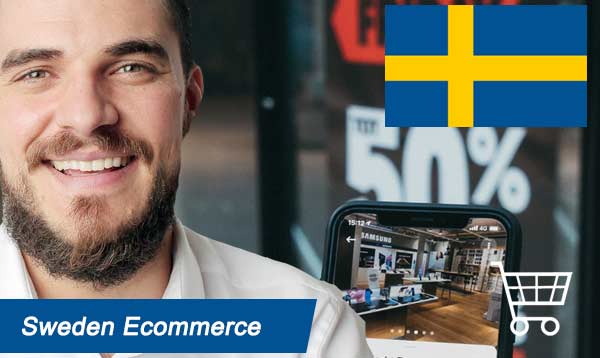 Sweden Ecommerce
In the European Union, Sweden is the third biggest country. In 1995, the nation entered the EU but never used the euro. In a referendum in 2003, the Swedish citizens opposed this coin. Sweden is number eight the world's highest per capita income all over the world, and it has a long listing of happiness, human growth, and democracy. In Sweden, eCommerce is popular, thanks to the legacy of mail orders and strong retail brands.
Ecommerce Customers In Sweden
There are 78% of internet users shopping online in Sweden in 2015. A more recent survey showed that over 84% of Swedes are projected to shop online in 2019. While e-commerce is widely spread all over the world, inland municipalities in northern Sweden are the most active e-commerce customers.
The card payment method in Sweden was the most common payment method with 53% in 2018. Followed by bank transfers (22%), e-invoices (15%), e-wallets (9%), and delivery cash (1%). The Foundation of Ecommerce forecasts that cards will become less important and e-invoice, e-wallets, and bank transfers will become more common.
Sweden's E-Commerce Market
In 2018, Sweden customers have spent approximately EUR 14.95 billion on goods bought online. For 2019, a growth of almost 13% is expected to amount to EUR 16.86 billion in Swedish e-commerce. The online shopping market in Sweden was seen in another survey to be worth Euro 8.24 billion in 2019.
Clothing and footwear (39%)are the most common product categories in Sweden, followed by beauty and health care products (32%), books and media (27%), and home electronics (23%). We're curious if IKEA has anything to do with it, home furniture is also very common. In Sweden, 8.7% of overall retail transactions in 2017 were accounted for online retail outlets.
Popular Online Stores In Sweden
Online customers in Sweden are popular with foreign e-commerce websites. However, local firms such as IKEA, Netonnet, and Elgiganten are still used by online shoppers. However, a website for international eCommerce is the most popular online store in Sweden.
This was discovered via the CupoNation Online Couponing Website, where the last three months have examined the most popular online shops in Sweden. The data correlated somewhat with those seen by PostNord in the six-monthly 'E-commerce in the Nordics' survey when they said that in the first half of 2016 many Swedish shoppers were mostly shopping from the UK and China.
Clothes and shoes and consumer electronics are common products among Swedish cross-border shoppers. Consumers in Sweden buy the most online of all the countries in the Nordic region. In the first six months in the past year, about two out of three shoppers in this country (66 percent) shopped online. Nearly 16m times, people viewed Amazon.com in the next quarter, followed by Ikea.com (8.8m), Netonnet.se (7.4m) between January and March this year.
Online Payment Method In Sweden
Credit cards are Swedish eCommerce customers' most common payment form. A recent survey shows that over half (54%) of Swedish customers are wished to use their card online. Invoice, which is used by 28%, is another common way of payment in Sweden.
These are the main findings of a MasterCard survey conducted by Novus. The study also reveals that four out of ten people in Sweden had not shopped online, at least once, since they have no payment card.
Reasons For Using Cards
As stated, over half of Sweden chooses to pay by card online. It's short and simple, mostly because this mode of payment is easy and fast. This is mostly chosen by one in three Swedes as a means of payment because of safety.
Fastest-Growing E-Commerce Companies
Since 2015, Sweden has seen several eCommerce companies expand by several thousand percent. Between 2015 and 2016, Sweden's fastest-growing eCommerce firm saw its sales growth of 61,850%.
In order to assemble a list of the ten fastest-growing e-competitive firms in Sweden, Payson used data from the Swedish Allabolag register. But these firms had almost no sales to talk about earlier last year, apart from Maddii, an online apparel company. But as Business Insider Nordic says again, 'the success of an enterprise in the first year is a good predictor of optimism for the future.'
Moodcompany is Sweden's fastest-growing eCommerce company. Around 2015 and 2016 this store sold partner goods and expanded by 61.850%. Solestory entered second position online shoe company, while Crystalline, a distributor of crystal design, came third.
Scroll down to read our indepth Ecommerce Platforms guide. What you should know, Ecommerce Platforms features, price plans and support. Pros and Cons of Ecommerce Platforms as a ecommerce, everything is explained below.
Shopify is a software company that specialises in ecommerce software for small to enterprise level businesses.
Shopify is listed as the best ecommerce software related to Ecommerce Platforms. Shopify was founded in 2006 in Ottawa, Canada and currently has over 6,124 employees registered on Linkedin.