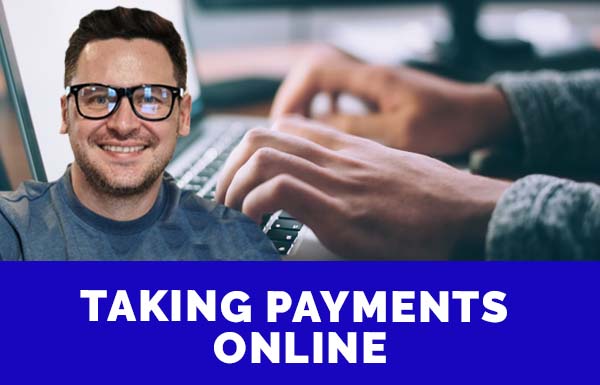 Taking Payments Online
Since buyers made more online transactions in 2020 than ever before, it's of great importance that your business starts taking payments online.
Mobile payments have become significantly popular. According to PWC, the number of buyers shopping on their smartphones doubled from 2010-2017, going from only 7% to 17%.
In 2020, during the pandemic, about 45% of buyers used their phones for online shopping. Two common methods for accepting payments online include credit cards and direct debit.
They're quick, easy, and safe ways to shop online. In today's article, I will talk about various methods for taking payments online, so let's get started.
Taking Payments Online: Best Options
Technology keeps evolving by the day. And not taking advantage of the impressive opportunities such as online payments that will certainly increase your sales, would be a tremendous shame!
Many payment options ensure convenience and safety for both customers and businesses. So, let's take a closer look at some of the most common payment methods that many businesses use.
Credit and debit cards
Allowing your customers to pay for your goods and/or services with their credit or debit card is the basic way to accept online payments. To deliver this option to your users, you will want to determine whether to obtain your own dedicated merchant account or utilize a holding account.
Picking one method over the other may require different funding times and processes. Therefore, invest time to research and decide what's best for your business and your customers.
Broadly accepted credit cards include American Express, MasterCard, Visa, and Discover. However, Visa is the biggest. There were about 336 million Visa cards in the United States. Visa's credit payment volume was almost $2 trillion in 2019. So, Visa is a must-have!
eChecks via ACH processing
Another popular method to accept online payments is via direct debit of a bank account with e-checks or electronic checks via ACH payment options.
This enables your buyers to import the details from their paper check (the account and routing number, amount, name, and authorization) into a software interface or online payment form.
This payment method processes the transaction electronically. ACH processing has different transaction fees. And it's governed by the National Automated Clearing House Association.
However, usually, the transaction fees of ACH processing aren't as high as those of credit cards. It's also more secure and suitable for small businesses.
Online payment gateway
If you add a simple online payment form, your customers can easily pay your company directly on your website. Returning buyers can even make accounts to save their payment data for new buys.
You can obtain this method from businesses that specialize in online payment services. They will install the payment form, provide secure payment processing, and handle secure account data storage.
What I like about this solution is that you can easily customize the payment form to match your brand, depending on your provider. With this form, you enable customers to pay your company easily.
Click-to-pay email invoicing
If you handle a service-based business, you can also send your buyers invoices by email and receive your payments with just a couple of clicks.
Email invoicing delivers users the ability to pay for their bills online and get a receipt in just seconds. You can also send a payment form to your users via email.
With a completely integrated experience including email, online payment form, and customer database, you can see your reporting and control data securely.
You can encourage users to ditch the paper invoices and embrace email invoicing by stating the benefits of this straightforward and green process.
Schedule recurring billing
Using a recurring billing system is a popular method for people to pay for monthly services such as child care services and gym membership. It's a very convenient payment method for customers.
EMV/chip card solutions
Chip card solutions or EMV play a key role in the success of today's businesses. Cards with chips make it harder for hackers to make counterfeit cards as they did with magnetic stripes or complete transactions. So, if you're taking payments online, ensure your payment option has EVM into their platform.
It goes without saying that you must have a good shopping website where users can browse your items or services and buy whatever they want at any time of the day or night. However, having a website isn't the only thing that matters. Your online store should accept online payments as well.
Taking Payments Online Verdict
Taking payments online can help you generate sales as well as introduce your business to new audiences worldwide. And the payment methods keep on growing and continually improving.
You can easily determine which payment method works best for your company by closely analyzing both the pros and cons of each method, as well as the cost of having/not having a specific method.
Scroll down to read our indepth Online Payment Gateways guide. What you should know, Online Payment Gateways features, price plans and support. Pros and Cons of Online Payment Gateways as a payment gateway, everything is explained below.
Spreedly is a software company that specialises in payment-gateway software for small to enterprise level businesses.
Spreedly is listed as the best payment-gateway software related to Online Payment Gateways. Spreedly was founded in 2008 in Durham, NC and currently has over 79 employees registered on Linkedin.