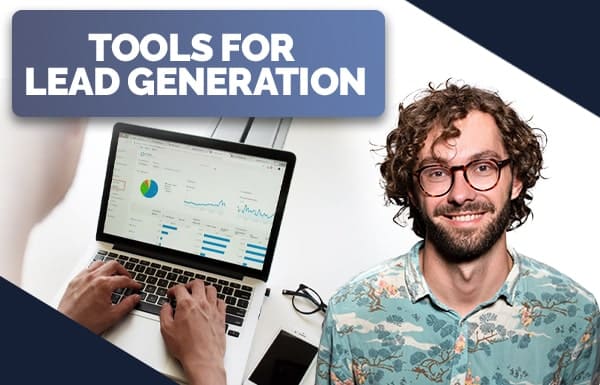 Lead generation is not only about persuading people to visit your website. It also refers to the process of collecting information about them in order to be able to start further communication and convert them into paying and loyal customers.
Marketing professionals use different tools to generate leads, and there are some specific features that you have to pay attention to when deciding which one to choose.
Ease of Use
Keep in mind that while the tool you choose must be easy to use, it is also important that every person in your company understands how to use it. Otherwise, you will not be able to gain all the benefits of your lead generation software.
Accessibility
The best solutions for generating leads are cloud-based. This allow you to access your software from any location if you have an internet connection.
This feature allows all the members of the company to get involved in the process of lead generation.
Affordability
Always weigh the costs and benefits of the solution you are offered. Do not pay for something which will not be useful for your company in the long run. Meanwhile, avoid overspending on a tool that will not provide you with all the features you need.
Good Support
This is a very important feature, which will allow you to solve any issues and problems with the software in a timely manner and in an effective way.
Targeted Audience
Make sure that the software allows you to reach out to the people that correspond with your buyer personas.
OptinMonster
All the different types of businesses and websites (B2B, Ecommerce, SaaS, etc.) can use this tool. Besides, OptinMonster will allow you to reach out to all kinds of leads. The main features of OptinMonster are:
Creation of Beautiful Campaigns
OptinMonster has more than fifty prebuilt templates and allows you to build various onsite-marketing campaigns, such as lightbox popup, inline forms, floating bars, coupon wheel optins and so on.
The OptinMonster application perfectly works with WordPress, Shopify, etc. It allows one-click integration options for all the major Email marketing providers and customer relationship management (CRM) systems.
Perfect Campaign Templates
Even if you are not a designer, you can choose your favourite template and work on that.
TrustPulse
TrustPulse is an effective tool, which can be used as a social proof channel. It allows to add social proof notifications, which is one of the most efficient marketing tactics in any lead generation process.
The software will display a notification each time a visitor takes action on your website. It will also show you the recent purchases made.
SeedProd
You can use SeedProd to build an effective landing page. One of the most important features of SeedProd is the availability of a drag and drop feature.
With SeedProd you can build sales pages, 'coming soon' pages, 'under construction' and other pages for your website.
Here are the main features of SeedProd:
Online control on previews.
Build 'coming soon', '404' and 'maintenance mode' pages with one click.
Compatibility with WordPress.
WPForms
WPForms is a builder of forms. This software can be used for adding forms to the site for the purposes of generating loads. Other characteristic features of WPForms are forms designed for surveys, quizzes and polls.
Constant Contact is better to use for bigger lists. One of the most important things is the solid support provided by Constant Contact for using the tool. It has high ratings for providing excellent support, webinars and online training.
The good news is that Constant Contact provides a free trial version.
Sendinblue
The purpose of the Sendinblue platform is to automate your marketing workflow. It provides Email marketing services, as well as SMS messages. Important features of this platform include drag and drop features. You can use this feature to automate the workflows within your company and implement segmentation of your users.
Hunter
Hunter will help you with your email searches. You have to simply type in the domain, and it will find the necessary pattern. The price for Hunter's services depends on the number of requests. You can make up to fifty requests for free.
Scroll down to read our indepth Ecommerce Platforms guide. What you should know, Ecommerce Platforms features, price plans and support. Pros and Cons of Ecommerce Platforms as a ecommerce, everything is explained below.
Shopify is a software company that specialises in ecommerce software for small to enterprise level businesses.
Shopify is listed as the best ecommerce software related to Ecommerce Platforms. Shopify was founded in 2006 in Ottawa, Canada and currently has over 6,124 employees registered on Linkedin.