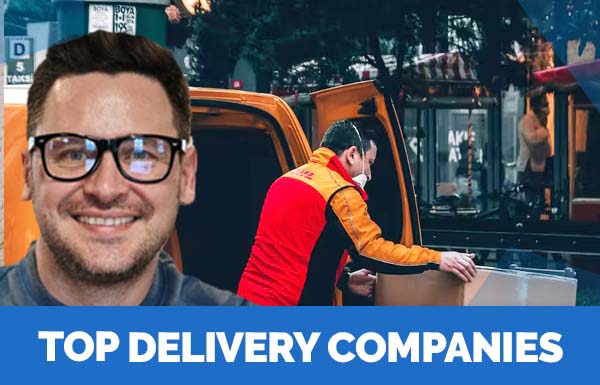 Top Delivery Companies
Delivery companies have seen substantial growth during the pandemic.
For many food places, working closely with delivery services has become the only way to sell and make a profit during lockdowns. Undeniably, delivery services have saved the day! Delivery apps and third-party package carriers have also helped in the process and doubled their profits.
In this article, I will discuss some top delivery companies, so let's begin.
Top Delivery Companies in the US
The possibility of selecting a preferred delivery service provider can help most online buyers in the US to complete a purchase. And if they don't see their preferred option, they will likely abandon the basket, thus e-commerce stores should make a well-informed decision about which delivery company to include. Furthermore, the rise of sustainable e-commerce has increased the importance of eco-friendly shipping options.
Choosing the right delivery company can also raise the conversion rate. That being said, let's take a closer look at some of the top delivery companies in the US and pick what's best for your business.
UPS
The United Parcel Service is a supply chain management business and package delivery based in the US. The company was founded in 1907 with a whopping annual revenue of $84 billion. It's a global brand that works in over 220 countries around the world. Aside from local and international shipments, they also handle airline cargo, drone delivery, and freight operations.
Amazon Logistics
Amazon Logistics is another shipping and delivery service to help existing shipment companies. Founded in 1994, this company has about $386 billion annual revenue. It provides same-day and 7-day delivery options via third-party logistics partners such as courier drivers, cyclists, walkers, and motorcyclists in certain places.
It's available in the US, Germany, Italy, Canada, UK, and Spain. It also allows people to operate as independent delivery parties via Amazon Flex. This type of delivery includes 1 or 2-hour Prime Now, next- or same-day Amazon Fresh groceries, regular Amazon orders, and orders from stores that work with Amazon.
FedEx
FedEx was founded in 1971 with a decent annual revenue of $71 billion. It's the pioneer of quick delivery services that works worldwide. FedEx stands for Federal Express. And they have the world's biggest all-cargo air fleet that meets the needs of users in over 220 countries. FedEx use AI, robotics, drones, and other modern tech solutions.
DoorDash
DoorDash is a popular digital logistics platform that works in the US, Australia, and Canada. It links over 20 million consumers with 450,000 merchants. According to the statistics, DoorDash accounted for 55% of the ordered meals in the US. They also offer subscription services for loyal customers. It was founded back in 2013 with a booming annual revenue of $2.9 billion in 2020, so they're doing pretty well.
DHL
DHL is probably the most popular delivery service in the world. It's an international division of Deutsche Post, the German logistics company. It was originally founded in San Francisco in 1969. However, Deutsche Post acquired it in 2002. Today, it's based in Bonn and operates in 220 countries over the world. It has an annual revenue of $77 billion and develops modern safety solutions.
GrubHub
Founded in 2004, GrubHub is a popular platform that links diners with restaurants nearby. It links over 300,000 diners with both big and small restaurants in over 4,000 cities around the US. As expected, GrubHub had annual revenue of $1.8 billion in 2020. It also operates with local Girl Scout organizations to move their cookies around in times of restricted personal contacts.
Instacart
Instacart was founded in 2012 and has an annual revenue of $2 billion. It's one of the biggest services in North America, serving customers in urban places in all 50 states in the US and almost all Canadian provinces. They also partnered with Walmart, Sephora, and 7-Eleven during the pandemic. However, their main service is still food delivery and pick-up. The shoppers who work in Instacart operate as independent contractors.
Postmates
Postmates was founded in 2011 and had a whopping annual revenue of $500 million in 2019. Although it was acquired by Uber, this company will keep working as a separate service. People like Postmates because it's versatile. It works with 600,000 different grocery stores, restaurants, and retailers.
The best part? They use Foursquare's API to locate stores and restaurants. Then, they connect people with a merchant's official website, take orders, send them to food spots, and send couriers to pick them up. The process is user-friendly and straightforward.
Spee Dee
Spee Dee started as a small on-call local delivery service that grew into one of the most popular delivery companies. Founded in 1978, Spee Dee has annual revenue of $100-$500 million. It operates in 9 states and serves over 12,000 shippers, offering next-day and same-day deliveries. They also have about 1,500 vehicles, over 60 operational facilities, and 4 sorting places.
Uber Eats
Last but not least, I have another popular fast-delivery service. It's one of the largest delivery companies in the world. Uber Eats has a standalone app that obtained the most downloads in 2018. Thanks to features like pre-order, push notifications, data analytics tools for partners, real-time tracking, customer reviews, and extensive dish details, Uber Eats became Postmates' biggest competitor. Founded in 2015, Uber Eats had annual revenue of $4.8 billion in 2020 thanks to different additions such as grocery deliveries. Do you have a favorite delivery company yet? Drop a comment below!
Top Delivery Companies Verdict
Choosing a delivery company can make or break your business!
Therefore, finding reliable and trustworthy delivery companies isn't only crucial in terms of quick service and price efficiency but can also increase your conversion rate and user satisfaction.
So, spending time on research will certainly pay off in the long run.
Scroll down to read our indepth Ecommerce Platforms guide. What you should know, Ecommerce Platforms features, price plans and support. Pros and Cons of Ecommerce Platforms as a ecommerce, everything is explained below.
Shopify is a software company that specialises in ecommerce software for small to enterprise level businesses.
Shopify is listed as the best ecommerce software related to Ecommerce Platforms. Shopify was founded in 2006 in Ottawa, Canada and currently has over 6,124 employees registered on Linkedin.