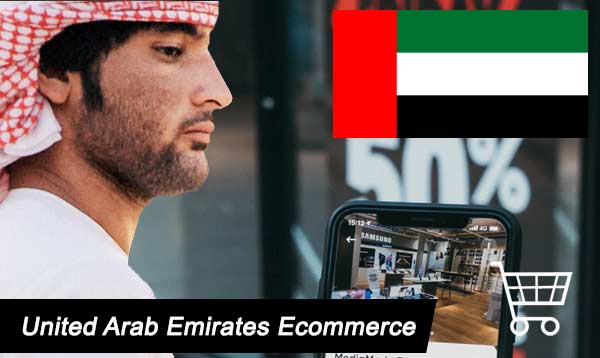 United Arab Emirates Ecommerce
Internet Access
The United Arab Emirates the 7th highest population size among 14 countries of the Middle East, with its 9.5 million residents. the nation is the second-highest in the area, measured at around 90%, in internet penetration, one of the highest in the world (Internet World Stats). Local and expatriate Emirati internet users (8.5m persons) represent 5.8% of the entire population of Middle East Internet users (4th highest). Online penetration is almost mature and is now growing at an average rate of 4% (Hootsuite).
UAE has the world's largest penetration of smartphones (81% in 2017) and 82% of the overall population are registered, mobile internet users. Using the internet is still very common with 89% of users reporting daily internet access (Google Consumer Barometer). The smartphone share is the largest (57%) at the cost of personal computers and laptops, which is growing steadily (-16 percent and -13 percent y-o-y respectively). Google leads the search engines industry, with a 96.72% share, led by Bing with 1.48% and Yahoo with 1.42%.
United Arab Emirates E-Commerce Market
It is the most vibrant market in the MENA region and a pioneer in e-commerce among GCC countries. Emirati has to be one of the fastest growths in recent years. Online retail revenues are expected to have increased from US$ 490m to US$ 1.6b between 2013 and 2017. The value of the e-commerce market is expected to grow exponentially in 2018, with projections ranging from US$8.98 billion to US$10.000 billion. The market is expected to grow by 2020 at an average annual rate of 25%.
The growth is expected to be greatly stimulated by cell phones in the eCommerce industry since the UAE has the world's highest smartphone penetration (81 percent in 2017 according to a Newzoo survey). Smartphone use among millennia is recorded to be even greater (more than 90 percent according to a Google survey). Mobile use is now larger than notebooks and desktops in daily online purchasing (47 percent as opposed to 39 percent - Hootsuite).
Cross-border shopping is very common in the UAE, 46 percent said they bought from international websites in 2017 (PayPal 2018). The American websites, followed by Indian and Chinese websites, were by far the most visited outlets for eCommerce. The leading websites of local e-commerce are Souq.com, Cobone.com, and Sukar.com.
Sales And Customers In E-Commerce
Local and expatriate Emirates are one of the world's most digitally linked and engaged online customers. According to Eshop World, the United Arab Emirates has a total of 6.8 million online buyers, which is almost 80% higher than the European average. Online buyers under the age of 31 represent 73 percent of online transactions, accounting for 63% of the population. The city is home to 60 percent of all online customers and sales are strongly rooted in Dubai. Reflecting the high demographic diversity, Emiratis is only locally located fewer than 30% of online shoppers.
The UAE has a well-established distribution network as the re-export hub of its area and ranked 13th on the World Bank Logistics Level Index. In addition, safe online payment systems do not mature at all because, according to A.T. Kearney, 58% of all online transfers are still continuing using cash. Dubai Economy has introduced a new online consumer security program to build consumer trust in electronic payments. This initiative is known as 'Digital Protection.'
The world's highest amount of money spend per person per online buy is US$332 (KPMG 2020) compared to US$86 per transaction in the USA and US$73 in Europe despite the fact that online payment procedures are relatively secure. The standard electronic shopping dominates online sales, but according to Euromonitor, the proportion of apparel has risen from $85 million in 2013 to $302 million in 2020.
The United Arab Emirates has the world's largest degree of social media penetration (99 percent - Hootsuite 2017). Emirati users also play an active role in social media and spent on social media sites 3 hours and 24 minutes a day on average. With about 8.7 million users each, Facebook and YouTube is the most popular social media network in the UAE. The second is WhatsApp (7.2 million users) and Instagram (5.7 million).
The rankings differ from those of local emiratis, according to the UAE Social Media Survey and MidEast Media Survey. WhatsApp is the famous network, used by 96% of Emiratis and Instagram (78 percent or 1.4 million people), Facebook (70 or 1.2 million people), and Snapchat, respectively (62 percent or 1.1 million). Social media (almost 70% of users) are used for entertainment purposes, although about half of users use social media to receive and post news. According to MidEast Media Survey, Twitter is the top news social media channel and YouTube the biggest entertainment platform.
Scroll down to read our indepth Ecommerce Platforms guide. What you should know, Ecommerce Platforms features, price plans and support. Pros and Cons of Ecommerce Platforms as a ecommerce, everything is explained below.
Shopify is a software company that specialises in ecommerce software for small to enterprise level businesses.
Shopify is listed as the best ecommerce software related to Ecommerce Platforms. Shopify was founded in 2006 in Ottawa, Canada and currently has over 6,124 employees registered on Linkedin.