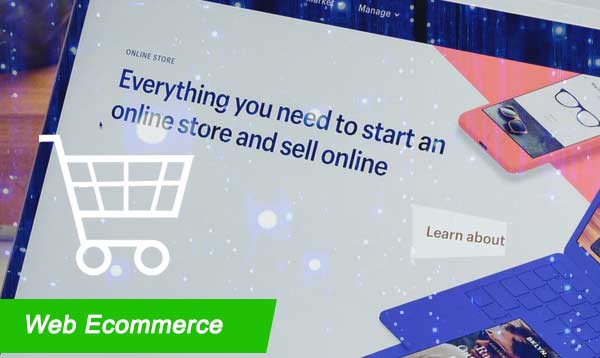 Web Ecommerce
What Is Ecommerce
E-Commerce is an industry in which the exchange of services and transactions takes place between two or more entities. The term 'E-Commerce' is very loosely defined and covers a broad spectrum of activities involving electronic transaction and communication. It includes shopping, bill payment, and business to business sales over the Internet or other networks. The Internet has played a major role in the growth of E-commerce.
In e-commerce, the buyer and seller to transact their transactions through the Internet. The process includes the facilitation of trade between the buyers and sellers as well as providing tools for marketing and customer management. An example of E-commerce is online marketplaces where the goods are sold or purchased, and there is a large market of consumer goods like clothes, books, accessories, and gadgets to choose from. Other examples are auction sites where items are sold, while personal computer sites offer various computer related products. E-commerce further includes websites where the consumer obtains goods by purchasing services online or ordering goods online from a retailer or a manufacturer.
For an instance, Amazon is one of the most popular e-commerce sites in the world with millions of consumers browsing and purchasing products daily. Amazon provides customers free shipping. This is one of the major reasons why many consumers prefer buying products on Amazon. In addition to free shipping, other benefits provided to consumers include customer care, after sale service and extended warranty coverage. These services ensure that consumers receive quality after sales service and are satisfied with the products purchased.
What Is Required To Build A Succesful Ecommerce Website
So, what is it that is required to build a succesful ecommerce website? First and foremost, the right ecommerce software should be in place. This will ensure that all of your pages are displaying correctly and all of your orders are being processed. In addition to this, there will also need to be ecommerce web hosting; as without it you cannot build or even view your website.
The most important feature that you want to ensure is available is an online shopping cart. This allows you to sell products and services to your customers from just one webpage. Other features that you may find that are extremely useful are things such as customer feedback, secure credit cards, an online 'store', multiple language options and many other options. Your shopping cart should be user-friendly for both the customer and you.
These are just some of the basic features that you need to have when you are building an ecommerce website based on ecommerce web hosting. There are lots of other features that are available such as free domain name, web hosting, inventory control, order management, order processing, shopping carts, SSL security, and more. If you know of a particular feature that can make things easier or more convenient for you then you should look for it and incorporate it into your build.
What Is An Ecommerce Webisite
An ecommerce platform is a web-based software program which enables internet businesses to handle their entire online business, from the creation of products and orders to sales and administration. Most ecommerce platforms provide the following key features: integrated catalogs, shopping carts, advanced analytics, multi-currency payment processing, multi-sourcing resources and inventory control. With these features combined, an ecommerce site will enable an online business owner to successfully expand his business by allowing online shoppers to browse through a catalogue of products, choose which product they want, pay using a credit card and leave their personal information with the company. This will allow online sellers to process the transaction and complete the sale within minutes. Many ecommerce platforms also offer shopping tips and tricks to help shoppers find the best products.
Some ecommerce platforms are a part of a hosted solution. These platforms provide the web-based functionality for the organization's websites without the need for individual ecommerce software purchase. This may include the use of a web browser, common web scripting language (PHP), as well as databases. The hosted solutions may have ecommerce software as a part of the package, which can be customized to meet the unique needs of each organization.
Different ecommerce platform vendors offer different levels of support for their products and services. Most of these vendors offer free trials on their platforms, which helps shoppers test the full functionality and provides insight on the software's compatibility with their company's information technology infrastructure (ISI). To ensure that an ecommerce solution meets the organization's specific requirements, it is important to evaluate vendors against customer needs and customize the platform to meet the specific needs of each organization. To learn more about using ecommerce platforms to increase company revenue and optimize employee productivity, visit Packaging Blueprint, where you will find cutting-edge information on PCI compliance, implementing ecommerce solutions, and more.
Types Of Ecommerce Platforms
When looking at types of ecommerce platforms available to help companies teach their employees, one has to consider what exactly their needs are. Naturally, some types of platforms are designed for certain industries. Before making a selection, companies will want to take the time to research the different features that they can include in their online platform and find out if there are any features that will better serve the needs of their own company. There are also different types of payment options that must be considered.
Enterprise ecommerce platforms are typically reserved for larger projects which will require a large amount of client support. Also, it usually provides a wide variety of functions and features, but might not always be within the reach of smaller companies or freelance elearning freelancers. In addition, this kind of support usually requires that clients be hosted on a server in a data center, which can be a limiting feature since those who wish to keep the online business free from the limitations of a server might need to rethink their options in this area. Since most companies do not have the resources required to keep their ecommerce platform hosted on-site, they will have to look into other options which will allow them to keep costs as low as possible.
There are many different types of ecommerce platforms that are compatible with a specific business model. Some of these include web-based applications, such as Magento, open source CMS systems, as well as a desktop application like Joomla. The best solution will depend largely on the business requirements of the company, as well as the hosting solutions they may already have in place.
Open Source
Open source is a kind of technology where software development principles are made openly available to help users have access to and enjoy the benefits of using such technology. Open source programs or technologies allow users to make their own modifications to the source code and use them in their applications. Open source or free software, on the other hand, is considered free because it allows the end user to make their own changes to the source code. The term 'open source' itself implies that this software was developed using open software license which allows any user to make his own modifications. Some examples of open source software are the Linux kernel, Apache, PHP, MySQL, Python and Ruby on Rails among others.
While there are some areas in the world where it is not possible to develop open source software due to the technical and economic obstacles, such as in the military where classified information must remain confidential, there are still a lot of options for it. Open source development is normally done in a collaborative way in which different people from different communities are involved in the development process. There is an open source development model in which one group of people to contribute their ideas, products or enhancements to the open source software while the other group of people reviews those contributions. This model is beneficial to the contributor since he gets an opportunity to make his opinion heard before others who contribute to the open source software are able to commit those modifications. The reviewer will have an opportunity to make his point clear to the maintainers of the open source software and this will be helpful in improving the quality of the software.
Open source projects allow everyone the freedom to participate in the development process. The contributions of the developers play a very important role in improving the quality and usability of the open source software, which in turn benefits the whole community. These projects provide solutions to many of the technological issues that face us globally and with the help of these solutions we can improve the quality of our lives.
Saas
Software as a Service (SaaS) is a web-based software licensing and deployment model in which software is sold on a subscription basis and is delivered centrally via the Internet. It can be called 'on-demand' or 'auction model' and used for small and medium businesses. Most commonly, software as a service is used as an alternative to traditional software purchase and licensing models. With traditional software purchasing, a company must obtain licenses for software that it owns, and then purchase support services from third parties, in order to use that software in the business. In addition, companies must pay expensive licensing fees to purchase applications from other companies.
With a SaaS model, however, a company does not own the hardware necessary to support its own software, nor does it need to purchase any support services from third parties. Instead, SaaS vendors provide those service providers - the vendors who provide the platform infrastructure and development tools to run a SaaS application - and infrastructure, on which SaaS applications are hosted, under subscription. Some vendors may also provide application service as well. As a delivery model, SaaS is convenient for many companies, since it eliminates the costs and time involved in maintaining physical server rooms, IT staff, and other hardware and software requirements.
One of the most common examples of SaaS is the use of 'platform as a service' or PaaS, which is an online service platform based on the infrastructure of a web browser. Examples of SaaS applications include the payroll processing service provided by Direct Cash, Braintree Software, and Enbase, the accounting service provided by QuickBooks, and the content management system developed by Dreamweaver. Another example of a SaaS application is a web portal developed in Flash, Java, or Silverlight. The most common example of PaaS is Microsoft's Office Online. With the ever-increasing complexity of enterprise software, the industry is seeing SaaS technologies gain increasing popularity.
Headless Commerce
A service like Headless Commerce offers many benefits for online businesses. One of the key benefits of this technology is the fact that it allows for more dynamic shopping experiences on the site. In other words, you have a streamlined shopping experience without having to have a lot of HTML or Java in your website. Also, there is less downtime involved since the back-office tasks are done by the merchant application itself and not by a separate, independent back end service.
Headless commerce is actually an e-commerce framework in which the back-office functions are decoupled from the front end commerce functionality, so that when you update the front end, it does not affect the back office. The terminology has been coined from Dirk Hoerig, founder of Commercetools. In recent years, more companies have been looking towards this technology as an alternative to traditional e-business platforms, because traditionally, the back office service usually tends to be neglected or underutilized. By employing headless commerce, they are able to free up time for developers to work on developing the new products and features of their business. This also allows them to make improvements to their overall website design.
This e-commerce framework uses a model called an 'elastic path' or 'e-store', which stores information about products and transactions in a database. The headless commerce lets the user interface, or front page, of the website react to the different actions performed on the backend. For example, when a user enters some data into a web form, an HTTP request is made to the elastic path application, which handles the request from the user. When the data is successfully downloaded, the user is notified via the e-mail message or SMS, or other appropriate notifications, and the information is saved into the database. This process continues until the user navigates to another page in the headless commerce platform.
Mobile Responsive
Mobile responsive Ecommerce websites are being designed for mobiles and their features are being enhanced to fit the needs of users. They are easier to access than traditional sites and more flexible than desktop sites. Mobile responsive Ecommerce websites can be viewed on mobile phones, tablets, personal computers, laptop computers, game consoles and other portable devices such as iPods. Mobile friendly design is important to attract more customers. By having a site that responds properly to the different screen sizes of various devices will make your site more accessible.
Mobile responsive Ecommerce websites should have responsive design for the iPhones, Blackberrys, Android mobiles and Windows Phones. Responsive web design enables the viewer to view your website using a wider variety of screens. It makes it easier for customers and visitors to search for products and make it easy for your staff to do their job from wherever they are. Having an attractive and interactive website on different mobile phone screens will increase your traffic and bring in more business. It is important to choose the right responsive ecommerce website design company to meet your mobile needs.
Mobile content - This includes images, videos, audio and other media files that can be viewed easily on mobile devices. It is important that your website has content for mobile viewers which is optimized for the different mobile screen sizes. The Mobile Center can help you get the best web content for your website. Content such as articles, press releases, product descriptions, store catalogues, photos and more. Mobile friendly shopping carts are also available which make the online purchasing experience easy for both buyers and sellers.
Customization Opportunities
There are plenty of customization opportunities with Ecommerce Websites. One thing to consider though is that if you have a highly customized Web Design, then this might cost you more time and effort in order to achieve what you want. So it is recommended to start off with less costly Customization Opportunities and try to improve on them over time. The most popular Customization Opportunities includes; adding/deleting content, hiding menus, hiding/showing product images and so on. So depending on your requirements you can do more or less Customization.
You can start off by creating a 'mock' site to see how everything fits together and works. Then you can go and get some professional help to customize the' Mock' site for 'live' usage. If you choose to try out this method, then it is best if you do so after having used your creativity and imagination to create the 'Mock' site. If you feel that you can do the job without the help of professional help, then you can get down to the basics and start with one area of the Web Site. This will make things much easier for you and will make testing everything easier as well.
Customization opportunities in Ecommerce Websites are indeed numerous and varied. It is therefore, advisable that before you actually go and design your own Web Design, you take a good hard look at the existing opportunities first and build upon those. It is also important to see what sort of customer base you are dealing with, so that you can tailor your Ecommerce Web Design to their needs.
Easy-To-Follow Site navigation
Site navigation is an essential factor in ecommerce websites. Site navigation can be made simple, efficient and fun to use with the help of effective web page layout. The best part about it is that you don't have to be a professional web designer to make use of this factor. All you need is the guidance of a good Ecommerce website developer, who can show you effective and easy-to-follow site navigation strategies. If you are planning to build your website, then you should also give importance to the aspect of site navigation. It can help you increase your conversion rate of your customers.
You should always keep your customers in mind while developing your website. Remember, your goal is to attract as many visitors as possible so that you can sell your products easily. With so many products available in the market, you have to ensure that your website is easy to navigate so that your visitors can find what they want easily. Navigation in your website should not only be to your customers but also to the search engines. A search engine optimization strategy can only work in your favor if you incorporate proper links in your website.
Many business owners tend to overlook the value of having easy-to-follow site navigation. But, you would be glad to know that this small thing will actually add value to your business. Once you provide your customers with easy to follow site navigation, they would love to come back to visit your site again. They won't mind reading through your content again because they found it easy to understand. This is how you can win the trust of your customer base.
Design Differnce Between B2B And B2C Ecommerce Sites
Design differences between B2C and B2B eCommerce sites are becoming more pronounced. If you're an online business owner who has recently upgraded your website or are considering getting your current site revamped, you may be wondering what the difference is between a traditional website and a successful ecommerce operation. In this day and age, when people spend more time on their computers, staying in front of a screen is not only time-consuming but can also be distracting to visitors. Because of this, many companies have moved away from the design focus that made their businesses so appealing in the past. However, if you're interested in revamping your website and turning it into an online success story, the good news is that you can find B2C web design professionals who will allow you to focus on your products and services rather than having to focus on creating a website that will make you money.
There are many similarities between traditional websites and online marketing campaigns, such as providing content, attracting customers and maintaining a strong online presence. However, there are also some important design differences that can help you differentiate yourself from the hundreds of other websites on the Internet. Perhaps most importantly, online businesses should consider the layout, design, functionality and appearance of their website in contrast with similar products and services offered by their competitors. As well, your website's navigation and use of graphics, color schemes, fonts and graphics should be user-friendly.
The benefits of a B2C website include: low maintenance, ease of updating, the ability to target your audience, reduction of cost associated with offline advertising and enhanced sales. However, to ensure your online business runs efficiently and effectively, it's a good idea to hire an experienced online business design firm to create your website. If you're interested in trying out a B2C campaign, contact a number of design professionals and get price quotes so you know exactly what your new website will cost you. The most important thing to remember is that when you start up your own online business, you don't have the budget of a large multinational company. So start small and affordable!
Ecommerce Website Legal Requirements
The information about e-commerce is increasing day by day due to the rise in its use as a tool for business promotion and online shopping. It is because of this that the legalities of e-commerce have also been enhanced. E-Commerce websites have to comply with various online business laws such as data privacy laws, copyrights laws and various other pertinent legal requirements. If you run an e-commerce website, you will have to go through several legal formalities and procedures. While many small businesses are able to save cost by improvising their e-commerce solutions, larger organizations have to invest huge amounts in order to satisfy their ecommerce website legal requirements.
The process of incorporating modules, add-ons and features to the e-commerce site is one of the important issues to be considered when you are preparing the legal documentation for your website. You have to note that most e-commerce businesses have been generating revenue without investing much money into the initial project areas. As a result, the e-commerce website legal requirements for each project area have been growing and evolving year on year. In addition to the previous projects areas, the following projects areas have also been included in the legal requirement list for e-commerce website development:
These are the project areas that you should take care of before you start incorporating modules and features to your ecommerce website. Apart from these projects, you have to meet other ecommerce website legal requirements such as data privacy laws, data disclosure and security rules. This is because of the growing competition that has cut the gap between what small and large companies can provide to their customers. The regulations and rules introduced in order to protect the customer's privacy have made the protection of the customer's privacy as one of the main concerns for ecommerce platforms. The regulations introduced for data security have made it difficult to gather sensitive information about a customer.
Ecommerce Website Builders
E-Commerce website builders are software that helps you build your own E-Commerce website in less than one hour. If you have a good e-commerce web design with lots of useful features, then the whole process would take no more than one or two days. The best thing about it is that you don't have to know much about programming to build your own E-Commerce website. All you need is to choose among the available ready made templates and features and customize it as per your requirement. Once done, all you need to do is upload the files and upload the website to the server and wait for your customers to start purchasing.
What are the advantages of E-Commerce website builders? Besides saving time and money, e-commerce website builders also have many other advantages. This is one advantage that you cannot get from any other method of creating a website. Here are some more reasons why you should invest in an e-commerce website builder:
If you want to build your own online store, then why not use E-Commerce website builders? These are the programs that will help you build your own online store within little time. Not only it will save your time, but also you can use it to start your own online business. Now that you have read this article you must have understood the benefits of using these E-Commerce website builders and why you should use them to create your own online store.
Best Ecommerce Website Design Examples
When selecting a business to handle your online storefront, one of the first things you should look at is whether they provide you with the Best Ecommerce Website Design Examples. The easiest way for a customer to choose a company to purchase your products from is by seeing if it provides them with a good user experience. Many people do not realize it, but a lot of businesses that try to use fancy Flash designs or confusing JavaScript fail to keep their customer's around for very long. This is why you need to focus on providing a simple, easy to understand and effective web site that provides the best ecommerce website design for you.
First and foremost, you want your customer to be able to understand the web design so that they feel like they are dealing with a real company. For example, you might offer products that are available in different price ranges, such as a cheap product with a higher price tag. If your web design allows this flexibility, then your customer will feel comfortable choosing to shop with you. It's important to have an easy to use checkout system so that your customers can go from one product page to the next without having to worry about registering or entering in any other information. You might offer some additional services that would allow your customer to build their own product pages, such as building a mailing list.
You should also look for a variety of options when it comes to products available on your online store. A lot of companies only have a few basic product pages available, which does not provide you with the best ecommerce website design examples. In addition to offering a lot of product pages, you should also offer different styles of each page, such as a basic blog page and a more detailed description of each individual product. This way, your customer can easily browse through the products, learn more about each item and make a more informed buying decision.
How To Create An Ecommerce Website Using WooCommerce And Wordpress
If you have just heard about how to create an eCommerce website using WooCommerce and WordPress, then it's high time you know more about it. This software is basically a plug-in or extension for your existing WordPress website that can be used to create an eCommerce store. It provides everything that is needed by a website owner in order to start selling online, including shopping carts, products inventory management, customer order management, catalogs, catalog optimization, shipping calculators, web counters, etc. Best of all, this software has many additional features that will help you manage and optimize your online store efficiently.
There are many people who think that getting an eCommerce website doesn't require much work. In reality, there are several aspects and software requirements that must be followed in order to get your store running smoothly. First of all, if you are going to sell products through an eCommerce site, you will need a merchant account. Fortunately, if you already have one with an online payment processor like PayPal or Google Checkout, then you can use those services to accept credit cards. To complete the merchant accounts process, you need to install the appropriate plugins and templates. These things can also be found and installed through the use of your WordPress installation.
Aside from these important aspects, the best thing about using these software platforms is that it allows website owners to use WordPress as their main CMS. This means that the site owner can update or change the contents of the website without having to rewrite the HTML code or to download and install additional plug-ins for the software. All changes that the user makes will be saved to the server and will appear immediately on the site's front page.
WooCommerce Plugins For Groeing Your Ecommerce Website
If you are looking to get the most out of your eCommerce website, you will want to use the best plugins available to you. There are many different plugins out there that allow you to customize your store's or add new items, but you have to make sure that you choose the right ones for your needs. You can find a lot of information on the internet about what is available and how to get it installed. Many people prefer to use the WOWCommerce plugins because they know exactly which ones are going to be best for their sites.
These plugins work to expand your customer base while at the same time reducing inventory costs and shipping times. One of the best parts of using this type of plugin is that you will never see a spike in sales until you are generating enough traffic to support the growth. Some people think that if they wait long enough their sales will naturally continue to rise, but that just isn't true. You have to create content, advertise, and grow traffic if you want to see your site grow.
Choosing the right plugins is the key to making this process as easy as possible. You have to make sure that you do your research before choosing one of them so that you can get the most out of them. There are many WOWCommerce plugins available, but you need to make sure that you find the right ones for your site. The wrong plugins can actually do more harm than good, which is why you need to have the right data and information in order to make an informed decision.
Scroll down to read our indepth Ecommerce Platforms guide. What you should know, Ecommerce Platforms features, price plans and support. Pros and Cons of Ecommerce Platforms as a ecommerce, everything is explained below.
Shopify is a software company that specialises in ecommerce software for small to enterprise level businesses.
Shopify is listed as the best ecommerce software related to Ecommerce Platforms. Shopify was founded in 2006 in Ottawa, Canada and currently has over 6,124 employees registered on Linkedin.