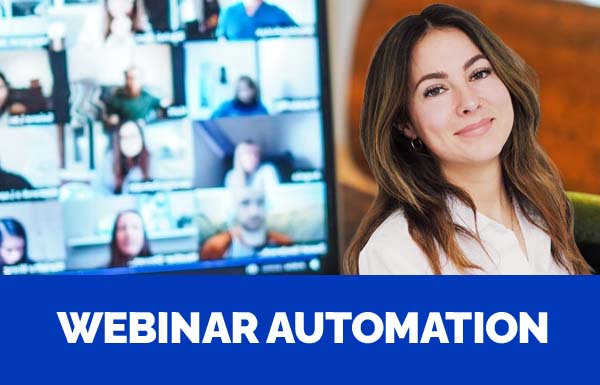 Webinar Automation
An automated webinar is extremely important for B2B businesses that want to nurture customers, train users, sell a product, etc. Another name for an automated webinar is an evergreen webinar.
Automated webinars are actually pre-recorded videos that look and have a feel of live video. It is an important marketing tool for B2B businesses. However, this post will be about the best webinar automation tools that will help you to grow your business.
In this post, we will be showing you the 7 best webinar automation tools for your business.
Livestorm
Livestorm
You can use Livestorm for both on-demand and live webinar services. The platform offers High-definition webinars. You can access it with any browser and you don't have to download any software to use their service and lots of other great features.
Their support team is awesome; you can get a response to your questions every working hour.
eWebinar
eWebinar
ewebinar is an incredible webinar automation tool that allows you to make your webinar available all the time. You can access this webinar with any browser, and you don't need any special software to access it. It is easy to set up and you can start your webinar in a few minutes.
The platform has a tool that allows participants to join your webinar within minutes. There is a timeline tool that allows you to attach information like tips, offers, questions, etc. when editing your video. This helps to make your video fascinating for viewers.
With eWebinar, you don't need any coding skills; their message tool helps to keep you updated anytime you have a message, so you can chat them up immediately and you can as well reach out to them later and they'll receive your answer via email.
There is no limited number of participants with eWebinar service; you can have any number of attendees for your class. You can do more with the webinar automation tools as it has lots of interesting features.
Their price depends on the number of published webinars you have; however, they have a 14-day free trial so, you can use the free trial to know if their service is what you need.
ClickMeeting
ClickMeeting
Although ClickMeeting is new in the industry, it provides exceptional service to users. It is designed for end-users. Their service is easy to use and you can access it with any browser. No need of downloading any software. It has one of the most affordable prices in the industry.
You can opt-in for their 30 days free trial package without your credit card details.
EverWebinar
EverWebinar
EverWebinar is a customizable webinar automation tool. You can attach questions, offers, tips, etc. to your video. If a participant asks any question, you can easily receive their question via email and respond to their question.
This webinar automation tool helps you to edit the number of participants so your attendees will feel like they have more people that are taking lectures with them.
You can personalize your video to suit your brand with this webinar automation tool; it has a modern look and is designed for end-users.
They have 3 pricing options, you can opt-in for their 14-day free trial to get a glimpse of what they offer.
Demio
Demio
Demio is a webinar automation platform with excellent features, hence the reason why we have it on our list of best webinar automation tools. It offers on-demand webinars service and lives webinar service as well.
It is very easy to set up this webinar automation platform. And the best part about it is that you don't need any software to use Demio and you can as well access their service with any browser.
EasyWebinar
EasyWebinar
Note EasyWebinar is different from EverWebinar. EasyWebinar has advanced features that set it apart from other amazing webinar automation tools. It has reporting and analytical tools. You can use it for automated and live webinars. And you can easily integrate it into any platform to help improve your marketing strategy.
Note that there is no free trial with EasyWebinar.
StealthSeminar
StealthSeminar
Stealthseminar offers a great service to users. The platform offers a high-capacity webinar service to businesses. They offer 30 days free trial, so you can check that out to know if their service is the right fit for you. The platform also has some other features that make it one of the best webinar automation tools around. Their pricing varies and it depends on the number of participants that attend your program.
Scroll down to read our indepth Ecommerce Platforms guide. What you should know, Ecommerce Platforms features, price plans and support. Pros and Cons of Ecommerce Platforms as a ecommerce, everything is explained below.
Shopify is a software company that specialises in ecommerce software for small to enterprise level businesses.
Shopify is listed as the best ecommerce software related to Ecommerce Platforms. Shopify was founded in 2006 in Ottawa, Canada and currently has over 6,124 employees registered on Linkedin.